Changing net zero pledges is unlikely to save Conservatives from their hubris – Brian Monteith
If the Conservative Party at any level or in any place believes it can win a general election by weakening its previous pledges to embrace Net Zero carbon omissions, then its self-awareness has itself reached zero.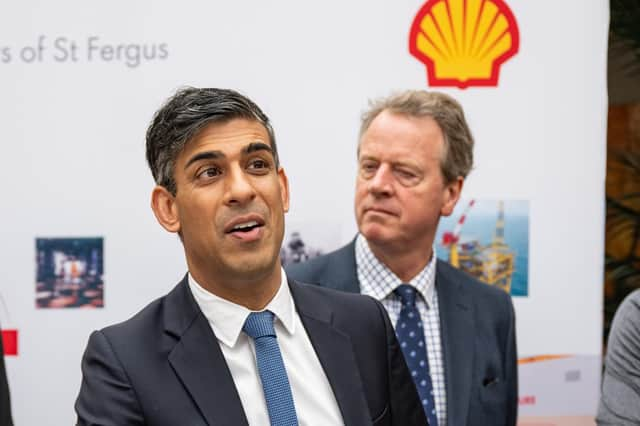 An almighty division is opening up in Sunak's Conservative Party to join the existing division on his economic policies that over the years have led directly to high inflation, high interest rates and high taxes. While he refuses to shift on economic policy and appears content for the Bank of England to increase interest rates further, he has hinted he might relax the adoption of policies designed to achieve Net Zero carbon emissions in the UK by 2050.
This has come about because it is clear that as voters are confronted with stricter environmental policies that bring them expensive bills they are looking for politicians who might take a different approach. When the Conservatives won the Uxbridge & South Ruislip by-election because their candidate opposed London's LabourMayor extending the Ultra Low Emission Zone (ULEZ) it sent a message voters might do the same with other environmental policies.
It is not just the cost of being penalised for driving cars (and especially vans) in built up areas that is creating voter discontent – it is also a growing awareness around the impact on gas domestic boilers being banned in the future and what it might cost to replace them.
Yet such are the numbers of green Conservatives in elected office any change in policy only risks opening up further bitter schisms that demonstrate little care for winning next year's general election.
Already this year Zac Goldsmith (made a minister in the Lords after losing his Commons' seat in 2019) has resigned, saying Rishi Sunak is "uninterested" in environmental issues. Yesterday the Environment Secretary, Therese Coffey, challenged Sunak in the Mail on Sunday, saying the party should avoid "weakening" on environmental issues – or delaying the 2050 target date.
Such a degree of indiscipline – and detachment from what natural Conservative voters trying to make ends meet – is only guaranteed to create further antipathy from disillusioned supporters.
The problem of what to do about climate change – or rather, what to do that voters will accept about climate change – is not just affecting the Conservatives, but Labour and the SNP too. This should come as no surprise for the uncomfortable truth that all parties are now facing is the easy part of making extravagant slogans and signing international treaties is over. Now the business end that will cost the British public real money is wakening voters up to the realities of those past decisions they knew little about.
Yet again we find our political elite floating around aloof in their bubbles creating policy without mentioning inconvenient details like costs in case they scared the public. So much of it is political attention seeking, no surprise then Nicola Sturgeon has been found out. After making an extravagant offer at COP27 to give £5m to nations suffering from climate change the funding never appeared.
For Labour it means trying to talk the London Mayor down from his extension of ULEZ – but this will not change perceptions about Labour across the UK, and so Sunak sees a chance to create an electoral advantage.
For Humza Yousaf's nationalists the problems of London are echoed in Glasgow – where the SNP council is typically strident in pushing its own Low Emission Zone – resulting in reports of favourite hospitality haunts facing closure as many motorists refuse to enter the city centre.
Then there's the cost of Humza's policy to retrofit Heat Pumps in tenements to replace gas boilers, a move far worse than when in 2019 Michael Gove announced the sale of new log-burning stoves would be banned from 2022. In the end only the most efficient new wood-burners were allowed and owners can now face fines of £300 if their existing stoves do not meet new regulations.
Meanwhile Drax power station burns imported chipped wood pellets (first dried using natural gas) brought over the Atlantic in diesel-powered ships from North America – yet still requiring a billion-pound subsidy to be economic. But wood-burning stoves?
By 2020 the Government had also announced a ban on the sale of new petrol and diesel cars by 2030 – creating a rush to ensure the production of electric cars, enough electric charging points and enough batteries manufactured domestically for British car makers to use. The scale of the environmental impact of sourcing the materials required by the batteries or the costs of generating and transmitting the additional electricity to power the cars is rarely admitted to. Now the pressure is on to relax the bans by delaying them – but not, repeat not, removing them.
And this is where the political deception can be spotted. For while Conservative leaders might look to compromise so as to give an electoral advantage against Labour the hard truth is there is no ability to unravel the commitments, they can only be delayed.
The reason for this is Theresa May signed the UK up to Net Zero while prime minister and Boris Johnson doubled-down on the policy by agreeing to its incorporation in the Trade and Co-operation Agreement he signed with the EU. There is simply no way that the Conservative Party has the political will to break with the treaties they signed.
It would rip the party asunder between those that have gone full-on for Net Zero and those who believe the policy was adopted without the due diligence to know what it would mean, what it would cost and if it would make a blind bit of difference to climate change.
What the Conservatives really need is Net Zero hubris, only then might they win a general election.
Brian Monteith is a former member of the Scottish and European Parliaments and editor of ThinkScotland.org
Comments
 0 comments
Want to join the conversation? Please or to comment on this article.