Perhaps it was relief. Or maybe it was the thought that for millions this would be the beginning of a return to normality.
But there was definitely a thought for the many thousands who had not been lucky enough to make it this far.
This week, perhaps more than any other since the crisis began, it felt to me as if we are lifting our heads and are looking forward.
The vaccine roll-out is reaching people – especially in England. Deaths and case numbers are down.
And on Wednesday, the Chancellor laid out his plan for the economic recovery that we now need to go hand in hand with that for our health.
I had hoped for something bold, something transformational from Rishi Sunak
Something which would match not just the scale of the crisis but the ambition and achievement of those scientists whose endeavours are gradually protecting us all.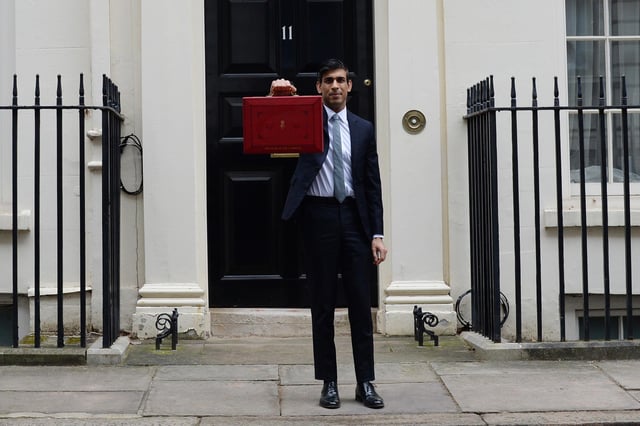 Christine Jardine had been hoping for a bold, transformational Budget from Chancellor Rishi Sunak (Picture: Chris J Ratcliffe/Getty Images)
An economic statement would say to the many thousands of small businesses whose very survival is threatened by the virus that their government is on their side. I was disappointed.
While our scientists have done their job in finding a medical formula for recovery, our governments have not.
I think everyone watching – whether from parliament's green benches, over its virtual debate link or from the home that has also become the office for so many – was aware that this was a moment on which the future of millions depended.
Those people who have seen the well-planned, well-financed life they had built for their families swept away by this virus were hoping for rescue.
Around a million businesses on the brink because they followed the rules laid down by this government were looking for a lifeline.
And those who were already struggling to make ends meet were listening for an indication of reform to a system that has let them down.
What we heard did, I admit, offer some support, but fell far short of the bold, once-in-a-generation paradigm-changing budget that many of us had hoped for.
For those on lower incomes, the Chancellor's freeze on the tax threshold will mean a real-terms loss as inflation takes more of their income without an adjustment in relief.
And while there will be changes to corporation tax in two years' time that will help small businesses, what about tomorrow, next week or next month?
So many shops, tradesmen, hairdressers, florists, who are the backbone of our economy and the heart of our communities, need something more.
The government's £5 billion scheme for small businesses doesn't touch the sides of the problem. What we need and what Liberal Democrats have been calling for is a recovery fund which will help replace revenue with grants to meet their costs until they are able to trade properly again.
We called on the Chancellor to implement a zero business rates policy for all small business in 2021-22, and while maintaining the VAT cut for hospitality is essential, we would've liked to see it stay in place until the end of the financial year, not just September. And not just for hospitality, but for all businesses VAT deferral would allow them to free up capital to invest in their businesses.
Too many people who have been excluded will remain so after this budget. There are three million who have had no support, and only 600,000 by the Chancellor's own admission will be helped.
And as for the universal credit uplift, even with it the UK still has one of the least generous social welfare systems on the OECD group of countries.
When will the government listen to the voices across the country from all political parties calling for pilot trial schemes of a universal income which would have meant nobody fell through the cracks?
So now we all look to September and wait. What will happen when we reach that cliff edge when, at one and the same time, furlough, the self-employed support, VAT relief and the uplift in universal credit will all end.
And what of the others things that were missing from the budget? There was no long-term reform of business rates.
The need to support social care and carers seemed to have passed the Chancellor by. And where was the evidence of ambition for our future green industries or tax incentives for transitioning away from a carbon economy?
To simply mitigate the problems caused by the pandemic does not repair the economy and inject the investment that we need for growth and recovery.
Small businesses, families, self-employed people up and down this country deserved something to repay their commitment, their sacrifice in fighting this pandemic.
Something fair, not self-congratulatory.
And then came the news that buried in the Budget documents was perhaps the biggest insult of all. A meagre – no, insulting – one per cent pay increase for our health staff.
Perhaps that was really the trigger for the tears. I had learned that those at the front line who have put themselves in harms way for us were shown so little gratitude by our government.
Saving lives, protecting our well-being seemed dramatically undervalued.
I hope when their turn comes to receive their vaccine those behind that financial decision may think again. Feel what I felt. Gratitude that the scientists have done what our government this week did not.
Christine Jardine is Scottish Liberal Democrat MP for Edinburgh West
A message from the Editor:
Thank you for reading this article. We're more reliant on your support than ever as the shift in consumer habits brought about by coronavirus impacts our advertisers.
If you haven't already, please consider supporting our trusted, fact-checked journalism by taking out a digital subscription.