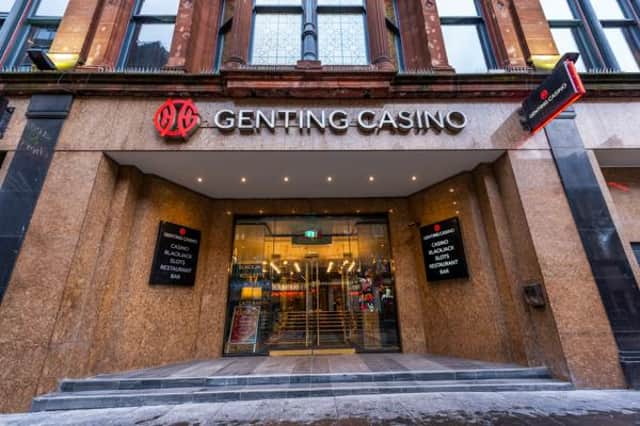 What has disappointed me, however, is the fact that casinos are being treated differently from other hospitality venues. It's one thing to be ordered to close along with every other non-essential business – as we were in March – but it's quite another to have to do so when other similar businesses are still being allowed to trade. Frustratingly, however, that is the situation the casino industry in Scotland now finds itself in.
I've been general manager of the Genting Casino in Glasgow for the last year-and-a-half. This year has been very challenging, as you might imagine, but I can honestly say that we have gone above and beyond what is required of us to ensure the safety of our staff and customers.
I was initially furloughed and, when I returned to work on June 1, I set about ensuring the casino was Covid-secure. We adopted a gold standard approach – installing the best quality Perspex and glass screens as well as hand sanitiser points throughout the building. Our capacity was also reduced by half to make sure that customers could move freely while observing our strict social distancing measures. And our test and protect system is in a class of its own.
I'm pleased to say that since reopening on August 24, we haven't had a single reported case of Covid, despite the fact that thousands of customers have passed through our doors. And I know that the same is true of casinos all over the UK.
Walking round Glasgow city centre, I make a point of observing the anti-Covid measures in place at other establishments, such as pubs. And while some have undoubtedly installed high-quality systems like ourselves, others have done the bare minimum. Indeed, some pubs have been forced to close after coronavirus outbreaks. They then do a deep clean and are allowed to open again.
So why, when our anti-Covid measures have been shown to be so successful, have all 11 casinos in Scotland been ordered to close while pubs can stay open, albeit without selling alcohol?
Before we opened our doors again, I wrote to 23 local MPs and MSPs inviting them to come to our casino to see what we had done to ensure the safety of our staff and customers. Unfortunately, not one of them took me up on that offer. How can they pass judgment on the Covid-security of our venues when they won't even come to see them for themselves? It's no way to treat our hard-working staff or their constituents.
You don't have to take my word for it, though. We've had visits from the police, who have told us that our anti-Covid measures are better than any they've seen elsewhere.
But despite this, we are closed and have no idea when we'll open again. I would urge the Scottish Government to visit our casinos so that they can talk to our staff and see what we've done to secure our venues. We want to get back to work. Let us open our doors again.
Iain Gardiner, general manager of the Genting Casino