Capitol riots fallout sounds the death knell for Donald Trump's toxic brand – Martyn McLaughlin
It is hard to put an figure on the price Scotland is paying for Donald Trump's continuing malignant presence in this country, but the R&A's announcement that his Turnberry resort will not host the Open Championship for the "foreseeable future" confirms that it stretches into at least nine figures.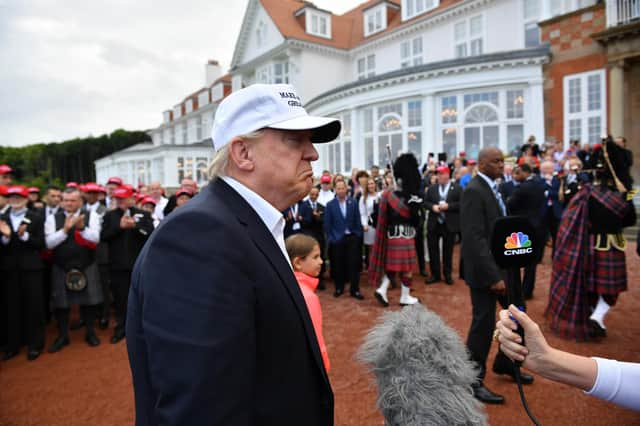 After several years of keeping its powder dry, and issuing biannual diplomatic non-committals, golf's governing body finally gave voice to what many long suspected – for as long as the historic Ayrshire property is besmirched by Mr Trump's ownership, it will not host the sport's oldest, and arguably most prestigious, tournament.
It is a blow to the storied venue and all who hold it dear. Some of the tournament's grandest dramas have played out at Turnberry, not least the Duel in the Sun between Tom Watson and Jack Nicklaus. There are people who have been employed there long before Mr Trump arrived on the scene who are rightly despondent at how their pride and joy has been so comprehensively diminished.
The cost to the Scottish economy is also tangible. Research shows that the 2018 edition of the Open, held at Carnoustie, was worth £120 million to the country. The figure for the 2016 iteration at St Andrews was £10m higher, with spending by visitors to Scotland generating £88m alone.
Worse than impeachment
Had Mr Trump not been its proprietor, it is highly likely that a year would already have been set for the first Open at Turnberry since 2009. But that prospect – and the money that comes with it – is on indefinite hold. The next time you hear someone thoughtlessly pontificating about the benefits Mr Trump has brought to his mother's homeland, it is worth reminding them of this fact.
If the R&A's announcement is a bitter disappointment for Turnberry and Scotland, then it is nothing short of a catastrophe for the outgoing US president and his family firm. Based on my encounters with Mr Trump, and conversations down the years with others in the Trump Organisation, I haven't the slightest doubt that he will be far more angry and concerned about the R&A's decision than he is about the new impeachment proceedings.
He is motivated almost exclusively by status and prestige. When New York's old money crowd never accepted him, he simply doubled down and snapped up as much real estate as he could finance. The same is true in the golfing world, whose conservative denizens have always mistrusted his bullish modus operandi.
Mr Trump went out and bought the only Open venue in private ownership, and showed he was prepared to play the long game. In a show of uncharacteristic tact, he pledged to consult the R&A before making any changes to Turnberry's famous Ailsa links.
He did so out of sheer desperation to bask in the reflected glory of the sport's most historic tournament. One source at Turnberry put it best when I asked about Mr Trump's relationship with the R&A. It was, they said, transactional and "totally sycophantic."
Currying favour
Indeed, when Mr Trump and his son, Eric, outlined their proposed remodelling of the course in April 2015, it followed almost precisely the private recommendations of golf's governing body and its chief executive, Peter Dawson, who was extensively consulted beforehand.
Mr Trump first met Mr Dawson a decade previously, alongside Mike Tate, an R&A director. At the time, he was setting out his plans for his inaugural Scottish resort in Aberdeenshire and his meeting with both men in St Andrews was presumably to set out his grand plans, and get the R&A onside.
They were among a number of senior officials who Mr Trump curried favour with. One, Sandy Jones, the then chief executive of the PGA and a Ryder Cup board member, became a regular recipient of Mr Trump's text messages.
After the Turnberry revamp began, such wooing looked set to pay dividends. Come July 2015, it was widely expected Mr Trump's Aberdeenshire course would be announced as a host of the 2017 Scottish Open, with it returning there on a regular basis thereafter.
Autocratic tendencies
But as Mr Trump turbocharged his presidential campaign, his best laid plans began to unravel. Officials were horrified at his remarks comparing Mexicans to criminals, drug dealers, and rapists, and the Scottish Open plans were scrapped. It is no coincidence that one of the event's partners was the Scottish government.
The R&A privately felt the same, and under its new chief executive, Martin Slumbers, there was a growing acceptance that it could ill afford the controversy of legitimising Mr Trump. After the shameful events of the past week saw the US PGA strip Mr Trump's New Jersey course of the right to host the coveted PGA Championship in 2022, the R&A could no longer bite its tongue.
The decision confirms the failure of Mr Trump's annexation of elite golf, and with his Scottish resorts facing a state of permanent limbo, there are questions over his long-term commitments here. Plans hatched by Eric Trump for a "world-class coastal retreat" featuring hundreds of properties at Turnberry were viewed, in part, as a way of making the venue more commercially viable in the R&A's eyes. Now, such a proposal makes even less financial sense.
The Trump family preside over heavily indebted, loss-making properties in Scotland that will never host golf's biggest tournaments, and in the midst of a ruinous pandemic, they must now contend with the dire economic consequences of its patriarch's autocratic tendencies.
Around the world, companies and financial institutions are severing their ties with the Trump Organisation. It is a brand which once served as a byword for questionable taste and conduct, but which is rapidly mutating into a masthead for extremism.
Only a few years ago, I and many others presumed Mr Trump's bid for public office was a crude marketing wheeze. How ironic that the presidency, far from reinvigorating his brand, could sound the death knell for it.
A message from the editor:
Thank you for reading this article. We're more reliant on your support than ever as the shift in consumer habits brought about by coronavirus impacts our advertisers. If you haven't already, please consider supporting our trusted, fact-checked journalism by taking out a digital subscription.
Comments
 0 comments
Want to join the conversation? Please or to comment on this article.