The Aberdeen-born Shadow Secretary of State for Women and Equalities joined me in Glasgow for a national conversation she is having to understand the experiences of women in their 40s, 50s and 60s. Like other Shadow Cabinet members, Anneliese, who is also chair of our UK party, wants to be equipped to deliver the change we promise across the country as soon as we elect a Labour government.
Her visit had a particular focus on women's health, and we were delighted to be hosted by Maggie's Centre at the Beatson in Glasgow for a roundtable on breast cancer with voluntary organisations and consultant oncologists. The scale of the problem is such that one in eight women in Scotland will get breast cancer during their lifetime. But the advances that we have made in treatment are in danger of going backwards – let down by delays and stark inequalities in diagnosis.
The Scottish Government's 31-day and 62-day treatment targets are simply not being met. The screening programmes, of course, were suspended during Covid and what we're seeing now is many more women reporting with late-stage cancers, which makes them more difficult to treat.
The catch-up screening programme is really important. The whole point of screening is if you catch cancer early, you're able to treat it early. People's outcomes are far superior as a result of that but inequality is leaving us with a massive health gap in the middle of Scotland's wealth gap.
The figures we heard are stark. Up to 80 per cent of women from more affluent areas will go and get screened, but that number drops to 61 per cent in the most deprived areas. That difference of 19 percentage points is shocking. It translates quite simply into far worse health outcomes and far greater risks for women from poorer areas.
To close that gap we need to do a lot more to enhance the mobile screening vans which you see dotted around the country. Lots of women do use this mobile service, often on the supermarket run, but in a place where they are juggling children, the demands of work and home, women often don't have the time to themselves to attend screenings.
One solution, we heard, was to do more in communities. People are more likely to listen and take advice from a community champion encouraging other women to come forward for screening before they listen to a health professional. If every screening appointment could have the safe and comforting atmosphere of the Maggie's Centres, we'd be making progress but we have to get screening into very localised areas and into women's lives to improve outcomes.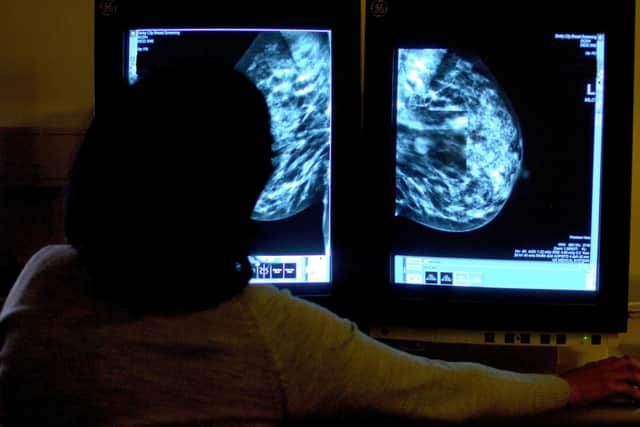 Making sure we've caught up on the missed screenings is one issue, but there is also a problem with a lack of radiographers for the scans. So if somebody has, for example, an indication that there's a mass on their breast and they are sent for a scan. Immediately they hit the problem that we simply don't have enough radiographers interpreting scans. This causes delays before somebody sees their cancer consultant.
We need to get every part of the journey working better but, without change, it's hard to see that happening. The Scottish Government's cancer plan expired on March 31. We've had four cancer plans in seven years and the latest one should have been published by now.
But the Cabinet Secretary for Health is new in his post and I think it is right he takes time to consider what he has inherited. However, the plan must be comprehensive and it must set out actions to tackle the rarer cancers and those that are hard to diagnose, as well as doing better with the common cancers.
The charity Breast Cancer Now, which was represented at our meeting, highlighted that currently we do not even measure the incidence and treatment of secondary breast cancer. It's another area that needs to see change. We need to and should be able to measure this because, if we don't know how prevalent secondary cancers are, how can we have the services in place for those in need?
This SNP government is very good at making plans, but actually it's delivery that matters. The Women's Health Plan is a case in point. We all welcomed it as it touches on all the right issues. But the delay in implementation is appalling. The SNP government took more than a year just to get the Women's Health Champion in place.
I don't want a plan that looks good and says the right things. I want it to be resourced and have a timeframe for action and targets that have to be met. All the promises around breast cancer and cervical cancer in the plan are fine but they have to be implemented to make a difference.
Right now, if you're in NHS Greater Glasgow and Clyde, and you get a positive smear test, which could be an indication of cancer, you could be waiting 52 weeks for a follow-up scan, not knowing whether you've got cancer or something equally serious.
Women in Scotland should not have to wait a year to know the state of their health. That's why we need change, and Scottish Labour, with a plan to transform women's health, is the change we need.
Jackie Baillie is MSP for Dumbarton, Scottish Labour's deputy leader and her party's spokesperson for health