As an engineering student with a passion for change management, Scotland's energy transition presented me with an exciting opportunity to help traditional industries navigate digital transformation and decarbonisation.
Legacy industries such as offshore oil and gas have lagged on digital transformation due to a communications barrier between academia and industry. Computing courses are great at teaching software development but can neglect the skills needed to communicate its commercial benefits. I wanted to bridge this gap by doing my studies in an industrial setting and taking my research all the way from conceptualisation to commercialisation.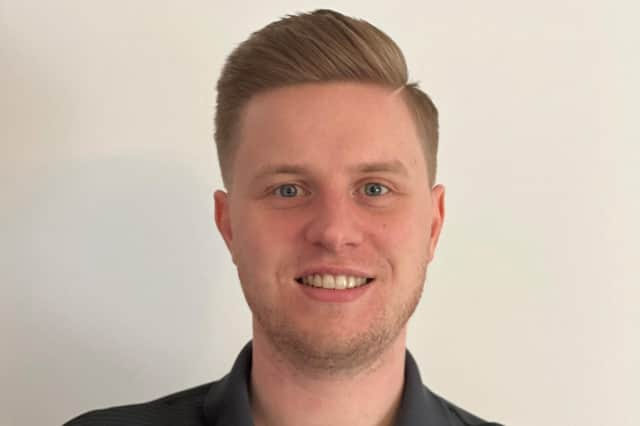 I applied for a Knowledge Transfer Partnership which allows graduates to apply their research to a real-world business challenge so that I could both do research and make a meaningful contribution to society. After writing a cover letter and report explaining how my concept could reduce manpower requirements for back-deck equipment across offshore energy, I was selected to work with Motive Offshore.
The company is at the forefront of Scotland's energy transition with the renewable share of its revenue soaring from 20 to 53 per cent in just four years. I have been working at Motive's Innovation Centre in Aberdeenshire which will provide a Learning & Development Centre, office, R&D team, test lab and product launch space enabling researchers to see their idea through from ideation to implementation. It will allow students to develop new innovations in everything from equipment automation to new mooring lines for floating wind platforms.
I was grateful to be able to pursue my research interests while also on a full salary, personal development budget and travel expenses. I had access to two academic supervisors and two business leaders and even visited Norway to see their innovations in the field.
Research with real-world benefits
I developed a device that can be easily retrofitted to any offshore equipment across any marine environment, transforming inanimate machines from tensioners to winches into "Internet of Things" networks. The tool uses microprocessors, CAN networks and serial inputs to capture rich real-time data on 50 parameters from energy efficiency to carbon emissions to drive economic and environmental benefits across the blue economy. For example, it can monitor hourly fuel use across HPUs to help operators' find opportunities for combined cost and carbon efficiencies. The tool will eventually be integrated with real-time data and AI to power improvements in predictive performance and efficiency across Motive's portfolio.
In just two years I took the innovation from concept to the cusp of wide-scale commercial rollout and joined Motive full-time as their new Head of R&D. I believe this shows how closer collaboration between universities and companies can accelerate graduate career progression, fast-track concepts into commercial products and help research drive genuine change.
The gap between academia and business means many great concepts never make it into industry. This opportunity gave me a chance not just to complete my research but to see it crystallise into a living, breathing thing with the potential to make a meaningful change. I now look forward to putting everything I learned into practice, helping drive digital transformation and supporting the energy transition across the wider offshore industry.