Brian Monteith: Will the real Rishi Sunak stand up?
And then there were two. Having whittled down the eight aspirants for Conservative Party leadership and ultimately the role of Prime Minister to the last two contenders, Tory MPs have created a new problem for themselves – how do they put their very own Humpty Dumpty of a party in Government back together again? Is there anything left to believe in?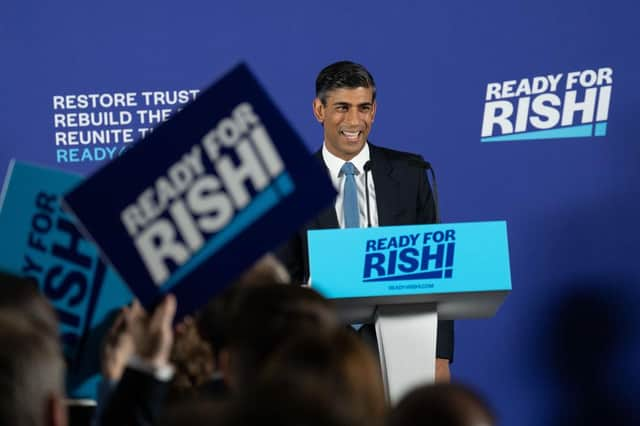 We are only in the early days of candidates skirmishing and already it is taking a surreal turn. Rishi Sunak has given a speech to supporters in Margaret Thatcher's birthplace of Grantham to send a signal he is the natural heir to Thatcher. Unfortunately, his record in office on raising taxes and ballooning public spending does not support his public relations schmoozing. At least he did not confuse Grantham for being in Scotland (which he previously did with Darlington).
John Redwood, formerly a head of Thatcher's Policy Unit and someone with a keen mind and a good memory for detail, was not slow to Tweet that in all his time in Parliament when he offered economic advice to Sunak he was never asked what Thatcher might have done. Funny that.
Such behaviour betrays a far wider problem for Sunak, undoubtedly the party's smooth operator. How the party can replace Boris Johnson – removed by his colleagues because too many thought he was untrustworthy and had shown repeated poor judgment – by elevating a replacement who has made serial economic misjudgements and whose confected persona provides all the solidity of candy floss?
A candidate who held on to his US Permanent Residency (Green) Card, allowing him to work there, until 2021? A candidate who never judged his wife's legitimate and entirely legal tax affairs would present a significant personal embarrassment to his role as Chancellor (requiring her to later change her arrangements at great personal cost to save his face). These revelations put front and centre the question of Sunak's political judgment? Did he really think people would not care?
A candidate who, like Johnson, incurred his own Fixed Penalty Notice for breaking lockdown rules? A candidate with a campaign website domain that was first registered in December 2021. Why, there was no vacancy?
These were all actions before the position of Prime Minister became available and yet Sunak continues to act as if none of it mattered.
Now Sunak is claiming to be an underdog, claims he saved Christmas from another lockdown, parades himself as the most authentic Brexiteer and sounds more robust on illegal immigration than Priti Patel. None of this holds water.
I still have enough personal contact with Tory ministers across half a dozen departments to know Sunak has been an obstacle to delivering Brexit benefits – like cutting VAT on energy, invoking Article 16 on the NI Protocol and has emasculated possible benefits of Freeports. He is the Treasury's man in the Tories, not the Tories' man in the Treasury.
He did not work to stop lockdowns but enabled them by not supporting others in Cabinet seeking to halt them. He is no belligerent border guard but repeatedly put obstructions in the way of Home Office initiatives to stop illegal immigrant numbers mounting. Sunak is not the underdog, he is the prime pedigree poodle of the presiding establishment.
There are, of course, faults with the candidacy of Liz Truss; we are all human and to err is entirely predictable. The question is, do we get to know them in time and have they learned from them or do they continue to repeat them?
The marginal advantage Truss displays, thus far, is we believe her misjudgments and political handbrake turns are out in the open and she has owned and atoned for them. She once spoke out against monarchical succession, and campaigned to remain under EU tutelage. Yet she is now a supporter of our constitutional monarchy and has done more to deliver Brexit than Michael Gove (its greatest betrayer).
Of course, she should not overcompensate for her fleeting past as a Liberal Democrat by trying to be a Thatcher looky-likey – people want to see someone be natural, be themselves – not a tribute act. We all move on, we all grow up, we all change. Giving an honest assessment of one's journey through life provides a far more engaging narrative than seeking to be something a candidate is not. No one wants a fraud they cannot trust, so the policies that one espouses must fit with the perceived character if they are to gain credibility.
There is no doubt a heavy and repeated dose of honesty in politics would be popular. There are few if any "respectable" professions that evoke less distrust with the public, than those taking a shilling to represent us; previous title holders such as estate agents or tabloid journalists are now falling behind. There is said to be more honour among thieves (probably said by thieves or their PR companies), so we need a Prime Minister who is real, open and trustworthy.
The blush of attractiveness that landed on Kemi Badenoch's campaign was a reflection of the public warmth felt towards her approach of "telling the truth". I do hope her campaign was genuine, but the 19 of her supporters who then supported Sunak – surely the antithesis of Badenoch's campaign of change – rather suggested her numbers had been inflated by Sunak-friendly MPs "lending their votes" all along.
Sunak has been good at delivering inflation. And now he claims he's the one that can cure it. He went back on the manifesto commitment to not increase National Insurance and is hiking Corporation Tax up from 19 per cent to 25 per cent – both policies the reverse of what Grantham's Thatcher did. Please, will the real Rishi Sunak stand up?
Brian Monteith is a former member of the Scottish and European Parliaments and is editor of ThinkScotland.org
Comments
 0 comments
Want to join the conversation? Please or to comment on this article.