Brian Monteith: We now know 'Wheesht for indy' meant much more than we ever realised
Is keeping "Wheesht for Indy" more important than providing reassurance the financial conduct of the political party leading that cause meets legal or professional accounting standards?
Is it right, that when questions are being asked about the state of party funds by devout supporters of Scottish independence – including some who held elected office to monitor fundraising and spending, that their party leader should warn against discussing or even asking such questions because it might dissuade sympathisers from making donations?
These are the questions that need to be asked of former First Minister and party leader Nicola Sturgeon after a video has emerged of her telling the SNP's National Executive Committee (NEC) to avoid joining the debate about what was already being reported in the Scottish newspapers and across social media.
The phrase "Wheesht for Indy" first originated as a call for silence from nationalist critics of the SNP's Gender Recognition Reform Bill as it could undermine the cause of holding and winning a referendum for Scottish independence. Now, with attempts to stop genuine concerns about the SNP's finances being put in the public domain, we can see that "Wheesht for indy" has a far-reaching justification.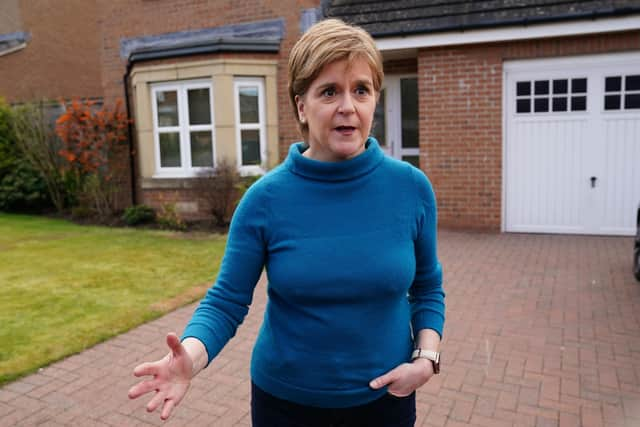 Is there anything that should not be prevented from embarrassing SNP leaders in the eyes of the public?
Does independence really trump every other concern or priority that might matter to Scots or for Scotland?
The video provided to the Sunday Mail shows First Minister Nicola Sturgeon telling her party's NEC back in March 2021 that, "the party has never been in a stronger financial position than it is right now and that's a reflection of our strength and our membership.
She then goes on to say, "I'm not going to get into the details...but, you know, just be very careful about suggestions that there are problems with the party's finances, because we depend on donors to donate.
"There are no reasons for people to be concerned about the party's finances, and all of us need to be careful about not suggesting that there is."
Sturgeon then concludes with a warning, "We've got to be careful we don't reap what we sow, if we have leaks from this body it limits the ability for open free and frank discussion." That appeal was clearly adhered to by NEC members for it was over two years ago and it has only now come to light after she resigned from leadership on 15 February 2023.
Yet it was the same month of March 2021 that three members of the party's finance and audit committee – Frank Ross, an accountant and Edinburgh's Lord Provost, NEC member Allison Graham and company director Cynthia Guthrie – resigned because they could not see the party's accounts in detail.
Then, only a month later in April 2021, The Scotsman reported Police Scotland confirming, "We received an allegation of fraud around 4.40pm on Thursday 25 March 2021" in connection with SNP finances.
By June of the same year – only three months later – her husband and SNP Chief Executive Peter Murrell loaned the party £107,620. It was not until 18 months later the Scotsman could report the loan being revealed by the Electoral commission on 14 December 2022.
Since Nicola Sturgeon's resignation we have also had Peter Murrell's resignation on 18 March 2023 over withholding accurate membership numbers. Then came his arrest and questioning by Police Scotland in connection with its fraud investigations on 5 April; being released from custody nearly 12 hours later the same day without charge.
This led to the further revelations the SNP's auditors had resigned in September 2022 and have not yet been replaced. Any new auditor has to obtain a certificate from Johnston Carmichael before assuming the role, explaining the reasons for the resignation and any concerns the past auditors may have. The NEC was not informed of the resignation and the candidates for Sturgeon's replacement were not told – the winner, Humza Yousaf only being informed after his election.
The SNP has until 7 July this year to submit the audited accounts for 2022 to the Electoral Commission – and also has to provide the House of Commons an Auditors' Certificate by 31 May confirming taxpayer-funded Short Money (provided to support the administrative costs of opposition parties) was correctly used so the £1.1m funding for 2023/24 can be awarded. Without the huge subvention some 25 SNP MP employees' jobs will be at risk of redundancy.
The additional revelation that the SNP had purchased a Niesmann + Bischoff iSmove motorhome valued at £110,000 in advance of the Holyrood election of May 2021 has only opened the party's behaviour to greater ridicule. Police Scotland impounded the glam campervan by towing it away from Nicola Sturgeon's 92-year-old mother-in-law's driveway, where neighbours have claimed it sat since early January 2021.
Just whose name is registered with the DVLA as the Vehicle's Keeper? It was not given any yellow livery and not used in the Holyrood election or the May 2022 local council elections. Instead the SNP used a liveried coach that was branded the Gravy Bus by an SNP MP's staffer, Sally Donald.
Why all the secrecy surrounding SNP finances, why the need to suppress the information and discussion – was it to ensure membership subscriptions did not continue to fall and that donations kept rolling in?
It is difficult not to conclude that "Wheesht for Indy" was what has always dominated thinking of the SNP's leadership clique – taking SNP members and donors for mugs in the process. If those in charge of the SNP would do that to their own National Executive and own party supporters just how honest have they been with the country about our healthcare, education, ferries and all their other failures?
Brian Monteith is a former member of the Scottish and European Parliaments and editor of ThinkScotland.org
Comments
 0 comments
Want to join the conversation? Please or to comment on this article.