Brian Monteith: There's hope when political bullies are called out
It is difficult not to enjoy seeing bombast and bullying exposed and taken down successfully. Our political discourse needs robust healthy debate, but aggressive purveyors of falsehoods need challenged to ensure the truth is unearthed.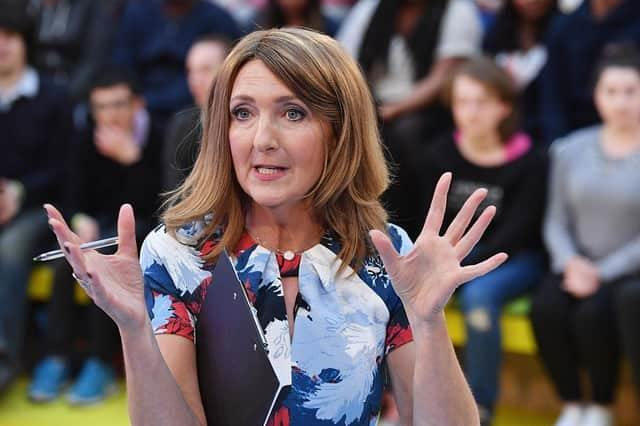 Occasionally I find something on mainstream terrestrial television that cheers me enough to think positively about the future, that good will prevail and I might be enticed back to looking out for more. Last year it was the Eurovision Song Contest when the joyful and exuberant performance of Sam Ryder earned him second place, leaving me cheerful and persuaded of our ability to see the good in people, especially those overcoming great odds. The fact Ryder missed out on winning because of the huge popular vote for Ukraine only added to the sense that humans possess an innate moral compass.
I must watch Eurovision again next year, I thought, and I looked out for news of its coming with unrestrained anticipation.
Needless to Saturday night's event demonstrated last year's boundless enthusiasm of Juries to forget petty nationalism had been a short-lived aberration and the political voting that appear to override concerns about the quality of the songs had returned with a vengeance. The UK entry did not shine as brightly as Ryder's comet but it certainly did not deserve to come second last, far behind some real howlers (literally). I thought we had gotten over the Baltic and Scandinavian nations all voting for their neighbours, but clearly not.
The likelihood of me watching Eurovision again is now far less than 50/50 but I still hold out hope for finding encouraging examples of good triumphing over adversity although it can occur in the most unexpected places. One such occurrence happened last week on, of all places, BBC2's Newsnight. Kemi Badenoch, the Secretary of State for Business and Trade had announced the number of EU laws that would be abolished by the end of the year would no longer be the 2,400 that Rishi Sunak had promised in his leadership election campaign last year but more like 600.
It was a major retreat by the government. Some commentators were trying to excuse it as mere overpromising by Sunak (as if that's a legitimate approach to good government or democratic process) – a more likely explanation closer to the truth was he never believed in his promise but had sought to dupe the Conservative members' and then caved-in to a combination of foot-dragging or open opposition by officials and a lack of political will by colleagues. To develop the story into a full-blown discussion about Brexit coming back on to the agenda at the next general election Newsnight decided to have Tony Blair's former press secretary Alastair Campbell debate the issue with Alex Phillips, a former Brexit Party MEP now campaigning for its new manifestation as the Reform Party.
Alex Phillips did something that is not often seen on the BBC, she sought to explain that much of the discussion around Brexit is around Conservative gimmicks – such as Sunak's offers of culling EU laws – when the pertinent issues around seizing Brexit opportunities and doing things differently were being ignored. This wrong-footed Campbell whom it seems must live in a bubble where it is easy to attack Brexiteers from a distance rather than face a competent communicator such as Phillips sitting immediately next to him.
It did not take long before Campbell opened up into bombast and bluster making outrageous claims such as "we've already lost 4% of the economy" due to Brexit. Newsnight's presenter, Victoria Derbyshire, displayed a canny ear for error and immediately corrected Campbell by pointing out the economic estimates were for 4% over ten years (eg 0.4% per year).
Now, regular readers of this column will know that even the Office of Budget Responsibility claim of "4% cost to GDP over 10 years" is utter nonsense as it is predicated on an economic model that assumes net immigration falling (because of Brexit) when in fact post-Brexit net migration has been climbing (504,000 in the year to June 2022) and the Home Office has warned it may reach an additional one million net legal immigrants this year. Were the OBR modelling right (and it can be challenged on many levels), the economic modelling should be recalibrated and could be expected to show an increase in GDP following Brexit – but it is no surprise the OBR is not fessing up to its massive error that is now a common falsehood to be repeated (inaccurately) by the likes of Campbell.
As the debate went on Campbell became more assertive making false claims about a weak pound (it's currently achieving year highs) and about EU laws being scrutinised at Westminster (they were nodded through). After being accused of talking nonsense Phillips reminded Campbell of his role in the sexing-up of the official government report on weapons of mass destruction that helped take the UK into the Iraq war.
At the end Phillips had held her composure and called out Campbell for being rude, which was by contrast an example of restraint. Through all of this Derbyshire had sought to control Campbell's behaviour but then became a victim of his ire – to which she respectfully disagreed and thanked him for coming on the show, moving on to the next topic…
We need to see more examples of bombast and bullying by politicians, real or would-be, being called out by the BBC. It would certainly restore my faith in the ability of television to inform viewers of actual facts, not slogans and patronising platitudes. I could prepare a long list of targets. It would certainly get me watching Newsnight regularly again – which like Eurovision I gave up years ago.
Brian Monteith is a former member of the Scottish and European Parliaments and director of communications for Global Britain.