Brian Monteith: Here is why Rishi Sunak must make a Section 35 Order on the gender reform bill
This week we shall learn what Prime Minister Rishi Sunak is made of. Is he willing to defend the devolution settlement – or is he content to let the SNP stretch it beyond its limits until it snaps and we collapse into gender wars?
Secretary of State for Scotland, Alister Jack, and Equalities Minister, Kemi Badenoch, are right to be concerned the Gender Recognition Reform Bill, passed at Holyrood before Christmas, is legislation that goes beyond the powers of the Scottish Parliament. Why the rush to pass legislation that is far behind priorities such as the cost-of-living crisis ? Where's the national energy company Sturgeon promised, or the education bill that never surfaced, or action on the NHS, drug rehabilitation and falling Scottish life expectancy?
Alister Jack knows the SNP, led by First Minister Nicola Sturgeon, is constantly seeking to stretch the powers at her disposal in a wilfully aggressive and tactical ploy to create new constitutional grievances that will remotivate her base support.
Kemi Badenoch knows that while there are always arguments for social reforms to tackle genuine injustice (as opposed to self-serving activism), more damage than healing can be the outcome of creating conflicting laws across the country – especially if they are open to exploitation.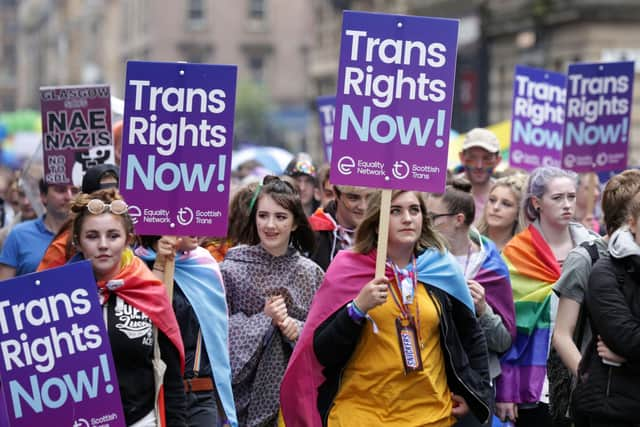 It was apparent early on that Sturgeon's GRR Bill offered potential conflicts with the UK's Equality Act 2010 and thus could be beyond the powers of Holyrood. Why is so much attention given by her to pushing laws such as minimum pricing of alcohol (that has utterly failed to do what it promised), the creation of state guardians for under 18s and holding a referendum on secession from the British family that all inevitably ended up in court? Is the conjuring-up of avoidable disputes that generate faux grievances what Sturgeon's expensive advisors spend their time deliberating over? They certainly don't talk her out of finding disagreement with Westminster, or even the majority of Scots (none of the aforesaid policies enjoyed majority popular support).
Nevertheless, the GRR Bill was prioritised and with the help of the Scottish Labour Party and the Liberal Democrats it has what appears to be a democratic legitimacy.
The argument is therefore being made that for the UK Government to make a Section 33 or 35 Order (both could halt the Bill from receiving Royal Assent) will be an affront to democracy; will be an attack on devolution; and thus only strengthen demands for independence. For Sunak to intervene is therefore being encouraged by those nationalists who are spoiling for a fight rather than desiring good laws for Scotland – and by anti-nationalists who hope the damage of bad laws will bring about the SNP's demise.
I believe either approach to be disingenuous tosh.
There can be no democratic mandate for a power that does not exist. A Scottish local council can no more declare war on a sovereign country, committing British armed forces to spill their blood and exhaust our treasure, than it can prove that declaring itself a nuclear free zone will halt radioactive fallout crossing its municipal boundaries.
There are many good reasons to believe the GRR Bill is in conflict with the UK Equality Act, best evidenced in a report published by Policy Exchange last week. These include the impact the new Scottish law could have on individual protected rights regarding definitions of sex; use of single sex spaces and services; the operation of single sex schools (essentially girls' schools) and other sex-defined organisations – all delivered by the UK's Equality Act in Scotland. Moreso, Sturgeon's GRR Bill will then be able to modify the Equality Act in the rest of the UK – undoubtedly beyond the powers of the Scottish Parliament.
It is to prevent MSPs creating laws beyond their jurisdiction, for which they are neither responsible nor accountable for, that Section 35 exists – for this reason alone Sunak must move a Section 35 Order. That part of the Devolution Act is a vital part of the devolution structure; therefore to make the order is not an attack on devolution but a defence of it – by protecting it from those who wish to destroy it from within. The GRR Bill's purpose in the hands of the SNP/Green Government is that of a Trojan Horse – but it must not be let through the gates.
The First Minister will no doubt claim a Section 35 Order is a denial of sovereignty by a Tory Government, but these would be hypocritical weasel words.
Sturgeon herself advocates taking an "independent" Scotland into the EU, where the consequential loss of sovereignty to the unelected EU Commission and its obliging Courts of Justice would mean future Scots laws could be impermissible and lead to sanctions. You only need to look at the bitter dispute over Polish legal reforms to see the EU will intervene to enforce its way. The UK Government would be acting no differently in protecting the rights of all British people by making the Section 35 Order.
Interestingly, the Labour Party leader, Sir Keir Starmer, has announced he can see significant problems with the GRR Bill that could justify a Section 35 Order. Clearly he has more acute eyesight than his Scottish leader, Anas Sarwar, who enforced a whipped vote in its support. Or maybe he's seen the polling that shows the Scottish public is against the GRR reforms?
Doing nothing will only embolden the nationalists to stretch devolution even more until it snaps. After his failures to act on the Northern Ireland Protocol, now is the time for Rishi Sunak to show he is Prime Minister for the whole of the UK.
Brian Monteith is a former member of the Scottish and European Parliaments and Editor of ThinkScotland.org
Comments
 0 comments
Want to join the conversation? Please or to comment on this article.