Brexit: Why Northern Ireland, a pawn in Boris Johnson's political schemes, might be closer to the UK exit door than Scotland – Joyce McMillan
Where there is discord, may we bring harmony; it's a quote from St Francis of Assisi much used and abused by politicians, and most famously uttered by Margaret Thatcher as she entered Downing Street in 1979, despite the obvious divisiveness of her politics, and her policies.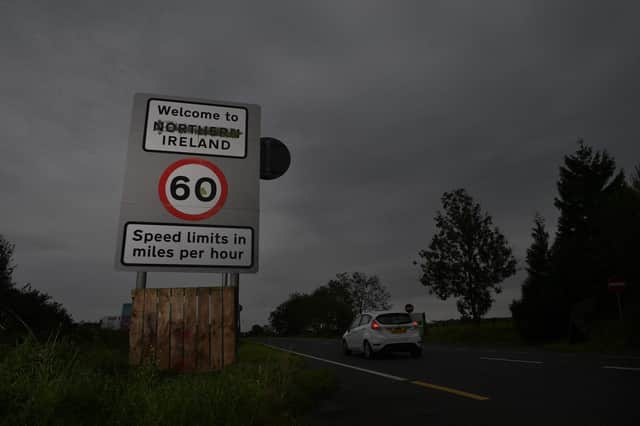 Yet even Lady Thatcher would surely have been taken aback, 40 years on, by the speed with which those who call themselves her heirs and successors have succeeded, over the last half-decade, in doing the exact reverse; in sowing discord where there was harmony, and conflict and division where there was useful co-operation.
Back in 2015, when David Cameron won the surprise overall election majority that led to the EU referendum, Britain had been an EU member for 42 fractious but productive years, exercising a major influence on the policies of the world's most powerful trading bloc, and extending the full rights of EU citizens to all of its people.
Relations with Ireland, too, had reached a historic moment of harmony; following the Good Friday/Belfast Agreement of 1998, it seemed that David Cameron's powerful apology for the Bloody Sunday killings of 1972, and the Queen's hugely successful visit to Dublin in 2011, had brought to a happy close almost two centuries of strife over British rule in Ireland, with both countries now prepared, under the umbrella of the European Union, to accept the multiple identities that exist on these islands, and to allow them to flourish and co-exist, not least in Northern Ireland itself.
World-beating indifference
Yet to a faction within the Conservative Party, none of this mattered as much as their ingrained dislike of the EU's success in regulating the worst excesses of 21st-century capitalism, combined – in many cases – with a pathological need to keep refighting the Second World War whose heroic narratives dominated their childhood.
And the rest, of course, is now history; leading to the shocking crisis in which we find ourselves this week, as we stumble – in the final minutes of the 11th hour – towards what looks increasingly like a no-deal Brexit, or a minimal and deeply damaging deal at best.
It's therefore not surprising that it has become a commonplace of UK political discussion, in recent months, to speculate about the long-term impact of this Brexit mess on support for Scottish independence, which has indeed been rising.
Yet it seems to me that a far more immediate question concerns Northern Ireland, which from the outset of Brexit negotiations has been on the receiving end of British government confusion and indifference on a truly world-beating scale.
The referendum debate, back in 2016, was conducted with almost no reference to Northern Ireland; and when voices were raised pointing out the difficulty of maintaining an open border in Ireland after Britain's departure from the EU, many Tories roundly dismissed those questions as mere mischief-making.
Theresa May, as Prime Minister, then reached a withdrawal agreement which did indeed involve leaving the Irish border open, instead placing customs checks in the Irish Sea between Northern Ireland and the rest of the UK; but Boris Johnson's Brexiteers allied themselves with the Ulster unionists of the DUP to reject such an agreement as unthinkable, plunging the negotiations into further chaos.
When Boris Johnson became Prime Minister last year, though, he promptly reached a withdrawal agreement containing exactly the same provision; only to start lying about it within hours, not least to worried DUP members.
The UK government then introduced its notorious Internal Market Bill, giving itself the freedom to break the Withdrawal Agreement it had so recently signed; unionist hardliners in Northern Ireland presumably breathed a sigh of relief.
This week, though, in negotiations in Brussels, the Johnson government once again threw that Ulster unionist position under a bus, effectively leaving Northern Ireland inside the EU single market, with checks in the Irish Sea. And still there remains a chance that if there is no deal, the UK government will simply walk away again, from the whole agreement.
An expedient betrayal
Whatever the outcome, in other words, this whole sorry tale raises the question of why anyone in Northern Ireland should put up with such treatment any longer. If there is no deal, the province risks losing its easy access to the south and to the EU in a way that will enrage everyone in Northern Ireland except a rump of diehard unionists.
And if there is a deal allowing Northern Ireland to remain in the single market and customs union, the current UK government will effectively have reunited Ireland the Tory way, by creating a situation so chaotic that betraying their ardent DUP supporters proved the only practical way out.
In just half a decade, in other words, this generation of Tories has alienated and angered our former European partners, plunged us into a grave economic and trading crisis at the height of a global pandemic, openly embraced the idea that their actions will make the people of Britain poorer, betrayed their DUP allies not once but three times, and risked undermining the Good Friday/Belfast Agreement in a way that will damage British-Irish relations for decades, as well as alienating the incoming Biden administration in the United States.
And although Scotland and Northern Ireland both have ample reasons to walk away from this unholy mess of post-imperial delusion, it is actually Northern Ireland, rather than Scotland, that now stands in front of an open door; the door to the south that has been widening steadily for the past two decades, and will now either remain open in a way that consigns the rest of the UK to increasing irrelevance, or will be slammed shut, provoking a majority in Northern Ireland to conclude that finally, enough of UK government is enough.
A message from the Editor:
Thank you for reading this article. We're more reliant on your support than ever as the shift in consumer habits brought about by coronavirus impacts our advertisers.
If you haven't already, please consider supporting our trusted, fact-checked journalism by taking out a digital subscription.
Comments
 0 comments
Want to join the conversation? Please or to comment on this article.