Brexit: UK government's decision not to take part in Erasmus student exchange scheme shows its insular 'little Britain' attitude – Angus Robertson
The true reality of Brexit hits us this week as we enter the New Year and finally lose our rights built up over four decades inside the world's biggest trading block.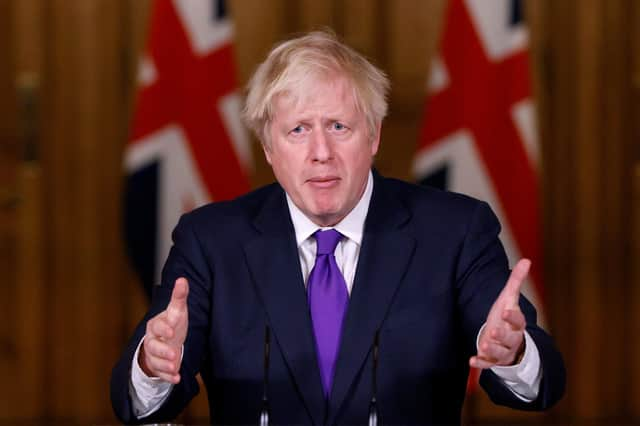 Boris Johnson insisted there was 'no threat' to Britain's involvement in the European Erasmus+ student exchange scheme but the UK government reportedly chose not to take part (Picture: John Sibley-WPA Pool/Getty Images)
With the end of the transition and the beginning of Boris Johnson's Brexit deal, UK citizens and businesses lose the four freedoms: free movement of goods, capital, services and people. However Tories spin this pig's ear, it still remains a pig's ear and they will be often and repeatedly reminded that the people of Scotland and our parliamentarians did not vote for it.
Not only will Brexit costs jobs and economic growth, it will also damage educational opportunities. Three decades since the Erasmus scheme was established with the assistance of Scotland's Winnie Ewing in the European Parliament, the Tories are now dismantling our participation. In direct contravention of explicit assurances, the UK government has torpedoed the life experiences of young people by leaving this student exchange scheme.
Only this year Boris Johnson promised the House of Commons that "there is no threat to the Erasmus scheme," while former Scottish Tory leader Jackson Carlaw was unequivocal: "To make it perfectly clear, I say it is not acceptable to me if the outcome of our exit from the European Union means that we can no longer participate in the Erasmus+ programme".
Let's be quite clear: Boris Johnson lied and Jackson Carlaw and Scottish Tory colleagues are supporting his damaging deal, including withdrawal from Erasmus+. Meanwhile, Northern Irish students will continue to be able to benefit from the experience of studying elsewhere in Europe with the help of the Irish government.
What about the 2,000 Scottish higher education students who have been taking part in Erasmus+ each year? What benefit will future students get from the €30 billion Erasmus budget proposed by the European Commission for 2020-27, including the tripling in number of participants and improving access for those from disadvantaged backgrounds? What about the loss to Scottish education which has benefited from 12,000 EU students who have come to study here under the scheme?
Edinburgh University alone has over 400 Erasmus exchange places for students from partner universities across Europe. Until now there have been opportunities to study a broad range of subjects throughout the European Union. There is no way that a replacement UK scheme will be able match the depth and breadth of Erasmus+. The UK had the opportunity to continue as part of it, but as EU negotiator Michel Barnier confirmed: they chose not to.
A blimp depicting Boris Johnson flies over London ahead of a pro-EU march (Picture: Aaron Chown/PA Wire)
European co-operation has always been about more than economic advancement, it has been about rights for citizens to live, work and learn across the continent as well as better connecting the nations and peoples of Europe. Brexit Britain is now turning inward and celebrates an insular, backward-looking, little-Englander perspective.
Scotland has a straight choice in 2021 when we go to the polls to elect the Scottish Parliament in May. We can carry on with Brexit Little Britain or opt for European and international Scotland.
Either we will vote to hold our own future in our hands or let Boris Johnson and the Westminster Parliament make damaging decisions on our behalf. Opinion polls now show that a clear majority of people in Scotland favour an independent Scotland in Europe. Let's make it happen.
A message from the Editor:
Thank you for reading this article. We're more reliant on your support than ever as the shift in consumer habits brought about by coronavirus impacts our advertisers.
If you haven't already, please consider supporting our trusted, fact-checked journalism by taking out a digital subscription.
Want to join the conversation? Please or to comment on this article.