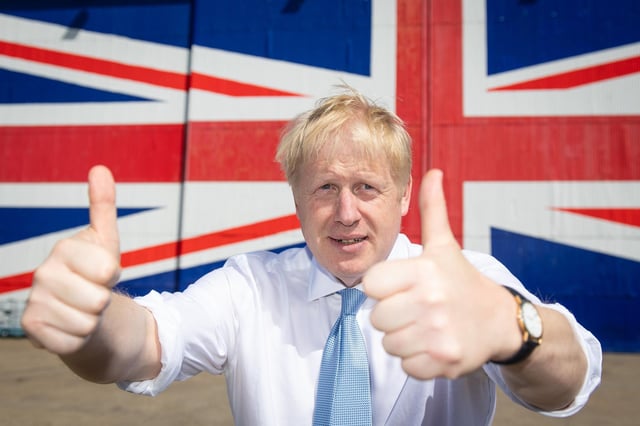 Despite Boris Johnson's typical optimism, ordinary people will have to face the harsh reality of Brexit, says Kenny MacAskill (Picture: Dominic Lipinski/WPA pool/Getty Images)
As the end of the transition nears, whether it's a calamitous no-deal Brexit or a cobbled-together, last-minute accord, it will be nowhere near as good as what we had.
The delusion was in Boris Johnson's recent statement on defence. Leaving aside the idiocy of gargantuan spending at a time of financial austerity, there was the unreality of the world he spoke about.
It was as if the UK was living in a parallel universe located at the height of the Empire in the late-19th century.
There was neither understanding and certainly no acceptance of the UK being a third-rate power – its military strength now less than it had in Ireland alone a century ago, its nuclear capacity dependent on American supply and indeed effective consent for use.
All at a time when the supposed special relationship seems almost closer to that which existed at the time of the War of 1812, than in the shared conflicts of the 20th century
Bullish talk of an aircraft carrier being sent to warm waters and soft diplomacy being dispensed by the armed forces delighted Brexiteers. But the former is a vessel they didn't even have aircraft for until recently, and the latter's more suited to the British Council which is being cut back.
The reality though was shown in the private international law debate. It's the sort of subject that sees eyes glaze over but is hugely important in everything from business contracts to child custody arrangements. Business litigation and addressing child abductions require these agreements.
As the transition deadline approaches, arrangements such as the Lugano and Hague Conventions need to be continued. Unless legislated for, many such agreements will fall and others still require EU consent.
This legislation isn't delivering a brave new world but simply trying to maintain existing rights and protections. It's nowhere near as good as what we had. Expect more Boris bombast but prepare to live in a diminished land.
Kenny MacAskill is the SNP MP for East Lothian
A message from the Editor:
Thank you for reading this article. We're more reliant on your support than ever as the shift in consumer habits brought about by coronavirus impacts our advertisers.
If you haven't already, please consider supporting our trusted, fact-checked journalism by taking out a digital subscription.