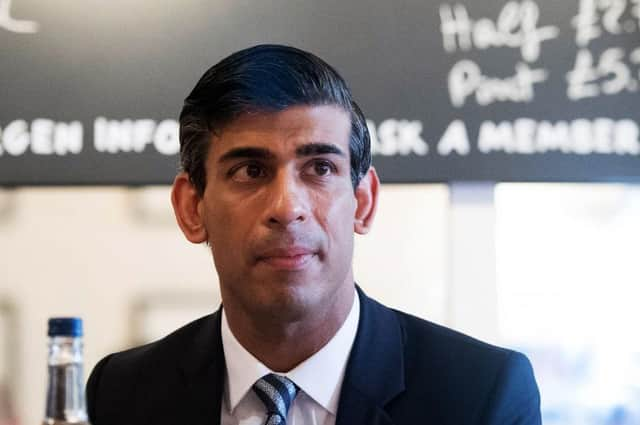 Chancellor Rishi Sunak has cut the international aid budget by about £4 billion a year (Picture: Getty Images)
It was not until 43 years later in 2013 – a time of austerity for many in Britain following the financial crisis, with GDP still well below the 2007 peak – that the UK actually achieved this figure. Times may have been hard, but David Cameron's government recognised the importance of one of the world's wealthiest countries helping some of its poorest.
This may have been motivated by basic morality and empathy for fellow human beings suffering the effects of severe poverty. It may also have been a recognition that helping poor countries is a cost-effective way to boost the global economy as a whole.
However, now Chancellor Rishi Sunak has decided to overturn this historic decision by cutting the aid budget to 0.5 per cent of national income, saving about £4 billion a year.
It prompted the resignation of junior minister Liz Sugg, who wrote that it was "fundamentally wrong" to abandon the 0.7 per cent commitment which she said "should be kept in the tough times as well as the good". For many in the Conservative party, it was a "source of great pride that the UK has been a development superpower", she said, adding: "Cutting UK aid risks undermining your efforts to promote a Global Britain and will diminish our power to influence other nations to do what is right."
Former Scottish Tory leader Ms Davidson, writing in the Times newspaper, described a cut as a "particularly counterproductive choice – morally, economically and politically", pointing out the UK government had just announced a major increase in defence spending "to better shoulder our global defence responsibilities" and now it was going to "walk away from our humanitarian and development ones". Mr Johnson has said the defence budget will get £16.5 billion in new money over four years – or, in other words, about £4 billion a year.
Once again, the UK government has taken a decision that panders to right-wing populists. The danger is that this gradually will diminish Brexit Britain's international reputation and the considerable goodwill felt by many people towards the UK. And once lost, this could take years, perhaps decades, to recover.
A message from the Editor:
Thank you for reading this article. We're more reliant on your support than ever as the shift in consumer habits brought about by coronavirus impacts our advertisers.
If you haven't already, please consider supporting our trusted, fact-checked journalism by taking out a digital subscription.