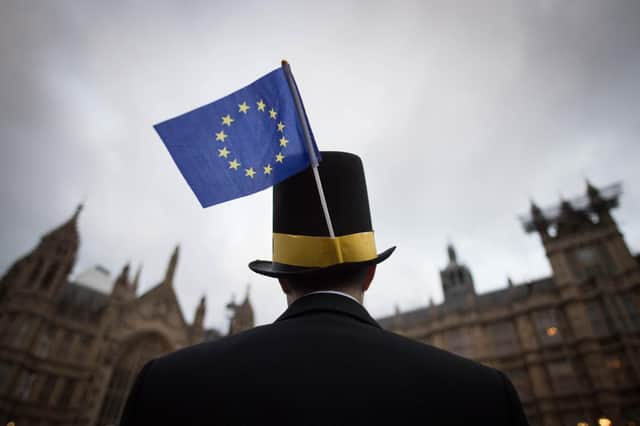 The end of the UK's participation in the Erasmus programme signals a narrowing of horizons. (Picture: PA)
My family, like so many others, has its own stories of how language opened doors and made possible fantastic journeys into new countries and new cultures.
It began with my aunt, the daughter of a shipyard machinist, who had a natural aptitude for languages from a young age. Her skill and interest was encouraged as much as possible in 1960s Port Glasgow, but it was only when she enrolled at the old Langside College that others realised her potential.
Within a few years, she found herself working as a translator in Geneva for the United Nations. In time, she returned home to start a family, but the friendships she forged in Switzerland nearly half a century ago remain strong, and her love of languages was passed on.
Shrinking horizons
Her daughter read French and German at Oxford, and recently graduated with a first class honours degree. That, of course, was simply a nice bonus. The greatest achievement was spending time living and learning abroad, and discovering the very best beer gardens the banks of the Rhine have to offer.
She is currently back studying at university with a tentative idea of what she wants to do next. When we last spoke, she expressed relief that she had completed her degree before Brexit, mindful that the same opportunities she and her mother benefited from would not be so easy to come by in future.
How grimly accurate her forecast turned out to be. We should have known that when, back in January, Boris Johnson promised that the Erasmus student exchange programme was not under threat, its days were numbered.
The demise of the scheme – or at least, Britain's part in it – is a reminder of how our horizons are set to shrink once the Brexit transition period comes to an end, and of how individual freedoms that generations of Scots have relished will soon be a thing of the past.
The withdrawal from the European Union scheme, which allows students to study in other countries across the continent, impacts on more than 2,000 young Scots who avail themselves of the initiative each year. Across the entire UK, around 16,000 students participate in it annually, with nearly twice as many EU-national students coming here.
Carefully cultivated philistinism
What is uniquely absurd about the decision is that there is no economic case for withdrawing from Erasmus. As pointed out by Nabil Ali, a European adviser at the UK Research Office, the UK is not a net contributor to the programme. Incoming EU students contributed £440 million to the UK economy in 2018, with the UK receiving a net return far greater than the amount that it contributes over the course of the seven-year programme.
Neither is there a constitutional reason which makes Britain's continued participation in Erasmus untenable. A slew of countries, including Iceland, Norway, Turkey, and Serbia, are all part of the programme, despite the fact they are not in the EU.
So why end it now? It is not just undergraduates who will be the poorer for its loss. Erasmus is a programme which, for decades, has encouraged cross-pollination of languages, cultures, and ideas. These qualities enrich our society and broaden our outlook. Sadly, an island nation government with a carefully cultivated philistinism now views such things with suspicion.
There will be an even longer term impact, of course – one which will further diminish our understanding of the world around us. It is no secret that, even before Brexit, university language departments were facing stern challenges in attracting students. Now that prospective undergraduates know Erasmus is coming to an end, their future looks even bleaker.
Across the UK, seven universities stopped offering modern language degrees in 2019, with more than 50 cutting courses or closing departments since the turn of the millennium, according to the University Council of Modern Languages.
Economic and intellectual interests
That trend appears to have intensified during the past 12 months. In October, Napier University detailed plans to drop a series of vocational degrees with French, German and Spanish as of 2021, on the basis that they were "economically unsustainable".
A few months previously, Heriot-Watt University, a national centre of excellence for translation studies, announced a sweeping external review of its entire foreign languages department, and in the summer, Dundee University said it was dropping German as a subject for new students.
It is hard to see how this retrenchment can be halted, let alone reversed. The UK government has signalled that a new post-Brexit student exchange programme, named after Alan Turing, the Bletchley Park codebreaker, will allow around 35,000 students to go on placements around the world from September.
But the finer details of the scheme – in particular, its financial support provisions – have yet to be set out, and in any case, no national plan could ever adequately replicate the benefits of one that is truly international.
The reality is that, by severing its ties with Erasmus, the Prime Minister has laid bare the lie at the heart of his oft-repeated mantra that Britain is leaving the EU, not Europe. He has scuppered our involvement in a scheme which is clearly in our economic and intellectual interests, just when we need it most.
A message from the editor:
Thank you for reading this article. We're more reliant on your support than ever as the shift in consumer habits brought about by coronavirus impacts our advertisers. If you haven't already, please consider supporting our trusted, fact-checked journalism by taking out a digital subscription.