Brexit and Covid are creating a 'perfect storm' that threatens a cornerstone of our culture: beer – Colin Wilson
The brewing industry in Scotland, and across the UK, is under more pressure than ever as it faces a perfect storm of disruption from Covid-19 and Brexit.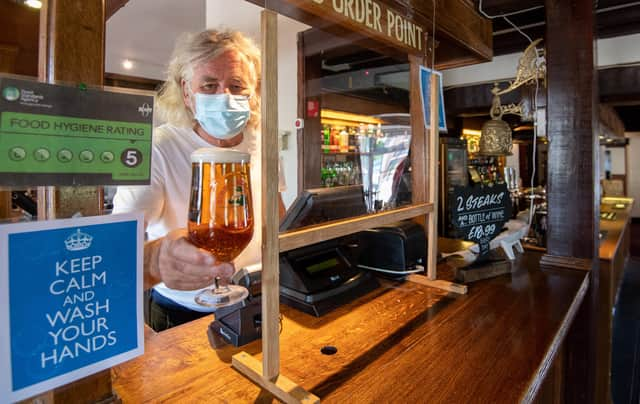 The global hop industry was dominated by the UK a century ago, but today it's centred in Germany and the US (Picture: Joe Giddens/PA)
The past decade has been boom time with new breweries, tap rooms and suppliers and many jobs supported in product design and equipment supply. People have invested to create jobs and we have a dynamic craft brewing scene that supports tourism.
But now the whole supply chain, as chef Tom Kerridge highlights in his Saving Britain's Pubs TV series, is feeling the strain. With more lockdowns in place, supply chains face further disruption and raw materials may get more expensive in the event of currency fluctuations and tariffs being applied.
Rather than focus on the doom and gloom I believe there is a silver lining if we act quickly as an industry.
I'm calling on stakeholders across the UK brewing industry to return to their philanthropic, co-operative roots to create a sustainable, innovative future. As a proud Scot, I like to think that, in common with entrepreneurs facing barriers before me, out of adversity can come opportunity.
At Totally Natural Solutions (TNS), a UK provider of natural hop extracts, one of the biggest factors in our success in growing from a start-up to a successful business has been collaboration with academia, hop growers, brewers, equipment suppliers and design companies. And we are keen to work with the wider brewing industry to ensure its survival and growth.
We need to address the deep-seated challenges in brewing around raw-material sourcing, taxation and infrastructure that Brexit and coronavirus are exacerbating.
Focusing on the hop industry, if you go back about 100 years, it was dominated by the UK, covering over 100,000 hectares of land. Today it's centred in Germany and the US with hop growing and supply controlled by a handful of multi-nationals. The UK lacks modern infrastructure and large brewing groups, once a source of technical innovation, have focused on shareholder value.
Covid-19 has disrupted the global supply chain and forced many businesses, including small breweries and pubs, to close. Brexit will increase import costs and potentially increase lead times so I believe stakeholders must create a robust plan for the future of brewing as an innovative, sustainable industry. UK-based manufacturers, such as TNS, must focus on investing in assets to dry and process hops and malt into a range of high-quality, natural extracts for breweries.
Universities with brewing and technology expertise, such as Heriot Watt and Nottingham, must share that knowledge to support innovation and advance practical science. Growers need to work with UK brewers to determine what varieties should be produced here and develop long-term strategies, such as vertical farming, to improve yields and reduce costs, whilst delivering quality and variety.
And UK brewers need to further engage with the UK supply chain, rather than focus solely on price, and invest in long-term relations. Finally, this activity needs to be incentivised by government funding for innovation.
Brewing beer and consuming it in a pub is a cornerstone of our culture. It's now time to look to our strengths as a nation in the face of adversity and collaborate. But we have to do so now before it's too late.
Colin Wilson is managing director of Totally Natural Solutions
A message from the Editor:
Thank you for reading this article. We're more reliant on your support than ever as the shift in consumer habits brought about by coronavirus impacts our advertisers.
If you haven't already, please consider supporting our trusted, fact-checked journalism by taking out a digital subscription.
Want to join the conversation? Please or to comment on this article.