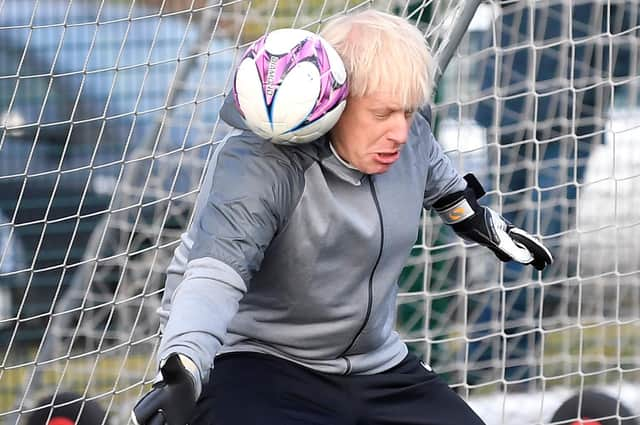 The announcement by Boris Johnson that he aims to secure the 2030 football World Cup is a triggering moment for those of us unfortunate enough to recall his past brushes with the beautiful game.
There was the charity match in which he possessed the poise and gait of a runaway combine harvester, tackling Maurizio Gaudina, a former Germany international, in what could charitably be described as an act of grievous bodily harm.
Or then there was the impromptu kickabout with a group of children outside his office, an episode which ended with Mr Johnson tripping a fleet-footed nine-year-old, sending him tumbling to the ground.
Where most politicians are concerned, footballing photo-ops are exercises in cynicism. With the incumbent of Downing Street, they are public health crises. Yesterday's news ought to have the country reaching for its shinpads.
It is a crusade which suits Mr Johnson to a tee, given it is founded almost entirely on feel-good bluster and empty jingoistic invocations. He seems entirely blind to the fact that claims of "bringing football home" have done little to garner international support for past English bids, particularly among those nations who perceived such remarks as colonial tubthumping.
As someone who is entirely unserious, it is hard to know whether the Prime Minister is sincere about securing the tournament, or whether it is simply a device with which to amplify his boosterism for a domestic audience. Either way, it is marginally more plausible than an undersea tunnel spanning Stranraer and Larne.
If it transpires that he is intent on bringing the tournament back to these shores for the first time in 64 years, it is not too difficult to guess at his motivations. The prospect of a pan-UK venture, seen by a global audience of billions, may not be the subtlest way of asserting the strength of the Union, but given the Downing Street unit tasked with doing the same has undergone more line-up changes than The Sugababes, it may be the least worst option.
Mr Johnson is also opportunistic enough to realise that, if successful, a World Cup on British soil may be one of the few notable legacies he is capable of delivering in his premiership. The problem is that, where the World Cup is concerned, such legacies are always contested.
There can be no doubt that at its best, the tournament is a spectacle capable of grand narratives and moments of individual glory and it would be hugely inspirational for a generation of young athletes to witness the world's greatest players up close and personal.
A bid from across the UK and Ireland, where there are plenty of modern stadia, would also largely negate the danger of white elephant infrastructure, and the vast capital expenditure they entail. In this respect, the technical excellence of any future and UK and Ireland bid would be assured.
Yet the criteria by which World Cups are awarded is never so straightforward. It may remain a shining beacon of sporting excellence, but the actual institution of the tournament has seen its lustre dulled by repeated scandals, and primarily serves as a vehicle for commercial interests and soft power.
Perhaps that is the point. Maybe Mr Johnson's renewed interest in a bid belies his determination to reset global perceptions of post-Brexit Britain. After all, if the Russians and Qataris were permitted to use the World Cup for a spot of reputation laundering, Team GB can have its turn.
He and his Cabinet certainly pose a formidable starting XI capable of rivalling anyone when it comes to the real test of a host nation – its capacity for the backroom wooing of potential suitors.
Memories are still fresh from England's attempts to host the 2018 iteration of the tourney, an effort which saw it enlist the likes of David Beckham, the Duke of Cambridge, and Prince Charles as bid ambassadors, only to see Vladimir Putin swoop into Zurich and claim the prize.
Some two years were spent on that failed bid – along with the not inconsiderable sum of £19 million – only for Fifa's executive committee to look east. Over half of the figures involved in the vote have since been banned from the sport or otherwise discredited.
In the end, the price of the English bid was even higher, thanks to the grim spectacle of subservience which saw Qatar's Mohammed bin Hammam invited to Downing Street and Windsor Castle, and the shameless courting of Jack Warner, the then vice-president of Fifa, who has since been banned from taking part in any football-related activity for life.
For its part, UK Sport has defended the idea of bidding yet again to host the tournament, insisting that that Fifa's process has changed, and is now "a lot more transparent". Given they could not have been any less so, this is not exactly the ringing endorsement it might appear, though it is true that progress has been made, with Fifa ceding power from its cabal of executives to the 211-strong congress of its member nations.
It would be short-sighted, however, to ignore serious questions which remain about the complete lack of oversight of Fifa's decision-making processes. Indeed, it was Fifa's own ethics committee which retrospectively assessed the decision to award consecutive World Cups to Russia and Qatar, only to conclude that the procedures in place were "well thought out, robust, and professional".
This is the kind of bravado of which Mr Johnson would be proud. Time will tell if his bid has legs. The 2030 host will not be decided for another three years. In the meantime, it might be best to keep a bucket and sponge at the ready.
A message from the editor:
Thank you for reading this article. We're more reliant on your support than ever as the shift in consumer habits brought about by coronavirus impacts our advertisers. If you haven't already, please consider supporting our trusted, fact-checked journalism by taking out a digital subscription.