Boris Johnson's nuclear weapon plan is militarily absurd and morally repugnant – Kenny MacAskill MSP
Friday nights have found me watching the TV drama Deutschland 89. Whilst enjoyable, for me it's not as riveting as its precursor Deutschland 83.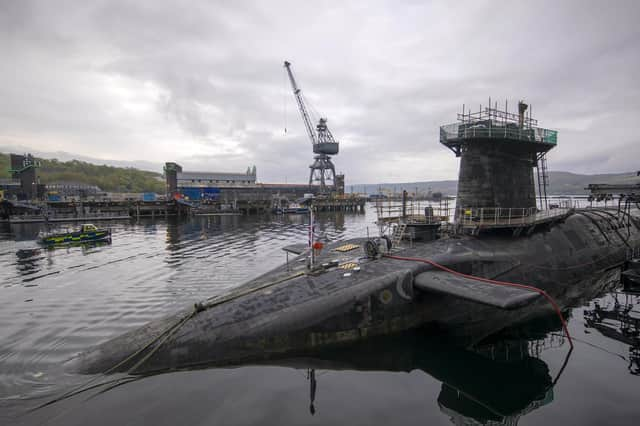 Vanguard-class submarine HMS Vigilant, one of the UK's four nuclear warhead-carrying submarines at HM Naval Base Clyde at Faslane (Picture: James Glossop/AFP via Getty Images)
Many sequels fail to carry the same punch and the subject matter – of the fall of the Berlin Wall – is complicated. But the earlier incarnation was riveting with its tale of near nuclear destruction.
For the early 80s saw the dangers of the nuclear arms race in fact, not just fiction. IT systems falsely sensed that missiles had been launched, provoking a potentially cataclysmic reaction, with only brave officers refusing to adhere to set orders saving the world from Armageddon.
The Greenham Common women and Intercontinental Ballistic Missiles (ICBMs), whether Cruise or their Soviet equivalents, all now seem so long ago.
CND has even faded from the picture, as the eve of destruction passed safely, and new threats appeared. The threat of nuclear war receding, supplanted by a War on Terror and in Iraq, with all its misery and consequence.
Yet the UK defence review has brought back all the memories and even fears with the cap on the number of nuclear warheads increased by 40 per cent. For use against whom and in a struggle that would once again deliver the end of humanity? It's as absurd militarily as it is repugnant morally and economically as austerity morphs.
It appears this has once again seen political posturing trumping strategic military advice. A Foreign Secretary can swan about living the dream of representing a superpower.
While Boris Johnson has increased the cap on the UK's nuclear warheads, the size of the Army is to be cut (Picture: Hannah McKay/PA Wire)
Posturing and preening aren't diplomacy and this simply worsens relations with Russia and China. Meanwhile the Defence Secretary presides over cuts to troop numbers and conventional weaponry essential in any conflict and which has former Army commanders condemning it.
None of this is making us any safer and all of it is making the world a riskier place. The 1980s showed what can nearly happen whether by design or just by accident. Why then when warheads had been reduced are we increasing the once again? How many times over do they wish to destroy our planet? Is once not enough?
Meanwhile, other risks that a government should be addressing are undermined by a lack of resource to prepare or to protect. In the post-Iraq War world, it's terrorism not nuclear weapons that have proliferated. The review indicated the increased threat from "CBRN", meaning chemical, biological, radiological or nuclear attack. In other words, a dirty bomb planted by a terrorist group.
As Justice Secretary, I recall that was the real security fear, as a pandemic was its civilian counterpart. The world has seen it before in Japan with sarin gas. Despite dreadful atrocities whether in London, Paris or Brussels, it's not happened here. But the threat remains and in a troubled world has increased.
An increased nuclear capability won't protect our communities from that. Intelligence, policing, conventional weaponry and a fairer world are needed. This Review returns us to the threats of the 1980s, yet fails to protect from the dangers of the 21st century.
Kenny MacAskill is the SNP MP for East Lothian
A message from the Editor:
Thank you for reading this article. We're more reliant on your support than ever as the shift in consumer habits brought about by coronavirus impacts our advertisers.
If you haven't already, please consider supporting our trusted, fact-checked journalism by taking out a digital subscription.
Want to join the conversation? Please or to comment on this article.