Boris Johnson's denial over third lockdown remark is hard for many to believe. And that's a problem – Scotsman comment
Boris Johnson is a politician with a lamentable track record of dishonesty.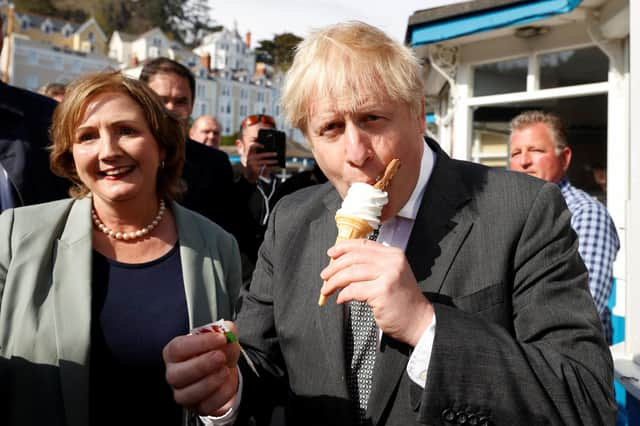 Boris Johnson eats an ice-cream as he visits Llandudno in Wales (Picture: Phil Noble/PA Wire)
For example, he was sacked from the Times newspaper over claims he made up a quote and then sacked again as the Conservatives' shadow arts minister in 2004 after telling the then party leader Michael Howard that tabloid reports of an affair were false when they were, in fact, true.
Former Conservative attorney general Dominic Grieve has described Johnson as a "vacuum of integrity"; former Conservative Cabinet minister Rory Stewart said the Prime Minister was "the most accomplished liar in public life"; and, for a while, the journalist Peter Oborne and others chronicled his untruths on a dedicated website, boris-johnson-lies.com.
So when Johnson denies reports he said, in a government meeting last autumn, that he would rather see "bodies pile high in their thousands" than allow a third lockdown, there are many people who will struggle to believe him.
Nicola Sturgeon clearly has a political interest in doubting his word, but she will have spoken for many – probably including some who support Johnson – when she described the reports as "eminently believable". "In my interactions with him, the constant reaching for the glib phrase which he might think funny but most people think is crass, is not unusual, and there have been moments in the pandemic where he has been reluctant to do the things other people thought were necessary," the First Minister said.
Even if Johnson is telling the truth, damage is being done – and not just to his reputation.
The Prime Minister's perceived standards of behaviour set the tone for other members of the government and, to a degree, the rest of the country.
If politicians can lie without consequence or be seen to do so, there will be profound consequences. If it becomes almost impossible for voters to believe a word that comes out of our elected representatives' mouths, this will have a corrosive effect on trust in democracy. If politicians simply shout "liar" at their opponents – and encourage their supporters to do the same – then democratic debate is dead and conspiracy theorists will have a field day.
These are reasons why politicians must be held to the highest standards although it must be said that none should be needed for the simplest of virtues: honesty.
Want to join the conversation? Please or to comment on this article.