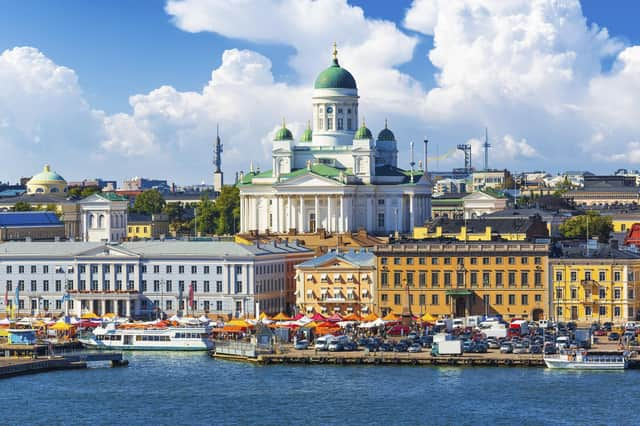 Faced with the challenges of the 21st century, Scotland generally wants to take the route followed by Nordic countries like Finland, whose capital Helsinki is pictured (Picture: Getty Images/iStockphoto)
The statistic on which the study focussed was the number of excess deaths, compared with normal rates, during the first four months of the pandemic, from February to May; and the results, for most of the UK, were brutal. England and Wales, taken together, ranked alongside Spain as the countries with the highest death rate, at around 100 excess deaths per 100,000 people; and Scotland was not far behind.
Nor did the Imperial team hold back in pointing out the common factors among those countries which did much better in controlling the infection. The relatively successful countries were those which were willing to lock down early when the need for restrictions became apparent, or which had generally high levels of public health provision and preparedness already in place, or where both factors were present.
The UK, by contrast, manifestly had neither. The same ideological fixation on low public spending and free markets which has hollowed out local authority services over the last decade, and drastically reduced numbers of NHS hospital beds, also ensured that we wasted vital weeks jabbering about how a "freedom-loving" nation could not be prevented from going to the pub or the races, while the infection spread through the community. Our inevitable lockdown, when it came, was therefore harsher and more prolonged than in most other countries, and the economic damage much greater; and as the second wave of infection builds across the UK, we are still making the same mistakes.
All of which raises the question of whether there has ever been a moment, in the last 75 years, when the United Kingdom has been less fit to face up to the challenge of such a pandemic, or any similar crisis. The growing impact of public spending austerity has steadily corroded vital services and infrastructure, particularly at local level; and it has been accompanied, after more than 30 years of neoliberal dogma in Britain, by a rapid growth in low pay and insecure employment that has left millions suffering permanent economic stress and anxiety, with inevitable consequences for both physical health and mental resilience.
And then, in 2016, came the body-blow of Brexit, a fundamentally rotten idea which won a brief flash of majority support across the UK after a ruthlessly targeted campaign based on outright lies about the EU. That Brexit, at least in the extreme form pursued by Tory leaders since 2016, has blighted Britain's economic prospects for at least the next decade is obvious.
The years of governmental chaos that followed also diverted essential attention from the practical business of government; the UK Government even failed, with historic bad timing, to implement the recommendations of its own "world-class" 2016 Cygnus pandemic preparedness exercise, including the purchase of emergency stockpiles of personal protective equipment.
Is Boris Johnson's style of politics pushing Scotland out of the Union? (Picture: Toby Melville/PA Wire)
And beyond those impacts, the Brexit debacle – marked by a brutal majoritarian attitude on the part of those who won, and an absolute marginalisation of those who lost – also brought a final collapse of the one commodity that, in a pandemic crisis, is even more valuable than a well-funded health service; namely trust in government, and a willingness to accept and comply with its emergency measures. Nor did the Johnson Government respond by cleaning up its act in a way that might begin to earn that trust back.
Instead, it blundered on with policies that may yet lead to the hammer-blow of a no-deal exit from the EU, made repeated shows of its contempt for Britain's devolved administrations, failed to dismiss the PM's key advisor when he blatantly breached lockdown rules, and passed emergency legislation which has enabled it, without tendering or competition, to hand out a breathtaking series of lucrative Covid-related contracts to companies with little or no relevant expertise, often led by wealthy friends of the Tory Party.
The pandemic crisis, in other words, has found the UK Government out, for the long-term failure of its economic dogma, the growing corruption and incompetence it has spawned, and its grim human and social consequences; and it is therefore not at all surprising that an Ipsos Mori poll published this week showed 58 per cent of Scots now intending to vote for independence, if and when they are given the chance.
The UK media, of course, immediately began to talk about a surge in "nationalism", and how to avert it. Yet those who seek truly to understand what is happening in the UK should set down this; that if Scotland finally leaves the UK some time in the next decade, it will not be because of nationalistic feeling, or some surge of face-painting patriotic passion.
It will be, instead, because of a profound and growing difference of political opinion about all of the above; and it will be because of the inability of a Tory-dominated Westminster system, backed by an antiquated and sclerotic constitution, to take full account of any perspective – Scottish, Remainer, or just social-democratic – that does not chime with its own.
Faced with the challenges of the 21st century, Scotland generally wants to take the Nordic route successfully followed by so many European nations of similar size; the UK, in its current state, is an entrenched obstacle to that ambition.
And unless this week's growing rebellion in England's northern cities matures at historic speed into a serious move to change the present order of things at Westminster, then that sense that Scotland's future lies elsewhere can only grow; and the recognition that we need the powers of an independent nation to achieve it may soon become irreversible.
A message from the Editor:
Thank you for reading this article on our website. While I have your attention, I also have an important request to make of you.
The dramatic events of 2020 are having a major impact on many of our advertisers – and consequently the revenue we receive. We are now more reliant than ever on you taking out a digital subscription to support our journalism.
Subscribe to scotsman.com and enjoy unlimited access to Scottish news and information online and on our app. Visit www.scotsman.com/subscriptions now to sign up.
By supporting us, we are able to support you in providing trusted, fact-checked content for this website.
Joy Yates
Editorial Director