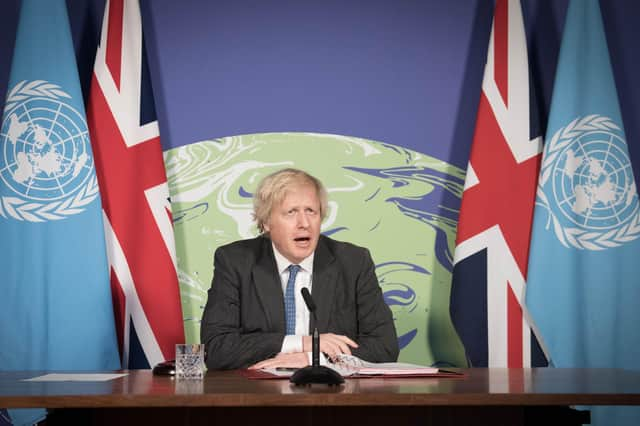 Boris Johnson told a session of the UN Security Council that 'climate change is a geopolitical issue every bit as much as an environmental one' (Picture: Stefan Rousseau/PA)
The media had, after all, been full of leaked reports that he was about to increase spending on nuclear warheads.
But it was, as the PM himself said, a review which pulled together security, defence, development and foreign policy.
And its aim, he described, was to make the UK stronger, safer, more prosperous and reinforce the Union.
But there was an aspect of it which, for me, fundamentally undermines that self-proclaimed ambition.
Our International Development Department has already been rolled into the renamed Foreign, Commonwealth and Development Office.
Our legal commitment to spend just 0.7 per cent of our GDP on that international development has come under constant attack and is now to be reduced to just 0.5 per cent "meantime".
Droughts, like this one in Mexico's Tehuacan Valley, that are caused or exacerbated by climate change are a serious problem for local people and can also lead to security issues with a global impact (Picture: Brent Stirton/Getty Images)
A vital civil liberty
At a time when democracies all over the world face mounting challenges, pulling back our aid seems counterproductive to the national interest.
In Myanmar we see daily reports of how that still nascent democracy is being suppressed by its own military.
In Hong Kong the freedoms that have been enjoyed by generations and were enshrined in the Joint Declaration between Britain and China in 1984 are being destroyed.
And even in the world's advanced democracies, fresh lockdowns and restrictions are creating unease about the subtle undermining of a vital civil liberty.
Those are not distant, foreign issues from which we are detached or unaffected. They have the ability to reach in and affect out daily leaves in Britain.
How many people, I wonder, originally dismissed the early warning of a new virus as something that was happening abroad. In China. Not here.
Globalisation is often talked about in societal or economic terms and the connotations ascribed to it are negative.
But we should never overlook the potential for using international co-operation and projects for good. A positive influence.
On the same page about climate change
I have experienced, first hand, the impact that using our unique British brand to promote democracy can have.
One of the last projects I was involved in before being elected to parliament was a Westminster Foundation for Democracy Project, with Liberal International, working with aspiring female politicians in Kenya.
It was a fantastic, enlightening few days. I learned that so many of the challenges that women face in politics in the developing world are exactly the same as we face here. I found common purpose with the women there and learned from them.
And there is one particular issue in which we are all on the same page. We all know we have to deal with it, or it will be too late. Climate change.
It might seem a world apart from a review of our integrated defence and foreign services but it is an issue which has to go hand in glove with every policy our government, indeed every government, pursues.
Breaking down barriers
I am now a governor of the Westminster Foundation for Democracy that I first encountered on that project in Kenya.
We still work to support gender equality, political access and open societies and increasingly climate justice is high on the agenda of every country.
To tackle climate change we will have to push against the values at the core of government. It requires us to be collaborative, remove barriers and have at the heart of the solution those who are most likely to be affected and most often left out from conversation.
Scotland's Climate Assembly met for the final time this weekend.
"How should Scotland change to tackle the climate emergency in an effective and fair way?" was the focus of the attention of hundreds of members from all walks of life and all corners of the country.
From reducing emissions to community collaboration and beyond, they have worked hard over months to contribute meaningful change that will not only affect those on these isles but far beyond our borders. It requires an international mindset.
The pandemic has taught us that.
The conclusion of the Climate Assembly brings with it a feeling that perhaps the public have reached that conclusion before the Prime Minister. The second assembly in Scotland of its kind, it is clear from reading the testimonies of those involved that it has meant a great deal to be part of something which could generate change.
Investing in democracy
The power of democracy at this basic, human level cannot be and should not be underestimated. The act of working with strangers to ultimately make better the lives, and save the lives, of people you don't know or haven't met yet.
It is the same whether those strangers are from another part of Scotland or a different corner of the world.
Cutting international aid and leaving the European Union to pursue Global Britain does not serve our national interest.
It does not somehow make it possible to improve our standing in the world, protect democracy, promote climate justice by spending less.
Spending money on international aid has always been an investment in our own best interests.
If we are to ensure democracy thrives and does not fall victim to military coups or political repression, then we have to invest in nurturing it.
Not through armed forces, or invasion or confrontation but by collaboration, encouragement and investment in the future.
Spending 0.7 per cent of our GDP on International Aid is a tiny fraction of this country's wealth.
But it could make an enormous difference to our future.
The Prime Minister would do well to take heed of his own words to the UN.
Christine Jardine is the Scottish Liberal Democrat MP for Edinburgh West
A message from the Editor:
Thank you for reading this article. We're more reliant on your support than ever as the shift in consumer habits brought about by coronavirus impacts our advertisers.
If you haven't already, please consider supporting our trusted, fact-checked journalism by taking out a digital subscription.