Bitcoin: Beware a cryptocurrency gold rush after Elon Musk's big investment – Jim Duffy
I'm going to start off with a warning. Pure and simple. Beware the cryptocurrency gold rush!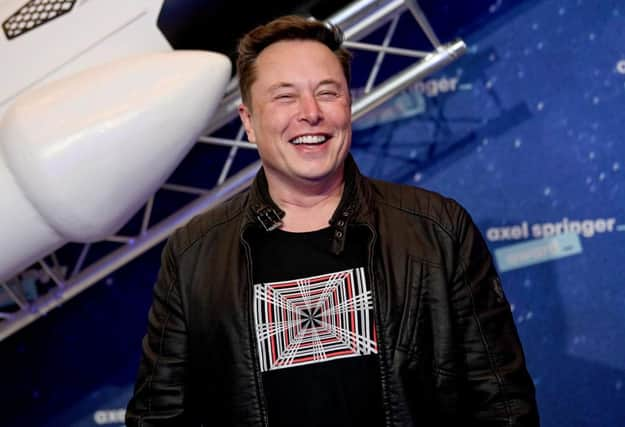 As this week has seen massive news in the cryptocurrency world, my advice is to hold your horses before you click the buy the button on your mobile phone. End of warning.
And this is from someone who is very much involved in investing in cryptocurrency, researching it and writing about it across several publications.
It is safe to say that over the last 12 months I have digested two podcasts a day, watched three YouTube videos and read screeds on the crypto-sphere.
While I do not possess a PhD, I've completed more than enough hours of deep thought to merit a cheeky wee doctorate in the subject. So, while I am "bullish" or super-keen on cryptocurrency, I feel that, as an investment, it requires a public health warning. Simply because it's a minefield and moving at lightning fast speed.
Elon Musk has, through his Tesla motor company, purchased $1.5 billion of Bitcoin with the cash reserves in its corporate treasury. Musk has had an army of lawyers, accountants and advisers all over the purchase for weeks.
He knows what he is doing and like all iconic entrepreneurs, he stacks the odds in his favour. In short, he could make a billion dollars within a few months and then dump the Bitcoin – big style – leaving millions of investors out of pocket.
My thesis is that he will not do this, but that's the danger with erratic, super-clever folks as they always look out for number one.
When you make investments, buy shares or choose investment-style products, a good financial advisor will complete a full fact-find on you, your appetite for risk and then offer professional advice.
You have a cooling-off period built in and some recourse if it all goes wrong. Not with cryptocurrency investing. You're on your Tod in the wild, wild land of crypto.
So, while a mate, a neighbour, a colleague or a family member might tell you how well they are doing or recommend a cryptocurrency, unless you do your due diligence, then it is folly buying in.
You'd be as well doing the lottery or sticking your cash on the second favourite at the 3.30 at Kempton on Saturday. Alas, too many people at present are Fomo-ing into the current cryptocurrency froth.
And it is an exciting place to be right now. Only this time last year, my holdings were in the doldrums as I got burnt after the 2017 crash. Ostensibly what happened then is a bunch of misfits pitched crypto projects to venture capitalists in San Francisco.
Cash was doled out willy-nilly, in gold-rush fashion, but not much was produced by these crypto startups. Investors lost money and mugs like me also got stiffed as no sooner had the gold-rush started than it unceremoniously ended.
Twelve months ago, in the "bear" market, with a pandemic raging, I began to study crypto more closely. Since then I have created my detailed cryptocurrency portfolio. But, I could never share it with you.
It would be totally wrong to give you this in an advisory way, I don't have professional exams behind me or years of experience in investing. Which then begs the question – does your mate, neighbour, colleague or family member have a crypto qualification that permits them to give financial advice? Thought not…
Cryptocurrency is no different from investing in stocks and shares. It requires thought, research, nous and careful monitoring. But, crypto exchanges and wallet providers are opening new accounts at an explosive pace.
I can only extrapolate from this that everyone and their granny are piling into the bull run. And just what are they investing in? Bitcoin most probably. How about Cardano? It is going like the clappers just now. It's a pressure cooker frothing at the edges.
But, do you have any clue what Cardano is, what it does, who is behind it and what problem it seeks to solve? I'm sure I do, but only after detailed research and oodles of interrogation of its proposition.
In short, I've put in the hours, while so many are nonchalantly opening Coinbase accounts and buying cryptocurrency in the hope it goes up or because a colleagues has said it's "going to the moon".
To finish off my "calm your jets" cautionary tale, I do need to be fair to the cryptocurrency industry. There are many great people working it with terrific ideas, technology and traction. Otherwise I would not be investing.
I believe that a few of these highly technical blockchains will, in time, change the world in many areas of life from property rights, voting and banking to food provenance, insurance contacts and finance.
That is what makes cryptocurrency interesting to an anorak like me – the potential for creating social change for the whole globe and not just Wall Street. But, I bet if you scanned the top 20 cryptocurrencies by market cap on the likes of Coin Ghekko, you would not have a clue which was doing what. Therein lies the danger again.
With the Bitcoin price hovering around $45,000 having climbed from $15,000 in only a matter of three months, one can see why it feels exciting and juicy to invest. Many predict it will go to over $100,000 this year. It may well do, but it could also dive to $30,000, such is the volatility just now.
The cryptocurrency world as an investment is rife with opportunity. But, it comes with a big caveat – do your own homework and don't get whisked away with the hype and frenzy. Only fools rush in…
A message from the Editor:
Thank you for reading this article. We're more reliant on your support than ever as the shift in consumer habits brought about by coronavirus impacts our advertisers.
If you haven't already, please consider supporting our trusted, fact-checked journalism by taking out a digital subscription.
Comments
 0 comments
Want to join the conversation? Please or to comment on this article.