Betty Boothroyd was a role model that Scottish Parliament could learn from – Brian Wilson
Reactions to Betty Boothroyd's passing have been fulsome and genuine. There was the real sense, among those old enough to remember her as Speaker of the House of Commons, of an authentic character who enhanced democracy.
We hear a lot about political role models and Betty was well ahead of that game. Parliament when she entered it, and even when she became Speaker, was far more a man's world than it is today. She overcame every barrier and came out on top as a woman who earned the respect of parliament and a vast national audience.
Her service to the Labour party was considerable. When she was elected Speaker in 1992, Labour morale was at rock bottom, having just lost its fourth general election in a row. In an intangible way, the fact a Labour figure could occupy a top parliamentary job – albeit a non-political one – was hugely significant at that time.
I remember taking the oath at the outset of the 1992 parliament, just after she had been elevated to the chair. As I congratulated her, she said quietly: "I want to do well for the sake of the party." She understood better than anyone that, though her appointment was apolitical, it still sent out powerful messages – about women, about class, about Labour.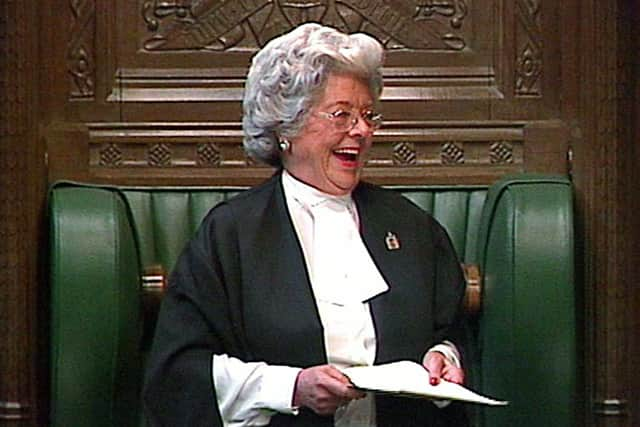 What she did not mean, of course, was that she would do any favours. Most Speakers tend to lean slightly towards the side from which they have not come, to avoid that charge. Betty Boothroyd was scrupulously fair and above all, a defender of parliament and its rights.
I had one mildly embarrassing run-in with her, close to the 1997 general election when I was heading up a rebuttal unit for Labour. The idea was to knock down Tory claims as quickly as they arose. I was at the Dispatch Box when some information came through on my pager – remember them? – which allowed me to do a bit of instant rebuttal, quoting direct from my little device.
Betty was appalled by this introduction of technology into the affairs of the House and I was suitably chastened. I've no idea how she would have coped in subsequent decades as the clunky old pager was superceded by more sophisticated means of instant communication!
Reading tributes to her this week, I was reminded that while there is always room for change, there are also standards and conventions worth maintaining. It all depends on what you expect from a parliament and that question is overdue for review at Holyrood, where "doing things differently" has been regarded as a virtue in itself, from the outset.
It was to be all consensual and co-operative in a hemispheric chamber whereas, at Westminster, Betty Boothroyd's view was quite the opposite: "I never wanted silence in the House. I never wanted a morgue. I wanted a debating chamber." After 20-odd years, which side of that fence does Holyrood fall on?
Rules which limit speeches to five minutes don't help. Parliamentary debate should involve expertise and, where necessary, detail. It should be about challenge and the ability to defend positions, rather than reading out wee set speeches which seems to be the Holyrood norm.
It seems likely that any MP or MSP who can't speak for a few minutes without reading every word may be in the wrong job. It wouldn't be allowed in a school debating society and neither should it be in any self-respecting parliamentary chamber.
Betty Boothroyd offended some other women MPs by insisting that "the Commons is not a nine-to-five job", and that long hours are necessary to curb the executive and oppose legislation. She was right about that too and the contrast with Holyrood is startling. Family-friendliness matters but a parliament's duties are to debate and scrutinise, more than to get home in time for tea.
With new political leadership at Holyrood, it could be an appropriate point to assess how the whole place operates and how that impacts on the quality of legislation it produces. Betty Boothroyd remains a role model for the fact that some old parliamentary standards were not necessarily bad ones.
Comments
 0 comments
Want to join the conversation? Please or to comment on this article.