But stunning photos the other day from the start of the world tour which will bring The Boss and his gigantic ensemble to Edinburgh on May 30 looked like ancient history. In rock music, the band is an endangered species. Now it's all guys and gals on their own with a guitar and maybe a bunch of special effects and a raving ego which means they get all the adulation and all the loot.
Unfair? If you like the current generation of solo stars then perhaps it is. But what music-mad kid is honestly dreaming of becoming the next Ed Sheeran? He wants to be in a group with his mates. Only that classic route to fame has been all but shut off.
Record companies aren't trying to find the next great band anymore. The talent scout isn't checking out a bunch of spotty, promising wannabes playing a toilet. Instead, he's scanning TikTok, like all social media for individual expression. Groups just come across as awkward and confusing.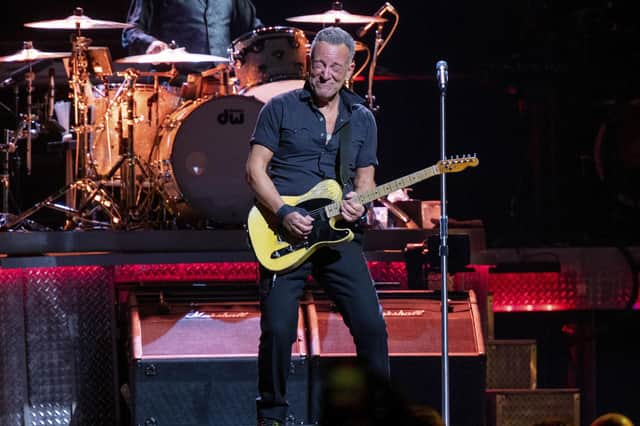 It's the Brit Awards on Saturday and the organisers must be dreading the moment that nominations are read out for the new gender-neutral prize for Best Artist because there are no women on the shortlist. This was the music biz's big effort to demonstrate relevance and inclusivity but what if it has to end up dropping Best Group because there simply aren't enough worthy contenders?
Some may view the fad for solo acts as exactly that. Just a silly phase record labels are going through, to paraphrase 10CC who, incidentally, wrote "The Worst Band in the World", one of the great songs about being a combo. Others may argue that, well, this is a narcissistic age where the self-absorbed reign supreme, so what did anyone from the music-press generation – devoting many hours to the annual readers' polls and pondering carefully the candidates for "Best Bassist" – really expect to happen?
In my teens, I had a girlfriend who was in love with the bass guitarist in Queen. We broke up when I realised I couldn't compete. John Deacon was the quiet one but the point is he brought his personality, however shy and retiring, to the band. Sheeran brings only Sheeran and when he plays Hampden Park, as he's done previously, you better be ready in that vast arena to gaze for the best part of two hours on his ginger bonce because that's all you're going to get.
Bands were like gangs when I was growing up and my attitude was: "How do I sign up?" The Allman Brothers were too boogie-woogie for this glam-rock kid but I loved how they looked on the cover of their At Fillmore East LP with all that hair and devil may care.
Glam produced Mott the Hoople whose "Saturday Gigs" was another fab being-in-a-band song: "Take the mick out of Top of the Pops/We play better than they do." And it was Roxy Music's album For Your Pleasure – the gatefold sleeve opened out in the window of Bruce's Record Shop, all five members intent on squeezing the most outre sounds imaginable out of their guitars – which sparked the grand obsession.
"Who's your favourite Beatle?" This important, epochal question could be asked not just of the girls squeezed down the front of the Cavern but of intellectual heavyweights. The answer would tease out something about their hidden selves in a way that no other enquiry could.
If there were no bands anymore, look what we'd lose from our language. "Beatles vs Stones" is still deployed to describe competing, sometimes diametrically opposed philosophies (well, I like using it, anyway). "I'm with the band" infers tentative, questionable membership or association, having originally referred to liggers and groupies. As pithy comment on the deliberate downplaying or concealment of an impending calamity by an authority or organisation, you might opt for: "And the band played on."
Then there's "musical differences". This is another highly adaptable phrase which sees good service beyond band break-ups, not least when the squabbling participants appear ridiculous. For example, Boris Johnson's musical differences with the government ministers who ousted him.
Other notable band-themed songs? There's Deep Purple's Smoke on the Water and the whole of David Bowie's Ziggy Stardust album. Elton John's Benny and the Jets and Joe Walsh's Life's Been Good are songs by solo performers wishing they were in bands. The most joyous life-in-a-band song is "Hey, Hey, We're the Monkeys".
Who can inspire a return to belief in collectivism? Maybe, right now, trade unions. Meanwhile, those who never got signed are still reflecting wistfully on those dashed dreams.
Never got signed, never actually formed a band. My pals and I spent whole summer holidays from school arguing over what our group would be called. We'd attempt to get a tune out of hand-me-down instruments and, intimidated by the prevailing culture of progressive rock with its blizzard of notes played at high speed, end up frustrated.
To amuse ourselves while contemplating our next move, we'd listen to the Bonzo Dog Doo-Dah Band's "The Intro & The Outro", which if you don't know it, consists entirely of the group's lead nutter, Vivian Stanshall, introducing a host of guest artistes over a jazz vamp. They include Harold Wilson on violin, John Wayne (xylophone), Lord Snooty and his pals (tap dancing).
We still think it's the best song about a band of all time – but we missed our time by a couple of years. Punk rock arrived and proved musical proficiency was an irrelevance, alas too late for us, and we split up owing to musical indifferences.