BBC's surrender to SNP over satirising of Slater suggests Scotland is becoming like Belarus – Brian Wilson
In most advanced countries, you would expect culture ministers to defend freedom of expression
BBC Radio Scotland does not set out to be cutting-edge; more a middle-of-the-road chat and music station with some good broadcasters and a mission not to offend. Comedy has never played a big part. It was thus quite surprising when it dipped a toe in the risky waters of satire with a programme called "Noising Up", somewhat optimistically described as a "riotous mix of sketches, gags, spoofs, quickies and take-offs".
To promote this innovation, BBC Scotland used social media caricatures of Scottish political leaders with mildly irreverent descriptions attached. It says a lot about the Scotland we live in that these have now been hastily withdrawn. The only offence taken, as far as can be discerned, was on behalf of Lorna Slater, the co-leader of the Scottish Greens who was lampooned as "minister for green skills, circular economy, biodiversity, short-haul flights and maple syrup". Her cartoon character added: "Join me for my new streaming series, Lorna Slater's Great Green Limousine Journeys where I'll be changing my climate from Holyrood to stretched limo on a 3,000-mile, taxpayer-funded journey round Scotland."
While scarcely side-splitters, this was mildly subversive material which might be seen as daring for BBC Radio Scotland. Alas, "a furious social media backlash" ensued and BBC Scotland responded by removing the offending items, rather than telling furious backlashers to mind their own business.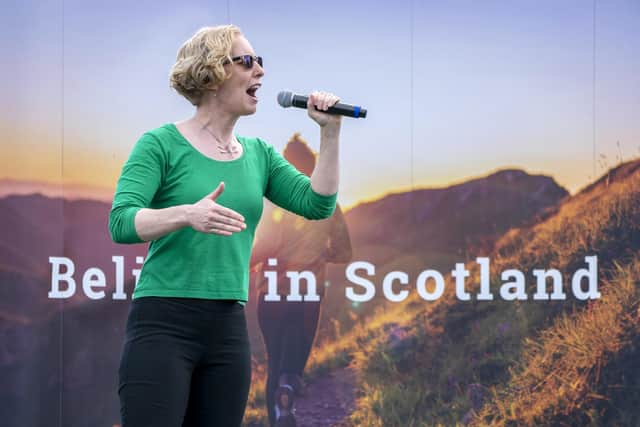 By then, these included Christina McKelvie MSP who I have thus discovered to be our "minister for culture, Europe and international development". She tweeted that this portrayal of her colleague was "dreadful". Having consulted Ms McKelvie's X feed, I failed to find other allusions to her cultural responsibilities – or for that matter, Europe or international development; but there was a stream of anti-Labour invective.
In most advanced countries, you would expect culture ministers to defend freedom of expression by pesky broadcasters. To be fair to Ms McKelvie, nobody would harbour much hope of her understanding that concept, far less defending it, so there are no grounds for disappointment. Heaven help Scotland's culture. BBC Scotland pleaded that "the animations were not working as intended" and "having reflected on the reaction, we have made the decision to remove them from social media while we review their use and assess the programme's social media presence". Are we the new Belarus?
Whatever the deficiencies of programme or pre-publicity, once politicians joined the pile-on, there was a clear duty for BBC Scotland to stand by what it had produced. Instead, they reaffirmed the implied message: "Scotland's mediocre, self-important ministers are not there to be laughed at, so back off."
Our Green rulers have particularly thin skins when it comes to criticism, far less ridicule. So it is worth reminding them that they have as little personal democratic legitimacy as hereditary peers in the House of Lords. Nobody voted for them to be in government and they owe their presence entirely to the patronage of Nicola Sturgeon and her successor.
Unfortunately, they exercise considerably more influence than hereditary peers. Ms Slater is a brass-necked politician who cries out to be mocked for arrogance and incompetence. Yet Scottish broadcasting's climate of deference makes this all but impossible. No wonder so many of our best talents work elsewhere.
Are we too small and introverted to tolerate political satire? The BBC has a great tradition of ridiculing the mighty, from That Was the Week, That Was to Have I got News for You?. All very funny and fearless. But that of course is BBC London, big enough to accommodate and defend the weapon of humour. By and large, the politicians it mocks are thick-skinned enough to handle it or have no choice. Culture ministers do not tweet in defence of fragile colleagues.
I'm not sure if it's a good thing or not but more people than ever before have now heard of Noising Up. That creates a responsibility to hit hard and low, chaps, because political ribaldry that fails to offend its targets should be classified as publicity rather than satire.
Are Sturgeon's tax affairs at odds with her enthusiasm for closing poverty gap?
Scots earning above £28,000 are more highly taxed than elsewhere in the UK. Most would accept that more easily if it could be shown it is a, producing more money and b, better outcomes. One barrier to the former objective was pinpointed by the Institute for Fiscal Studies (IFS) earlier this year: "There is a risk that higher taxes will incentivise tax avoidance efforts, such as converting income into dividends – to which Scottish tax rates don't apply – or even migrating across the border. Most of the additional revenue from raising the rate to 45p is set to be lost due to responses such as these – suggesting there is a limit to how much further this strategy can be pushed."
Then let us turn to Nicola Sturgeon's decision to turn herself into Nicola Sturgeon Limited in respect of "creative" earnings. A person of more generous or consistent disposition might have spotted the contradiction in going down this road. If figures quoted in relation to her book deal are anywhere near reality, plus a substantial parliamentary pension, Ms Sturgeon could look forward to paying 50 per cent in Scottish tax and National Insurance.
Incorporating a limited company could avoid that scenario. When the company receives the income, it pays UK Corporation Tax at 25 per cent (rather than Scottish income tax). The accumulated profits can be dripped out as dividends over future years at a beneficial rate.
This is, of course, legal but how does a device the IFS defines as "tax avoidance" sit with Ms Sturgeon's enthusiasm for taxing the better-off to close Scotland's poverty gap, which she otherwise signally failed to do?
Comments
 0 comments
Want to join the conversation? Please or to comment on this article.