The Match of the Day presenter's tweet on March 7 described the UK Government's Illegal Migration Bill as "an immeasurably cruel policy directed at the most vulnerable people in language that is not dissimilar to that used by Germany in the 30s". It triggered attacks by Conservative MPs, an intense national debate and a crisis at the BBC.
Section 4 of the corporation's editorial guidance, detailing impartiality, gives advice about avoiding "controversial topics" and those that "may be a matter of public policy or political or industrial controversy". And guidance on the individual use of social media states: "… There are also others who are not journalists or involved in factual programming who nevertheless have an additional responsibility to the BBC because of their profile on the BBC. We expect these individuals to avoid taking sides on party political issues or political controversies and to take care when addressing public policy matters."
Lineker refused to retract his initial tweet and was briefly suspended for what the BBC described as a breach of these impartiality guidelines. A seemingly cut-and-dry drumhead trial, if ever there was one.
As a co-host of a show in a prime TV spot, there is a fair argument that Lineker should keep his nose out of politics. But that could be said of anyone, in any business, tweeting about "controversial" policies which may risk a business's reputation, especially when they prove Godwin's Rule so quickly (an Internet adage claiming that a comparison to the Nazis or Adolf Hitler becomes inevitable the longer an online discussion goes on).
The BBC, after all, is publicly funded. Its primary mission is to inform and entertain, not proselytise. But seldom a week goes by when its much-prided impartiality standards are accused of being a myth. The biggest challenge facing the BBC is the conflation between its news and entertainment arms. This assumes the same restrictions bind the other, but it is unrealistic to expect entertainers and celebrities to follow the same impartiality as newsreaders and journalists.
Lee Anderson, the Conservative party's deputy chairman, claimed that Lineker had created a precedent for a social media "free for all" for those working at the BBC on non-journalistic contracts. This is no bad thing. The BBC tied itself in knots over Lineker while forgetting that Apprentice star (and member of the House of Lords and former government enterprise tsar) Alan Sugar was tweeting disparaging remarks about RMT leader Mick Lynch during last year's strike. It also took a physical assault for the BBC to act on Jeremy Clarkson in 2015 after decades of controversial comments.
Lineker has been tweeting consistently; his comments about immigration were no sudden burst out of nowhere. Last August, he tweeted: "As a politician how could you ever, under any circumstances, bring yourself to vote for pumping sewage into our seas? Unfathomable!" He also opened the BBC's coverage of the 2022 Qatar World Cup with a criticism of the country's human rights record and treatment of migrant workers.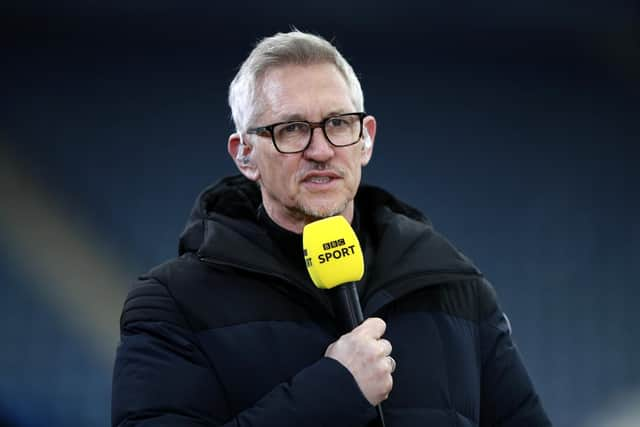 Some, including journalist Sarah Vine, have asked questions like: "What gives Gary Lineker, a man insulated by money and status, the right to cast anyone who opposes illegal immigration as a heartless bigot?" The idea that someone's right to comment should be denied on the basis of their wealth is spurious, at best. It would preclude most, if not all, of Rishi Sunak's government – and a few on the opposition benches, too – from opining on anything.
All of it boils down to an over-inflated sense of ego from the BBC. It adopts a saccharine condescension toward a public it feels is too stupid to tell the difference between political editors, newsreaders, and TV personalities and presenters. Tying the hands of Lineker and others reinforces the frustration at impositions like the licence fee. Celebrities and public figures speaking out, whether from the world of sports, books, or anything else, about what they believe in makes them more relatable and valuable to the public conversation.
At some point or other, most will like or share or say something that at least infers an opinion. The BBC should not be punishing Lineker; they should be adapting their guidelines. To start that process means accepting it is now less a news organisation and more a massive entertainment corporation of which news is a subdivision.
Journalists should oblige on impartiality, not because of the BBC but because it is best practice in their industry. After all, there are an array of professions requiring neutrality. Presenters should always refrain from signing on a dotted line that forfeits their right to say whatever they please because it could be a cause that needs their help.
More should follow Lineker's example, particularly if it is an issue they feel passionate about. Will speaking out, denouncing perceived wrongdoing, and fundraising be next for the chop if it is at odds with the government of the day? Will vehemently supporting Children in Need one day become taboo because it implies governments fail to do their bit at home and abroad to tackle child poverty?
So much of the Lineker debacle is tied to arguments about the licence fee. Without an elective payment system, most will feel Lineker and his kind were either speaking for them or inferring they are bigots. The BBC will only resolve its reputational malaise when it finally decides if it is an entertainment corporation or a public service broadcaster. These fault lines are clear to see. How else can you explain the disruption a former footballer has caused when issuing a simple tweet with a viewpoint?