Bàs eile air an A9 – agus dàil air an obair a' leantainn, le Murray MacLeòid
Bàs eile air an A9, an tuilleadh aimhreit mun dàil ann an a bhith a' leasachadh rathad a tha cho cudromach dha mòran.
[English-language version below]
An turas seo, 's e balach òg 18 bliadhna a dh'aois a tha air a bheatha a chall nuair a bhuail an càr aige ann an làraidh tràth sa mhadainn Dihaoine 's a chaidh.
An-uiridh, chaill 13 am beatha air a' cheud mhìle de rathad a tha a' ruith eadar Peairt is Inbhir Nis, barrachd air aon neach sa mhìos.
Cha bhi e na chofhurtachd sam bith dha teaghlach aig nach bi an cothrom a-nis am mac fhaicinn a' fàs suas na inbheach, ach chan eil ann ach aon ainm eile air liosta gu math fada de dhaoine a tha air am beatha a chall air an t-slighe seo. Chan e dìreach rathad a tha anns an A9; tha e na chlàr fada de ghoirteas is de chall beatha; lot domhainn aig teas mheadhan cosgais na h-Alba.
"Cha b' urrainn dhan seo a bhith na bu chudromaiche," thuirt Fearghas Ewing, am Ball-Pàrlamaid a tha a' riochdachadh an tuath agus e a' bruidhinn anns na làithean às dèidh na tubaist. Tha esan air a bhith gu mòr a' càineadh cho beag a dh'adhartas a tha a' tighinn air an leasachadh. Tha an dàil air "fearg mhòr" adhbhrachadh, thuirt e.
Airson a' chùis phoileataigeach a mhìneachadh, chaidh gealltainn sa chiad àite gum biodh an A9 air a dhùblachadh ro 2025. Tha còrr air trì càirteal fhathast ri dhol.
A' bruidhinn sa Phàrlamaid an-uiridh, thuirt Jenny Gilruth, aig an robh dreuchd na còmhdhail aig an àm, 's i mas fhìor loma-làn ùghdarrais is toinisg, nach b' urrainn dhaibh coinneachadh ris a' chlàr-ama aca. Dha duine sam bith a tha eòlach, cha robh ann ach an aon smuain: innis dhuinn rudeigin air nach eil fios.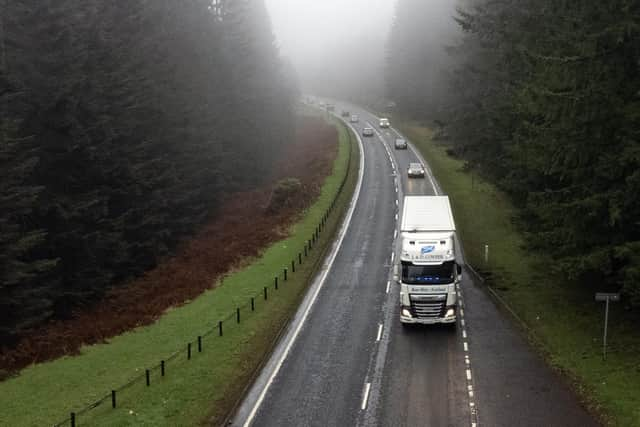 Mar a thuirt Fearghas Ewing, chan e dìreach an dàil a tha na dhragh, ach nach eil soilleireachadh sam bith a' tighinn; no duine a tha cunntasail airson cùisean a' dol ceàrr. Nise, càite an cuala sinne sin ron seo?
Tha fios againn g' eil cosgaisean air èirigh le ìre na h-atmhorachd is eile, ach 's e fìrinn na cùise gun robh na duilgheadasan le adhartas air an A9 a' nochdadh fada mus robh guth air cogadh na h-Ucràin, no cosgaisean connaidh, no fiù 's Brexit, ged a tha h-uile càil a tha sin na leisgeul aca a-nis.
'S e an rud a tha na iongnadh mu dheidhinn a h-uile càil a tha seo gun tug e cho fada tighinn gu ceann gu poileataigeach, bhon gu cinnteach, tha ceannach air a bhith ann ann an dòighean eile.
Dh'iarr Mgr Ewing air an Riaghaltas – a-rithist – a thighinn an àirde le clàr-ama ag innse cuin a tha iad an dùil gach pìos dhen rathad a dhèanamh. Shaoileadh thu nach eil sin mì-reusanta. "Tha mi air a bhith a' faighneachd airson seo thairis an dà bhliadhna a dh'fhalbh ach an àite adhartas, 's ann a tha sinn a' dol air ais," thuirt e.
Mar gu leòr a nithean eile, tha fearg is tàmailt air an tuath mu shuidheachadh an A9.
Thuirt ministear ùr na còmhdhail, Caoimhinn Stiùbhairt, gun innseadh e barrachd san fhoghar. Ach, tha cunnart ann nach bi ann ach briathran gu bhrìgh – aon uair eile – fhad 's a bhios an tuilleadh air an call chun na sìorraidheachd.
English-language version:
Another grim statistic on the A9; another sharpening of the outrage over the delays to its upgrade. This time it was the turn of an 18-year-old to become the latest whose life has been claimed by one of Scotland's busiest and most notorious roads when his car ploughed into a lorry just south of Inverness at 6.05am last Friday.
Last year, a total of 13 people died on the 110-mile stretch between Perth and Inverness, more than one fatality a month. It will be of little comfort to a grieving family who have been so cruelly robbed of the privilege of watching their son develop into adulthood, but he is only the latest in a long line of casualties. The A9 is not just a road, it is a historic record of tragedy and unnecessary suffering, a scar that runs right down the middle of Scotland's conscience.
"This could not be more serious," said Inverness and Nairn MSP Fergus Ewing, who has been a leading critic of the Scottish Government's broken promises on dualling, speaking in the days after last Friday's incident. He added there was "real anger" over the delays. To put the political aspect of it into perspective, the initial commitment was that dualling would be complete by 2025. To date, around 70 per cent remains to be completed.
When the then transport minister Jenny Gliruth stated in parliament last year that their timetable was now "unachievable", delivered with the authority of someone relaying some important, revealing information, for anyone familiar with the road it was a case of stating the blooming obvious. As Fergus Ewing alluded to, it's not just the delays that are costing lives, it is the utter lack of transparency over what has gone wrong, where and when.
We know that in the last couple of years, there have been issues over rising costs. However, the delays on the A9 set in long before the war in Ukraine, inflation or even Brexit, though of course that doesn't stop any of it being used as an excuse. The only real surprise is that it's taken so long for the delays on the A9's upgrade to come to a head politically, because the cost has certainly been felt in other ways.
Mr Ewing challenged the Scottish Government, again, to bring forward a detailed statement setting out when each section of the road will be dualled and by what time. Not an unreasonable request. "I have asked for this for the last two years, but instead of making significant progress, we move backwards," he said.
There is palpable anger and disappointment over the broken promises on the A9 in the communities north of Perth. The new transport minister Kevin Stewart has now promised another statement in the autumn. The danger is that, on past form, it will simply be more meaningless platitudes delivered with a false authority, as the death toll continues to mount.
Comments
 0 comments
Want to join the conversation? Please or to comment on this article.