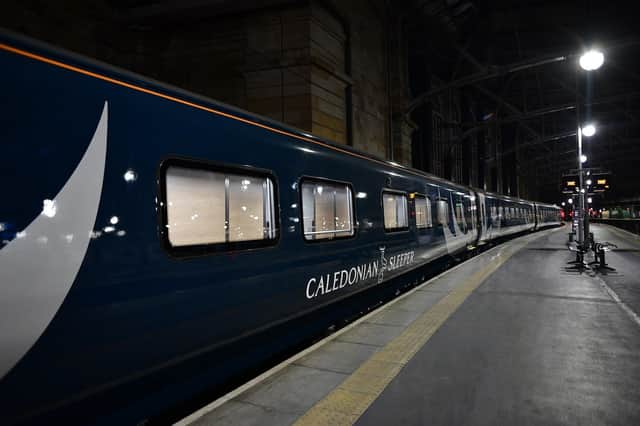 Staff have staged four days of strikes over rest areas with another four due to follow over the festive season
Their allure has been heightened by starring roles in classic films from Murder on the Orient Express to North by Northwest.
For those travelling between Scotland and London, the appeal of the Caledonian Sleeper was dramatically boosted last year by a brand new fleet with ensuite cabins and double beds.
Alas, it didn't exactly go to plan, with passengers facing showers and toilets which didn't work and noisy window seals keeping them awake, among assorted technical glitches.
However, for those like me who endured such journeys, there was one memorable, positive aspect of the trip, which I've found hasn't changed in four decades – the staff.
I've always found them to be unfailingly friendly, polite and helpful regardless of whether they are beset with disruption or enjoying a clear run.
Sleep has never come easily to me aboard, but I've always wondered how the Sleeper "hosts" were able to rest during the night because in the old trains there just appeared to be a seat in their galley/booth at the end of each carriage.
Staff shifts on some routes north of Edinburgh average more than 15 hours. Picture: Peter Devlin
Things don't seem to have improved since, and while the new fleet's problems have been an irritant to passengers, they have proved a nightmare for staff.
The lid was lifted on the situation by a report seen by The Scotsman into staff fatigue, which was commissioned by the operator in response to a union's call for hosts to be permitted to use cabins for their rest break.
A fatigue expert, Dr Paul Jackson, shadowed staff on the "Highlander" service from London in August and what he found was quite an eye-opener.
Staff have asked for access to cabins for their rest breaks. Picture: Charlie Fraser-Hopewell
He discovered each Sleeper host is responsible for three carriages – that's up to 30 berths.
Staff were observed to be under "considerable pressure" by having to move passengers due to faults in their rooms, 16 months after the new fleet's introduction.
In the six carriages of the Fort William-bound section, Dr Jackson said these included air conditioning not working, a toilet out of service, a damaged mirror, no bin/a broken bin lid, a tray table missing, a fault with connecting door and a fault with a berth door.
Several of these had been previously reported but not fixed.
Caledonian Sleeper staff's experience aboard is very different from the passenger luxury depicted in the service's Dream Big advertising campaign
The room-juggling also had to be completed within the 30 minutes between staff clocking on and passengers starting to check in.
Dr Jackson described it as "unnecessary stress – a poor start to a long night duty".
As for taking a break – staff get one hour – he said the crew rest area was noisy because it was beside the train manager's room, had only upright seating, and was not dark even with the lights off because a brightly illuminated light switch and light coming in from the corridor.
Shifts range between around ten hours for staff on the Edinburgh and Glasgow routes to more than 15 hours on the Fort William line.
Caledonian Sleeper has pledged to implement Dr Jackson's recommendations for improvements.
Let's hope they are – but do spare a thought for the staff, regardless of how well or not your next Sleeper trip is going.
Passengers can now have food and drink brought to their cabins, increasing staff workloads. Picture: Jeff Holmes/Shutterstock
A message from the Editor:
Thank you for reading this article.
We're more reliant on your support than ever as the shift in consumer habits brought about by coronavirus impacts our advertisers.
If you haven't already, please consider supporting our trusted, fact-checked journalism by taking out a digital subscription.