Autumn statement: Chancellor Jeremy Hunt must resist calls for major tax cuts and focus on economy's long-term health – Scotsman comment
Reducing the UK Government's vast debts and modernising the economy and public services should be Jeremy Hunt's priorities in his autumn statement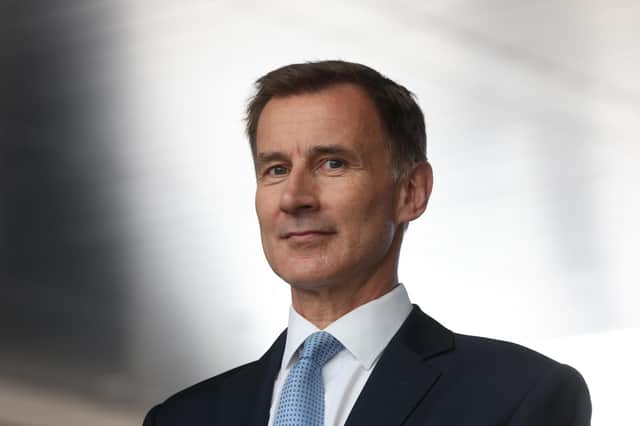 When Jeremy Hunt became Chancellor, he inherited an economy in crisis. Not only because of the soaring cost of living, but because of a self-inflicted blow struck by Liz Truss's disastrous government. The biggest tax cuts since the early 1970s had spooked the markets as financiers wondered how it would all be funded. Kwarteng was sacked and Truss resigned a short time later, brought down not by any "anti-growth coalition" but their own economic incompetence.
Hunt unquestionably stabilised the ship. Yet, despite this lesson in political realities, the Conservatives' Trussite wing remains powerful and is putting pressure on the Chancellor to reduce taxes in his autumn statement on Wednesday. He is said to be considering cuts to inheritance and business taxes.
However, the priority must remain the need for stability, not chaos, and for inflation to be further reduced. Scope for tax cuts is therefore limited because of their inflationary effect, which could force the Bank of England to put up interest rates. The government and the Bank must work together, not at cross purposes.
The looming general election will increase the pressure on Hunt to produce feel-good announcements but, given the state of the country's economy, short-term policies that cause pain in the future are dangerous. Instead, the Chancellor must focus on the long-term, even if it looks like the Conservatives are going to lose the election.
The government has indicated the autumn statement will bring its response to the US Inflation Reduction Act, which included $369 billion (about £296bn) in grants, loans and tax credits to boost green energy projects. If the UK is not to be left behind in the new green industrial revolution, it needs to react to such a market-shifting amount of money. It does not necessarily have to produce a proportionally similar amount, but it does at least need to take steps to boost investor confidence in green energy projects and modernise antiquated infrastructure.
Another longer term issue is government debt, which stood at 97.8 per cent of GDP in September. Paying off debts may not be as exciting as tax cuts, but it is important. Tom Smith, a former senior economist at the Bank of England and Foreign Office, in an article for the Tony Blair Institute, pointed out that public-sector net debt had risen by half a trillion pounds in four years. And he warned that using any so-called "fiscal headroom" for tax cuts would leave the UK more vulnerable to future shocks to the economy.
Smith also suggested that in order to turn around an economy "stuck in the doldrums since 2008" – with the tax burden at its highest level in 70 years and public services "crumbling" – the UK Government needed to embrace the potential of artificial intelligence to make public services like education and the NHS dramatically more efficient. One reason why this had not happened, he said, was "fiscal short-termism". "… dealing with the symptoms of the UK's economic malaise rather than investing to address its causes only perpetuates a cycle of short-term crisis management and ever-deepening crises. We are robbing the future to pay for today."
In his autumn statement, one of the most important things Hunt can do is break that cycle.
Comments
 0 comments
Want to join the conversation? Please or to comment on this article.