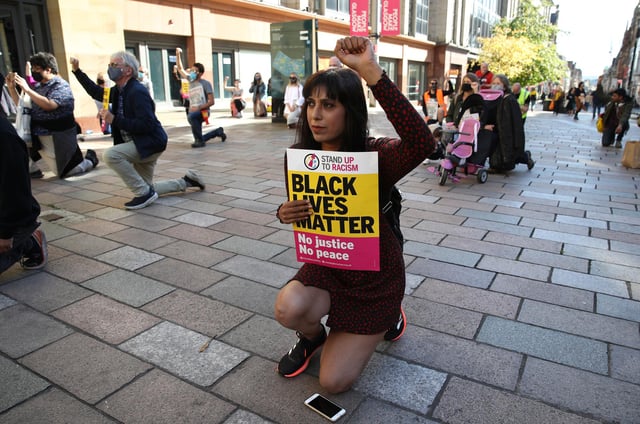 Demonstrators take a knee for George Floyd during a Black Lives Matter protest rally in Glasgow organised by Stand Up To Racism Scotland last year (Picture: Andrew Milligan/PA)
Signs of hope from the southern-most tip of Scotland to the furthest north.
But there was heartache and anguish too. The bereaved families in Tayside let down by a health board that failed in its duty of care to their loved ones. Working with Gillian Murray, who lost her uncle David, and Mandy McLaren, who lost her son Dale, we forced the Scottish government to accept it had a moral duty to act and set up an independent inquiry.
Then, in the past year, all of those families who I listened to and we worked with to pressure the Scottish government to concede a human-rights based public inquiry into the scandal that has led to an unconscionable number of residents dying from Covid-19 in Scotland's care homes.
There was the ferry action group in the Western Isles, a community organising in and against the state because their voices had been ignored for too long. The housing co-operative in Forgewood, the workers co-operative in East Kilbride, one old, one new, both offering a glimpse of direct democracy in the economy and the empowerment of a community.
The care village I visited in Lumphinnans bringing together a day centre, extra care housing, and residential care for older people on a single campus. Built and run by Fife Council as part of a visionary plan for social care. It was this as much as anything which inspired me to push even harder for a National Care Service rooted in local democratic control and beyond the market economy and the profit motive.
While these two essential principles have still to be won, a National Care Service is now firmly established as an idea whose time has come.
Michelin did not close its tyre factory in Dundee, the market did, Richard Leonard was told (Picture: Andrew Milligan/PA)
Because of the real lived experience of frontline care workers, Labour amendments to emergency legislation in June established a fund, to ensure they suffered no loss of earnings if they had to take time off work and self-isolate.
In the name of all frontline workers, we battled for the right personal protective equipment, the roll-out of mass testing, and for a substantial revaluation of their work and worth.
And all of those extraordinary workers let down for too long by an economy that isn't working for them. Mark Jackson and his fellow Michelin workers who told me that the company didn't close down the Dundee factory, the market did. People like Les Ashton who worked at the Caledonian Railway Works in Springburn for 40 years. Before owners who had been in charge for a matter of days announced its closure, abandoning a workforce with not just a glorious past but a bright future.
Honest hard-working people just looking for a government that was on their side.
I marched with 30,000 teachers in Glasgow and stood on picket lines across the country, rallied with the Waspi women, demonstrated against Donald Trump, helped lead anti-racism marches and supported climate change activists.
I will never forget being welcomed so generously by faith communities into their places of worship.
In every part of Scotland, I visited the painful effects of relentless cuts to local government budgets laid bare. Everywhere third sector projects being wound down at the very time when demand is going up.
I think also of the rough sleepers I met on the streets of Edinburgh with Streetwork who spoke of their mental pain, their histories, as we campaigned in Parliament week after week for a ban on winter evictions and now for action to ensure that there is no going back.
Ashley Cameron and the other care experienced young people I listened to in Holyrood and at Who Cares Scotland who shared their stories, to guide our policies, to inform our understanding.
Those young workers on zero-hours contracts, thrown out of employment by the pandemic, who now need a job guarantee and an end to precarious forms of working. Final-year school students whose case we took up last summer to force a government u-turn, many of whom were let down again just weeks later when they arrived at university.
And business owners up and down the country who I met like those from Edinburgh who depend on the Festival and Fringe, fighting to survive, looking for a sign of hope. The taxi drivers whose case we pushed.
The pensioners I spoke with in Motherwell whose simple demand for dignity in retirement is still not being realised, many with a sense of isolation even before the pandemic.
Those fleeing persecution, seeking asylum and refugee status in Glasgow, who are told they have no right to education in a city with five universities. That they have no right to work in a city that fought for the right to work on the banks of the Clyde 50 years ago. Living in nightly fear of a lock-change programme and eviction enforced by a contractor run for profit and shareholder gain. This hostile environment and this injustice we should never tolerate.
And all those families like those I met in Airdrie struggling against poverty, facing rising debt, living from week to week, still having to choose between heating and eating.
That is Scotland today, these are just some of the people and communities I have been privileged enough to meet, to listen to, and to represent in the realm of politics.
Sometimes our action led to change. Other times it did not, but my faith is undimmed in the ability of working people to build a new society and a democratic economy after the lockdown.
That is the challenge which Anas Sarwar will now lead the Scottish Labour Party through. I wish him nothing but success.
Richard Leonard is Scottish Labour MSP for Central Scotland
A message from the Editor:
Thank you for reading this article. We're more reliant on your support than ever as the shift in consumer habits brought about by coronavirus impacts our advertisers.
If you haven't already, please consider supporting our trusted, fact-checked journalism by taking out a digital subscription.