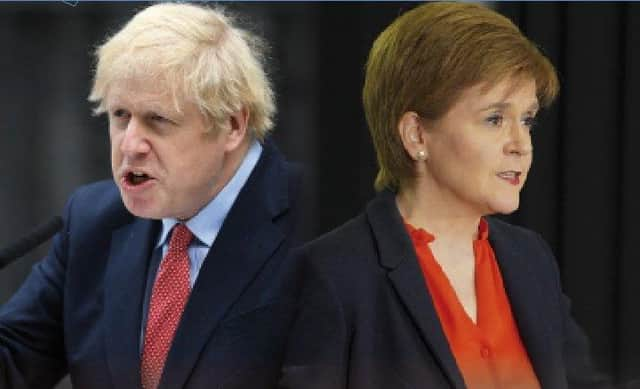 As the First Minister's performances have been virtually flawless, those of the Prime Minister have been utterly hapless. That difference along with the bungling handling of his announcement on Sunday, alienating friends and fuelling foes, has compounded it.
Many of the actions across the entire UK may be similar, some by choice others, especially with the Chancellor tightening the screws on funds, by design or imposition more like. But the collective memory won't be of the lockstep of the nations and regions but of the premature easing of lockdown by England; and perception matters as much as reality in politics.
The hope, if not expectation, of leading unionists was that the Bank of England's unlimited printing of money would show the bounty of being British and the utter dependency of Scotland. Yet that hasn't been the case. Instead more and more it's showing up the incompetence of the UK Government and that actually Scotland can most certainly do better.
Across Europe, and indeed beyond, Governments have been printing money and leaving tomorrow to look after itself. The UK's no different in that and far from appearing generous, in comparison to other nations, both large and small, it's appearing parsimonious. As well as the Germans, the Danes and the Irish have moved quicker and turned faster, in support for both citizens and businesses.
So, the dependent Scots myth isn't gaining traction. Indeed, it's raised questions about why we've had enforced austerity that's delivered poverty for so many and fuelled widening inequality. It's shown that it's been about political choices and as with administrative competency, both the British and the Tories have been found wanting. The crisis is also having people reassess what they want from life. Some are seeking a change in lifestyle and others simply enjoying a slower pace of life. The improved environment's appealing to many and the old way of life won't be returned to by some.
It's not just personal but political. Folk are deciding that there's got to be a better way and there lies the difficulty for the union. With the Tories firmly in charge there's little sign of change or even moderation. It's full on for Brexit and ever closer links with the USA.
Yet what's going to come out of reviews into the crisis will be how bad both those countries were in handling it. That'll be matched by the long public memory of the bumbling of Johnson and the inanity, if not insanity, of Trump. The economy will still matter but to a lesser extent than it did before. A better and fairer country's what'll be wanted by many.
Independence isn't without obstacles, but the countries are choosing increasingly different routes. Ironically, that'll be seen to have been driven by Johnson's hasty and inept actions. Memories of his own affliction with the disease may remain, but they won't excuse his failures. Indeed, he's also managed to give a fair wind to a cause that seemed somewhat in the doldrums.
There was never going to be an Indyref2 this year but arguments over it have been rendered academic. But far from dimming the cause, he's ignited it with his intransigence. The demands that there has to be a better way and indeed a diverging way from the UK path are only going to increase.
It's hardline unionists demanding that we march in unison to possible infection who are out of kilter with Scottish opinion.
Of course, the SNP has also to change. The Growth Commission that had been sidelined, is now well and truly redundant. But that's an opportunity for a more radical agenda that's wanted by the wider membership, as well as there being appetite for it amongst the public at large.
As well as the vision, there also needs to be action. The Tories were comprehensibly rejected by Scots at the last election. For sure it allows them to form the Government in London. But to cram the Scottish Affairs Committee with their placemen is unacceptable. That cannot be supinely accepted. The idea of a Boris veto is simply intolerable and that must be made clear in the run up to Holyrood elections. A man who cannot even safely look after his own country can't restrict the forward march of another. The road to independence is open.
Kenny MacAskill is SNP MP for East Lothian