As Rob Roberts, the MP who wanted to 'fool around' with a 21-year-old intern, gets away with it, the political doublespeak is hard to stomach – Kirsty Strickland
It sometimes seems like politicians speak a different language from the rest of us. They take commonly used words and phrases and transform their meaning, apparently without even noticing that they're doing it.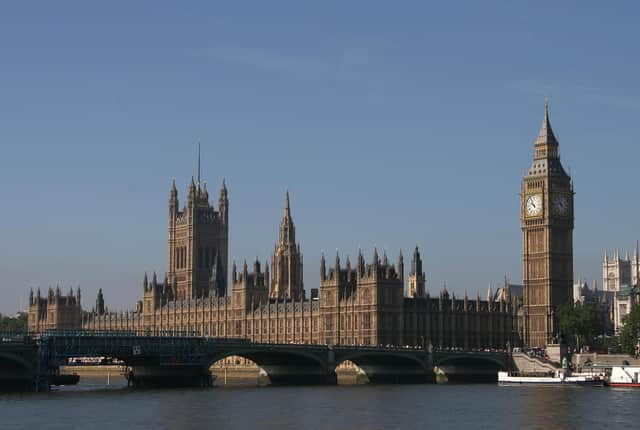 The Westminster and Holyrood parliaments have toughened procedures for dealing with complaints but the lack of effective sanction against Rob Roberts MP shows British politics still has work to do to ensure staff are adequately protected (Picture: Bruce Bennett/Getty Images)
When you see a government minister being interviewed on television, they will often say "I've been very clear…" immediately before they dodge a question.
In that context, clear actually means unclear. If the interviewer presses them for a concrete answer, they might shoot back with a tetchy "if you could just let me finish, I will answer your question".
The interviewer pauses, the politician starts speaking again but no answer comes.
"I will answer your question" actually means, "I'm going to run down the clock to ensure I don't have to answer your question".
So on Thursday, when the Conservative party said that the conduct of one of their MPs was "unacceptable", we were all eager to see whether they were using the party-political definition of the word, or everybody else's.
Last year, the MP for Delyn, Rob Roberts was accused of inappropriate behaviour towards two junior members of parliamentary staff.
In a series of text messages, Mr Roberts told a 21-year-old intern that she had "lovely legs" and suggested that she might want to "fool around" with him with "no strings".
In another, he told her, "Don't ignore me when I'm making you feel better".
The young woman didn't respond to his inappropriate messages about sex and instead told him that she was in an "awful state" and struggling with her mental health.
Mr Roberts replied saying that he was thinking of "fun times" and "maybe if you thought of them too it might help you".
At the time, the woman said that Mr Roberts' behaviour made her feel "backed into a corner" and worried about her job.
"I had had one of the worst days ever, and then I messaged him saying I'm crying, I'm not okay – and his solution to that was to proposition me."
The Conservative party launched an investigation into those messages and others sent to another member of parliamentary staff which resulted in the man changing positions.
That investigation took nine months to reach a conclusion and the party found Mr Roberts behaviour to be "unacceptable''.
If we pop that through the Politics Definition Generator we can see that in this instance, unacceptable actually means acceptable. Because the party has also said that he will face no further action.
The party say that they have "strongly rebuked" Rob Roberts for his conduct. Is that enough?
MPs hold a privileged position and are generously compensated for it. It shouldn't be too much to ask that they adhere to the most basic of workplace standards that any other employee in any other job is expected to.
While the investigation was underway, Rob Roberts retained the party whip. He has faced no sanction for his behaviour and – aside from a mealy-mouthed public telling-off from his party – he hasn't been held accountable for abusing his power.
It's a tale as old as time and so none of this is surprising. But that doesn't make the impact of it any less corrosive. Politicians and political parties talk a good game about wanting to change the toxic culture that plagues the corridors of power.
But that talk rarely translates into action. It's much easier to do as the Conservative party has done – say that something is "unacceptable" while simultaneously accepting it to protect one of your own.
Mr Roberts has been sent for "safeguarding training" to teach him how to not harass people in the workplace. That's how things are done now and it's a handy way for parties to give the illusion that they care while not doing anything that causes them even the mildest inconvenience.
When the outcome of the investigation was finally made public the former intern expressed her disappointment. "He's gotten away with it, and that's not acceptable," she said.
She says that the party's response had brought "the morals and values of the Conservative Party under scrutiny if they are unwilling to stand up against sexual harassment and stand on the side of women".
As is to be expected, the Tories have been condemned by their opponents for not kicking Mr Roberts out of the party.
It would perhaps be a better use of their time if they got their own houses in order before criticising others. For as much as warring politicians would like you to believe that sexual harassment is always worse on the other "side" – it's not. No party has a great record on this and none have reached the dizzy heights of unimpeachable conduct that would allow them to condemn others with any degree of credibility.
That will be the case for as long as politicians care more about scoring points than the people who are impacted by the behaviour of those who should be leading by example.
Mr Roberts behaved appallingly and his party missed an opportunity to put politics aside and do the right thing. But this case isn't exceptional. Party staffers and those who work in parliament deserve to be treated with respect and dignity at work. When they are harassed by somebody more senior, their first thought shouldn't be – "Will reporting this make my job more difficult?"
Complaints procedures – both at Westminster and at Holyrood – have been improved and strengthened in recent years.
But robust complaints procedures can only go so far. It's not enough for workers to feel that their complaints will be heard, they should also know that proper sanctions will be enforced if it is found that a politician has behaved inappropriately.
Political parties need to show us that they think sexual harassment is unacceptable, rather than just telling us. If they don't, then nothing will change.
A message from the Editor:
Thank you for reading this article. We're more reliant on your support than ever as the shift in consumer habits brought about by coronavirus impacts our advertisers.
If you haven't already, please consider supporting our trusted, fact-checked journalism by taking out a digital subscription.
Want to join the conversation? Please or to comment on this article.