As Paris discovered, e-scooters are not the magic solution to reducing urban traffic – Stephen Jardine
An experiment with rental e-scooters in Paris saw three deaths and 459 injuries last year and daily confrontations between riders and pedestrians
We really should be much more grateful to the French. Too often they are the butt of jokes when in reality they have shaped everything from food to fashion and now we have something else to thank them for. After a five-year experiment, Paris has become the first European city to ban rental e-scooters.
That is a valuable lesson for us because the UK is currently trialling 30 e-scooter schemes and just last month a delegation from Edinburgh went to see one in action. That was a waste of time because we just need to learn from the Parisian experience. The French scheme involved users picking up e-scooters via an app, then depositing them at the destination. Although widely used, particularly by students and young people, there have been huge problems since day one.
Apart from piles of scooters at key destinations and daily confrontations between riders and pedestrians, safety has been the biggest concern with three deaths and 459 injuries reported last year alone. Following protests, the Mayor of Paris organised a referendum and 90 per cent of participants voted for a ban.
Although legal only on private land, e-scooters can regularly be seen flying around roads and pavements in Scotland with the police apparently turning a blind eye. That's just a taste of the trouble that would follow if they became widely available here.
Edinburgh City Council has indicated the capital's network of cycle paths could be a natural space for e-scooters but they are already busy with pedestrians, dog walkers and tubby middle-aged men in lycra trying to break the world land speed record. With an aggressive ding-ding of the bell, they already think they have special rights and privileges when it comes to shared spaces. Putting more fast-moving wheels on these paths would be a recipe for disaster.
The arguments for their introduction focus on the environmental and health benefits. You can understand the pressures on government. A range of operators are lobbying hard, citing political commitments to reduce road traffic by 20 per cent before 2030. But, tempting as they seem, e-scooters are not the magic solution to that.
Edinburgh is already set to introduce a low-emissions zone next year which will cut vehicle pollution and traffic. And based on the Paris experiment, the demographic using e-scooters is unlikely to even own a motor vehicle. As for the health advantages, walking or cycling are far better for you than balancing on a battery-powered board which uses zero calories and will just propel you to the cake shop quicker.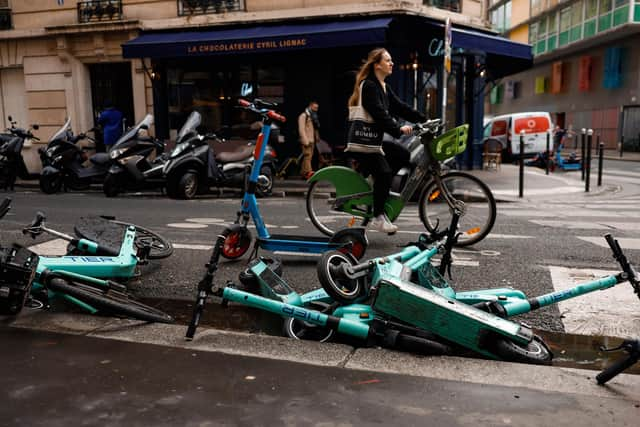 The UK Government had seemed to be on the verge of giving the go-ahead to them here, but the experience in Paris will make them think twice. On top of that many of the trial schemes down south have run into problems amid complaints from disability and environmental campaigners about aggressive useage and scooters being dumped all over the city centre.
Edinburgh's bike hire scheme was abandoned two years ago following issues with theft and vandalism. That was a bad decision. Every other city seems to make similar schemes work and a solution should have been found. But if we can't find a way to continue something like that, the prospect of a free for all with much faster e-scooters sounds like a recipe for disaster.
Comments
 0 comments
Want to join the conversation? Please or to comment on this article.