As Ian Blackford passes on the SNP torch, we must look to the future - Stewart McDonald
As Ian Blackford MP announces he will step down at the next election, his Westminster colleague Stewart McDonald pays tribute to his commitment to parliament and people while looking at the future of the SNP.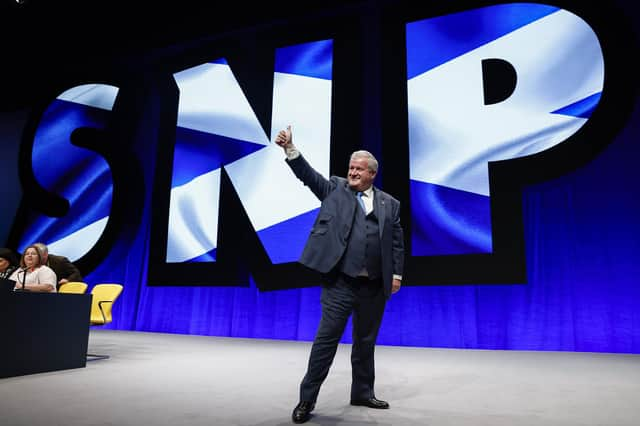 The MP for Ross, Skye and Lochaber probably has the longest regular commute in the country. It is an odyssey that involves planes, trains and automobiles and spans the length and breadth of Britain and, when Ian Blackford announced this week that he was not intending to stand for re-election next year, I couldn't help but breathe a small sigh of relief that my good friend and colleague would soon be freed from it.
Ian, like every Scottish and Northern Irish MP, knew what he was signing up for. However, the weight of MP's commutes – hung so unevenly around the necks of parliamentarians from around the country – merits a small moment of reflection. I think of Ian Blackford driving three hours from his house to the airport before flying across the entire island of Britain to set up shop in London for the week, and I think of the London MPs who walk their children to school every morning and, on those rare occasions when Parliament finishes at a reasonable time, can be home in time to tuck them in at night.
There are drastically different levels of sacrifice expected from Westminster politicians, depending solely on which part of the country they hail
from – and it is a phenomenon too rarely mentioned.
People expect their politicians to have a connection to the area they represent and a stake in the community that elects them. Yet Westminster demands the opposite: the unpredictable rhythm of parliamentary business and unsocial working hours (the House of Lords sat until 04:30 am this week) compels most politicians without a family nearby to spend most of their waking hours between Monday and Thursday on the parliamentary estate, and threatens to deracinate us from the communities we were elected to serve.
Ian, however, always managed to be a loving husband to his wife Ann back in Skye while also being generous with his time among colleagues in London. There was something astonishing about seeing Ian on his feet in the Chamber of the House of Commons – as I would regularly tease him, often giving a speech almost as long as his commute – then posting photos of him with his lambs against that unrivalled backdrop of Skye 24 hours later.
He also, somehow, found time to champion many other causes too. I will always remember the efforts Ian went to in order to help 48 orphaned children from Dnipro find sanctuary in Scotland after last year's Russian invasion of Ukraine – and I know those children will always remember it too. He worked day and night, calling and tracking down ministers, ambassadors, government officials, airlines and councillors to ensure the swift journey to safety of young kids fleeing war. A friend of mine from the Ukrainian parliament said she had never witnessed such generosity of spirit. I told her it was just Ian being Ian.
In all the years of my work on Ukraine, Ian understood why it was important. He understood the geopolitical significance of the war and the 2022 invasion but, more widely, how important it was for the SNP to develop and hold credible positions on foreign affairs, security and defence policy issues.
Scotland may only occupy the northern half of one small island off the coast of continental Europe but, if the past few years have left us with one lesson, it is that we can no longer afford to nod along with the delusion that global events recognise sovereign borders. Even without the full powers of independence, Scotland – like the city of Paris, the state of Maryland, or the region of Wallonia – is unequivocally a global actor. We should not be ashamed to embrace that.
Foreign and defence policy are areas that my party can too easily shy away from, and I am grateful to Ian for giving me the chance to sink my teeth into them.
Not everything, however, should stay the same - the party is bigger than any one man or woman. As Ian Blackford and his generation of leaders pass the torch to a new generation, we should seize this opportunity to renew our party under the fresh leadership we have in Humza Yousaf, and modernise our case for independence.
People like Ian Blackford, Nicola Sturgeon, John Swinney and many others worked hard on the long march to political relevance. They experienced the setbacks, false- starts and tough battles that are essential to political success, because you are forced to challenge your own assumptions and do the political heavy lifting required if the public are to get behind you. We can all learn much from their long contribution to Scottish public life.
So as the sands continue to shift and a generational changing of the guard within the SNP marches on, nostalgia has its place, of course, but our eyes must remain fixed on the challenges of the future.
While the pace of political events over the past few months has barely provided a chance for us to draw breath, this summer offers the space for a much-needed collective conversation about the path my party's new generation of leaders should chart as they negotiate a rapidly changing world, because parties must change too. Those that don't, die.
Despite an unenviable six months we are in a strong position, but after 16 years in government, renewal – necessary in this ever-renewing world - will be necessarily hard. But with a strong sense of service, political generosity and a case for independence that is relevant to the modern world, we can honour the work of those like Ian Blackford, who laboured for decades to get us this far, and ensure that Scotland's best days are still ahead of us.
Stewart McDonald is the SNP MP Glasgow South and the party's former spokesperson on defence