As Covid crisis reaches a new peak, all workers should get full pay to self-isolate – Richard Leonard
These are bleak times. With test positivity rising, a record number of Covid admissions to Scotland's hospitals, intensive care capacity in parts of the country now at breaking point and, worst of all, Covid-related deaths exceeding the awful numbers we witnessed last spring, leaving families and friends in mourning, loved ones devastated.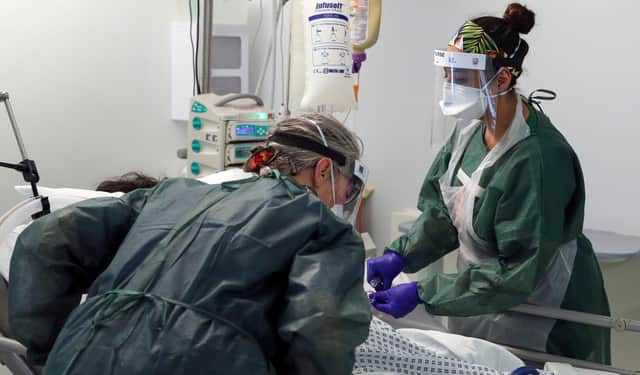 All around us is more evidence of Long Covid and its deleterious effects, of mental health demands largely unmet and so a new toll on the well-being of communities.
Meanwhile too many people are afraid or unable to go to hospital with heart worries, others can't get the routine operations they need to relieve them of chronic pain, and screening is running well below capacity.
The staff who we rely on to provide those critical health services are themselves on their knees. They had to battle to get the PPE they needed, worked through unflinchingly as the basic principles of public health and infectious disease control, like testing at scale and asymptomatically and strict quarantining, were largely ignored or acted on too late. And now the vaccination programme gets rolled out with last-minute and contested changes to the intervals between doses, creating new stirrings of disquiet and unrest.
Gap between government and people
Before Christmas, a group of NHS nurses decided they had no choice but to come to Edinburgh to lobby Parliament in search of a decent pay rise and demand government action and support.
Weeks later, there are still no wage negotiations taking place, just a welcome but insufficient £500 one-off payment announced unilaterally at the SNP conference and due to be paid out a few weeks before the election.
NHS workers and their trade unions will keep fighting, but they shouldn't have to meet with resistance from the Scottish government to get the protection and reward they deserve when there is so much public support on their side.
But on this and a rising number of fronts there is an ever-widening gap between the government and the people.
I have written before of the friction and discontent in Scotland's hospitality and tourism industries not because restrictions have been introduced, but the way it has been done.
Currently at the back of ever-toughening restrictions is a sense in government circles that this is because people are not staying at home, and so wilfully failing to comply, that there are too many vehicles on our roads and that is what sits behind the dreadful outcomes we see in hospital admissions and the increased pressure on our health services.
But we know large numbers of people are being required by employers to go into work, even in instances where it is common sense to work from home.
Fair system of financial support
The vaccination programme presents enormous administrative and logistical challenges, but if it is our best hope, it is up to the government to make it work. That means getting out a clear, concise and compelling message, instead of the complicated explanations about why the trials which paved the way for the licensing of a drug can be set aside in the second week of its public implementation.
When the British Medical Association, representing the nation's doctors, calls such a move into question there is little wonder that concern rises among frontline health staff, themselves armed with medical qualifications and an understanding of the science.
That's why all workers should now be paid to self-isolate in order to drastically reduce infection rates and ease the unbearable and unsustainable pressure on our hospital wards.
The UK and Scottish governments must adopt a fair system of financial support for all public and private sector workers.
Employees paid to self-isolate should receive the equivalent of furloughed payments as a bare minimum. Employers should contribute; however where necessary that must be topped up with additional financial support from the state, so that workers receive full pay during their hiatus from the workplace.
The disastrous back-to-work mantra from Boris Johnson and his Tory government that we heard so much from last summer and autumn has had grave consequences for both workers and employers during this pandemic.
It may well have contributed to the second wave of infections, by placing pressure on people to return to work when it was not safe to do so.
'Stay at home to save lives'
If this is the most dangerous point of the pandemic, as we have repeatedly been warned, then too many workplaces are remaining open.
There are far too many people still out and about and in work who should either be working at home or furloughed.
Now is the time to break with that approach and tell workers to self-isolate at home, until infections are back under control.
UK and Scottish ministers must agree to this now to reduce unnecessary physical contact.
Both governments can and must take action to mitigate the financial harm to workers and employers from a compulsory self-isolation policy for the workforce.
At a time when we are correctly and routinely told to "stay at home to save lives" there are still too many forgotten workers, who are expected to brave our Covid-ravaged society regardless.
What about the safety of cleaners, train station staff, postal workers, supermarket employees, and takeaway food delivery drivers?
As Scottish Labour leader, I appeal to all party leaders at Holyrood to back my call for full pay or equivalent for all workers to self-isolate.
The Scottish government must use the tools at its disposal to deliver this, while working to press the UK government to use its powers over employment rights to follow suit.
This time, there must be no gaps in financial support, with the self-employed and those on zero-hour contracts covered by any compensation scheme.
Whether it's the taxi driver, the supermarket checkout worker, or the fast-food takeaway employee, each and every one of them has an equal right to be kept safe from Covid, without loss of pay.
It's about nothing less than an equal right to life.
Richard Leonard is Scottish Labour leader
A message from the Editor:
Thank you for reading this article. We're more reliant on your support than ever as the shift in consumer habits brought about by coronavirus impacts our advertisers.
If you haven't already, please consider supporting our trusted, fact-checked journalism by taking out a digital subscription.
Comments
 0 comments
Want to join the conversation? Please or to comment on this article.