As climate change gets worse, are we really going to give up and go out with a bang? – Laura Waddell
The determination of younger generations to deal with global warming and environmental issues in general suggests that all is not lost and there is still hope
I finally realised what links the news stories that especially intrigued me this summer – the ones I refreshed webpages to find out the latest updates, multiple times a day. They are live stories, generally, that have no known ending at time of writing – that's always a hook to come back to hear more – but I noticed another emerging theme.
Everything is falling apart around us. It's structural instability summer. First there was the Titan submersible, built from hubris and cracking carbon fibre, failing somewhere over the ocean's most macabre tourist site, the wreck of the Titanic. There was the snapped cable of the Pakistani cable car, an essential component of an essential journey taking children to school over the barrier of a deep ravine; a story that ended, blessedly, with a heroic rescue.
And as a grand finale, Raac: the crumbling concrete that riddles the UK's buildings to an extent we're yet to discover, and the reason, I suspect, my local shop sold out of Aeros on the weekend the news bubbled up. Something to nibble on while considering which of the flat-roofed concrete buildings in our lives have been vulnerable to collapse on a rainy day. Something sweet to stave off the building panic at how topsy-turvy this land is.
Recently I happened to catch a caller to Jeremy Vine's BBC Radio2 show asking why we can't just blast our rubbish into space. There are thousands of pieces of debris left by earthlings out there already, bits of broken satellites and the like, but the answer essentially is that it is easier to try to mitigate our waste output than expend the massive energy needed to propel it away from Earth.
In general, it seems out of sight, out of mind no longer works for waste. Wealthy countries which send their refuse to be processed by developing nations are no longer as inoculated as once they were from the impacts of environmental change. Save the Children says the climate crisis disproportionately impacts those in poverty in two key ways – lower quality housing is more vulnerable to the effects of extreme weather and the impact on crop yields causes scarcity and drives up prices, a contributing factor to the current cost-of-living crisis.
No longer can the climate emergency be brushed off by those above the equator as a distant threat for someone in another part of the world to deal with. There is now nowhere on Earth not feeling the impact, no country untouched by the changes in temperature and extreme weather phenomena that have come quicker than scientists once pessimistically predicted. Hard indeed not to succumb to "doomism", as my editor Ian Johnston wrote last month, although his point was to use this as a spur to greater action.
I caught up with my friend and colleague at Gutter magazine, the poet Shehzar Doja, who splits his time between Scotland, Luxembourg, and Bangladesh. He is drawn to write about subjects others might throw up their hands and despair at, including environmentalism, genocide, and displaced peoples, but holds the unequivocal belief that "poetry has power to change the world".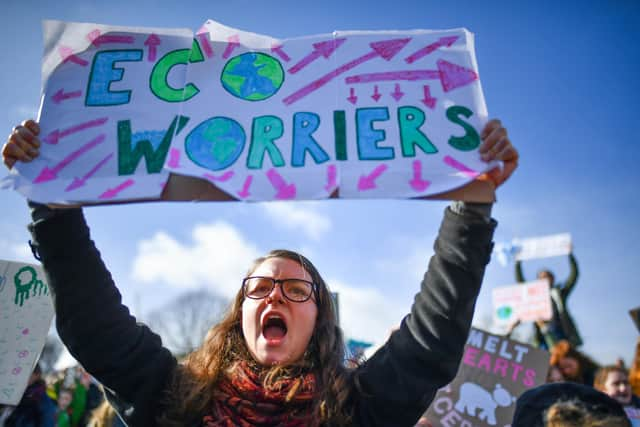 Notable among his work, he was invited to write a poem to mark the opening of COP26 in Glasgow, read in Holyrood at last year's Poetry in Parliament event, and, alongside James Byrne, edited the anthology, I am a Rohingya: Poetry from the Camps and Beyond, an English language testimony of the world's largest refugee camp, which was taken by one of the contributors to the Hague. In such a situation, as a tool of communication and expression, poetry indeed has power.
It's all change in Shehzar's own life, as he recently moved away from Glasgow, his home base of a few years where he has been a regular fixture on the literary scene. I asked what was next for his own work. "At this current moment, I am resting and dreaming of new projects to come. I hope I am able to generate new ones that can ideally instill and inspire hope in others to believe that actual change is possible."
Last week Shehzar had the opportunity to converse with Emmanuel Macron. They met on an unusual vessel, the Flech D'Or, the largest panshi boat still in operation, as it made its way down the Turag River, a trip organised by the non-governmental organisation Friendship. It was the first visit from a French president to Bangladesh since the 1990s (the last being Francois Mitterrand) and, on this occasion, he was engaging in discussions around climate change and French-Bangladeshi cooperation.
Shehzar found Macron "dignified", "courteous" to all around, and "deeply engaged" in his conversations. However, he told me: "Events like these are important for raising awareness but what's more important is to see if they are followed up by any concrete action. Of course, in the case of the climate emergency, there is that imperative emergency needed."
I asked what gives Shehzar confidence for the future. "I was extremely pleased to see so many youth engagement initiatives. That to me inspires a great hope." I have to agree. Seeing the determination of younger generations to tackle environmental issues, and their strong turnout at climate marches, suggests not all is lost. As tempting as it is to simply give up and consider going out with a bang, part of the problem, in fact, might be swallowing the political pill that insists change is pointless to strive for and succumbing to pessimism.
Comments
 0 comments
Want to join the conversation? Please or to comment on this article.