As he stepped up to the despatch box, Jeremy Hunt had, within his grasp, the ability to improve the lives of millions of people. He had the power and capacity to reduce energy bills for families and pensioners, support struggling businesses and set out substantial plans for the economic growth we so badly need.
When he sat down again I was disappointed. The Chancellor had wasted an opportunity that so many of us crave. He and the Prime Minister had not grasped the chance to show that they are in touch and do care about the millions of people who are desperate for real help, especially with their energy bills.
Of course, I was delighted to hear that the government had listened when a few weeks ago I called for support for Edinburgh's cultural sector. There will now be £8.6 million for Edinburgh's Festivals, perhaps paying for a new headquarters for the Fringe. And there were a few crumbs of comfort in the financial Barnett consequentials of an extra £320 million for Scotland and removal of the pension cap that was encouraging doctors to leave the profession.
But if this budget is to be characterised as anything, it will be as an opportunity squandered. A chance to do the things that would have made a real difference to families that was not taken. In 12 months when we have had four budgets and mini-budgets, some more disastrous than others, this one could have done so much more.
For example, if instead of freezing the energy price cap at £2,500 they had reduced it to under £2,000, that would have been an extra £500 to help ordinary families cope with the cost of living. The Government decided against it. Similarly, extending energy support for businesses could have helped to keep prices from rising and help shops and pubs to stay open.
Instead, millions of working families face a stealth tax hike after personal tax bands were frozen rather than increased in line with inflation. That freeze will wipe out any savings that are a result of the energy price cap and mean more people either being dragged into paying tax or pushed into a higher tax band.
That's not what any of us wanted to hear in the middle of a cost-of-living crisis, and a fall in living standards which the Office of Budget Responsibility has confirmed as the largest in nearly 70 years. For those of us born after 1960, who grew up to enjoy years of economic stability in which we took property ownership and foreign holidays for granted, it hurts to realise that our children may not now enjoy the same. So many are now burdened with worry in a way my generation wasn't. Holidays are now a luxury. Getting by is the priority.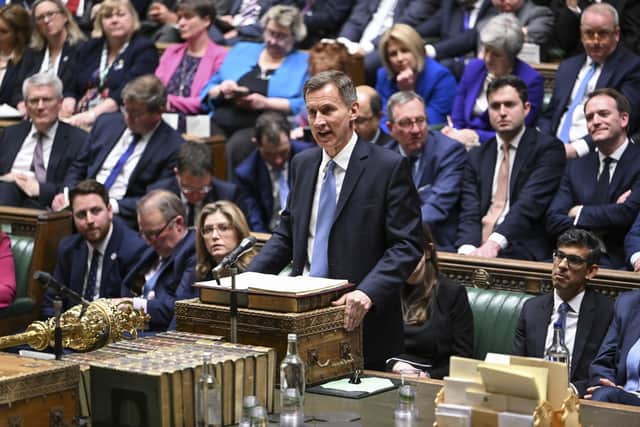 I know that there will be those who say: "Oh but what about Covid, and the war in Ukraine, these are global problems." Yes they are. But the UK is the only one of the world's major G7 economies whose economy is predicted, by the International Monetary Fund, to shrink in 2023. Our bid for recovery is not going as well as that of our peers in the global economy.
For the Conservatives, there is no avoiding the fact that the economy has shrunk on their watch and we are still awaiting the growth that they continue to promise. And it is difficult to see how that can be achieved when one of our biggest industries is this week reeling from the expected impact of the Budget.
The truth is that in Scotland aspects of our relationship with alcohol are far from healthy, and there can be no doubting the need to address the issue. But the whisky industry is also a main plank of our economy, the jobs it creates are vital in many rural communities and its brands are iconic.
All of them, as well as other spirits produced in this country, will face a ten per cent increase in duty from which only draught drinks, like beer and cider, will be exempt. The industry claims that 75 per cent of the price of every bottle of whisky sold in this country will be the tax that goes to the Exchequer and described the move as a "hammer blow".
And while some Tories this week dismissed criticism of the move as being "about time" with duty having been frozen for several years, this argument seems to either ignore or fail to recognise that it coincides with problems caused by the disastrous deposit return scheme.
Of course, the government has said Scotland will have one of the investment zones designed to drive growth. And those Barnett consequentials will of course we welcomed. But overall, the picture is not one which inspires confidence or which, we are warned, is likely to improve before 2027.
I hope, ironically, that I am wrong. That somehow this strange uninspiring Budget whose main offer is a childcare plan of which the details are still difficult to pin down will somehow work. That our economy will grow this year.
If I could describe my inbox in one word in recent times it would be fear. I don't want people to be afraid anymore. I want families and pensioners to find the cost-of-living burden eased and their energy bills shrinking. If that happens, I will gladly raise a glass of our national drink and toast the current Chancellor, if of course, it is still affordable.
Christine Jardine is the Scottish Liberal Democrat MP for Edinburgh West