Andrew Tate: Hateful ideology of toxic masculinity spread around the world by social media influencers must be taken more seriously – Talat Yaqoob
The last days of 2022 saw a social media spat that few could have predicted, between international climate activist Greta Thunberg and the UK "influencer" and misogynist, Andrew Tate.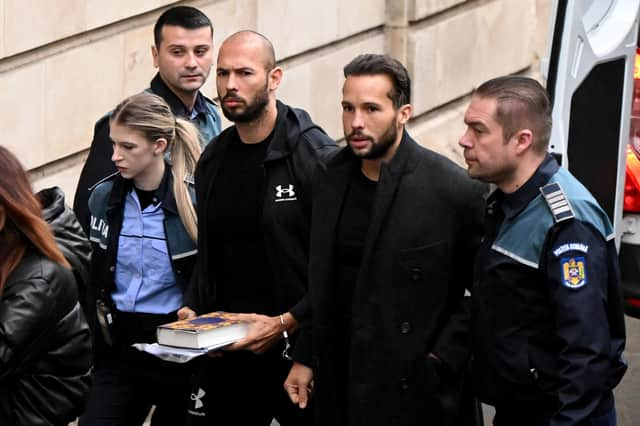 The entire episode was instigated by Tate who had, up until last month, been banned from Twitter for comments such as stating that women "bear some responsibility" if they are sexually assaulted. To celebrate the utterly terrible decision to reinstate his profile on Twitter, he, a 36-year-old, supposed adult, decided to tweet at teenager Greta Thunberg, about his many cars, carbon emissions and ego-problem. Greta responded with an ice-cold reply which now has more than 3.9 million "likes" and is in the top ten most-liked tweets of all time.
Now, all of the above might sound like irrelevant nonsense to most people who do not spend their evenings refreshing social media platforms, but it is not, because Tate is a dangerous individual who manipulates his social media presence to promote his dangerous, extremist ideas. Less than 24 hours after this Twitter farce, Tate's home in Romania was raided and he and his brother were arrested on suspicion of human trafficking, rape and forming an organised crime group, which they deny. It is alleged that the pair 'recruited' women by pretending to be in relationships with them and then forced them to participate in pornography under duress.
Tate's 'influencer' persona is focused on encouraging largely young men to treat women with disdain and violence, to view themselves as superior and to reclaim the title of "misogynist" as something to be proud of. His streams of videos spouting hate towards women were on YouTube and Instagram until June 2022, by which point he had already gained 4.7 million followers.
Tate set up "Hustler's University", a series of online tutorials on how to make money, how to reject notions of equality and progress in society (instead favouring "hyper-masculinity") and how to "escape the matrix". It is reported that Tate has earned over £11 million a month from his online education camp with students, the vast majority of which are male, including some as young as 13.
Tate is part of a rapidly growing network of influencers and commentariat whose sole existence is to create controversy and spread hate. They focus on young men who feel disenfranchised by society but rather than focusing on the causes of this – poverty, capitalism and patriarchy – they instead encourage young men to see women, LGBT communities and ethnic minorities as the problem.
They create division by encouraging young men to see any progress for others as a direct attack on them. They talk of the need to return to an era where "alpha" men existed and women "knew their place", conveniently forgetting that no matter which era we speak of, privilege has always been restricted to those with power and the problem is the lack of this power and wealth for us all.
These hateful influencers are not interested in improving the lives of men and boys, if they did, they would talk about tackling gender stereotypes, they would discuss healthy outlets for emotion and asking for support, they would introduce feminist and progressive concepts, which are shown to improve society for boys as well as girls. But their goal is not to improve society for men, it is to divide and, most importantly, gain money and fame whilst doing so.
Whilst their words may seem like empty chest-beating, this way of thinking has evolved into a global ideology, and one that leads to hate and violence. Despite this, there is little attention being paid to it, and even the language we use to describe it is not fit for purpose. It is not 'influencing', it is online radicalisation and extremism.
Perhaps if it was adequately described, then it would have the resources allocated to tackle it. Instead, we wait for social media platforms to realise that they are enabling it and shut down their international platform. When YouTube, Facebook and Instagram finally did this, Tate's online university started losing subscribers.
Whilst this was a step in the right direction, significant damage had already been done. And as we have seen, on the whim of whomever makes the decisions in social media companies, the same misogynists can reappear to build their profile in the name of "free speech".
Free speech does not entitle you to encourage violence against women and minoritised communities; freedom of speech comes with a responsibility which the likes of Tate are wholly inept at accepting. Instead, they view any response to their hateful actions as evidence of their success and fodder to feed their followers on their latest conspiracy.
The backlash against progress being led by men like Tate may exist online but it has very clear, real-world consequences. Women have reported that men they know who watch this type of online content have become more sexist towards the women in their lives and some have become more sexually aggressive towards them.
This is not simply some dark corner of the internet. We need a better, global response and we need to realise the ways in which everyday commentary around issues like sexual harassment and victim blaming are enabling this ideology to take hold. There are multiple factors at play here, and if we don't take responsibility for them, more online space will be taken up by the Tates of the world.
Comments
 0 comments
Want to join the conversation? Please or to comment on this article.