Among my grief and helplessness, I find myself surprised by gratitude for the life I have been allowed - Joyce McMillan
Thursday morning; and the presenter of Woman's Hour, on Radio 4, says the news is so grim that the programme is attempting a cheerier line-up today, to offer listeners some light relief. It's a common reaction, in these times, as ever more people take to some kind of news avoidance, or news rationing; for to put it bluntly, the news has been almost uniformly dreadful for more than half a decade now, and shows no sign of improving.
Against the constant backbeat of looming climate and ecological breakdown, there have been wars and rumours of wars, the trauma of a pandemic in which millions died, the visceral shock of Russia's brutal assault on Ukraine, nightmares of bad governance in both Washington and London, and now the terrifying conflict triggered by the savage Hamas attacks in southern Israel four weeks ago, with all its subsequent horrors in Gaza and beyond.
The news, in other words, has become a frightening hellscape; and the question of how to respond to it is a troubling one, for millions worldwide. For some, of course, the answer lies in traditional forms of activism for peace and human rights, or in supporting the humanitarian work of the hundreds of agencies and charities in the field; and we have seen some impressive examples of that in recent weeks.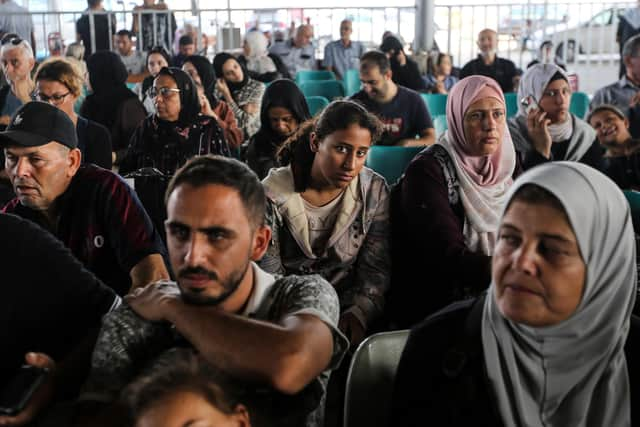 For myself, though, I increasingly find that responding to the current levels of horror in the news requires something more; something almost like a spiritual discipline, that makes it possible to retain some kind of perspective on these horrors, and not to become overwhelmed. In my own trade of political commentary, rushing to judgement is part of the job; and yet increasingly, the depth of sorrow involved in facing up to these horrors makes instant judgement seem impossible, or somehow wrong and superfluous.
Days on, for exampIe, I cannot forget the shock, despair and disbelief in the eyes of a little five-year-old girl in Gaza, filmed shuddering on her aunt's lap, after seeing the rest of her family - parents, brothers, sisters - killed in a missile strike. The idea of any one child undergoing such suffering is unbearable, never mind thousands upon thousands on all sides, in this war and others; and faced with these truths, we need to mourn, as well as to think, and eventually, if we can, to act.
So I have been trying, these past weeks, to make a little time simply to recognise all the emotions unleashed by these grim times. And alongside all the sense of grief and helplessness, I find myself surprised by the deep sense of gratitude that sometimes fills my heart, despite it all - a huge gratitude for the peaceful life I have been able to live here in Scotland since the 1950's, for all the rich experiences and opportunities it has brought me, and for the fact that so far, it has been possible to pass at least some of that legacy on to the next generations here.
Gratitude is an old-fashioned emotion, of course, and not without dangers. Historically, the religious demand that people show gratitude and give thanks was often used to enforce submission to a blatantly unjust status quo. And in the current global situation, gratitude expressed by people in the comfortable west can easily shade into mere smugness, at having avoided the colonial and post-colonial horrors we cruelly inflicted, and often continue to inflict, on others.
In its deepest sense, though, the discipline of giving thanks for the good things in our lives can be a vital step in responding well to the violence and injustice of the world. In the first place, it helps us to see our own position in the world more clearly; to check our privilege, and to avoid the temptations both of needless self-pity, and of using the suffering of others to vent our own unprocessed anger and aggression.
Then secondly, it compels us to begin to think about how the good things we have enjoyed were achieved, and how they can be passed on to others. Some of those best things in life are free, of course; pleasure in the beauty of nature, in the love of dear ones, in music and storytelling, can survive in the most extraordinary circumstances.
Yet there is also so much that good politics can do - universal education and healthcare, the basic elements of social justice, democratic rights, the rule of law - to create a society in which people can live freely, and enjoy all those riches without fear; and I feel awe, as well as gratitude, for the determination and vision of the generations in Britain who worked to make possible the enlightened post-war settlement in which I grew up.
And if we simply succumb to the waves of negativity, and of despair at political failure, that dominate the current news, then we risk losing sight of the positive achievements that remain, and therefore failing to defend them with all the vigour they deserve. That we have an obligation, in our lifetimes, to try to share and spread those good things seems obvious, as a matter both of decency and of enlightened self-interest.
We cannot do that work, though, if we do not register those good things, and fully see them and feel them, from the still-magnificent natural world of which we are part, to complex social structures like the NHS. And in the world of sorrows we now inhabit, it seems to me that our first step towards avoiding that profound mistake must involve taking some time to look around us, to mourn what must be mourned, and to appreciate, value and give thanks for what is positive and good; in order to see ourselves and the world more clearly, and then to begin to understand what kind of contribution we might make, towards a possible better future.