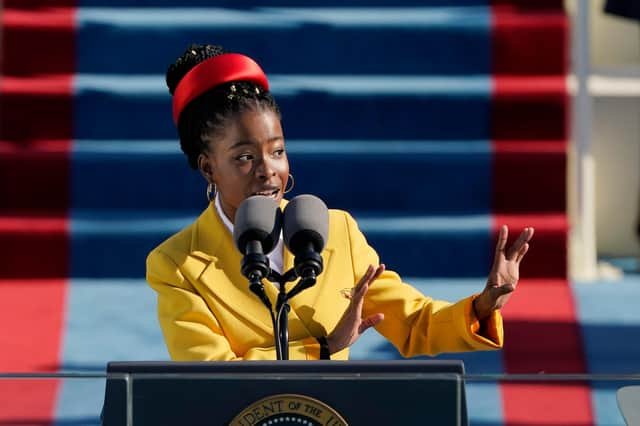 The space that a mob, intent on overturning a democratic decision they didn't like, had attempted to seize two weeks before was occupied successfully on Wednesday by those who had worked within and respected a system which now offered them the opportunity to serve.
Four years ago the Democrats who on Wednesday watched their man – and for the first time woman – being sworn in, had been in exactly the same situation in which Trump supporters now find themselves.
Their 2016 candidate, Hillary Clinton, lost the electoral college by the identical margin that Trump was defeated in November of last year.
But there was no storming of the seat of government then. No need for the National Guard or fears of reprisals, even though Hillary had won the popular vote.
Instead they recognised that, in a democracy, you don't always get the government that you want, or voted for. But you accept it.
What we saw from them last Wednesday was a celebration of that principle which perhaps no other nation on Earth takes such pride in demonstrating with such emotion and downright razzmatazz.
Every inauguration is different. Each one historic in its own way.
This one had something unique. Something that was felt far beyond Washington and the US, in corners of the globe where they have watched the White House outpourings anxiously for four years.
It was relief. More than that it was, for so many, a rediscovery of belief.
It was the realisation, as Amanda Gorman so movingly described it in her astonishing poem, The Hill We Climb:
Somehow we have weathered and witnessed
A nation that isn't broken
At one point, I found myself smiling at the thought that if this had been an old movie, Joe Biden might have been played by John Wayne riding in ahead of the 7th Cavalry to save America.
Perhaps that was why Garth Brooks was there, who knows. But what we saw was an outpouring of joy from people who have been holding their breath for four years.
It is a feeling we all, in democracies everywhere, can recognise to some extent.
While Margaret Thatcher's victory in 1979 was, for many, the end of a dark period of discontent in this country, for many others it was the beginning of social disharmony.
Similarly Labour's return to power in 1997 brought at the same time delight at the dawn of a new era for some and despair for others.
Certainly the Trump years have been a very different experience from any I remember and brought the US closer to being that broken nation than at any other time.
But perhaps what enabled them to maintain their faith in democracy was their historic experience of what the alternative might mean.
The US is, like the UK, a union of people. Politically, economically, geographically, culturally and racially diverse.
It's continuity and stability depends on those states who do not vote for the winner accepting that the defeat will pass and that their common welfare is more important than dissension.
California has the largest number of votes in the electoral college. In 2016 Hillary Clinton secured them. But the Golden State did not threaten to break away because it did not like Trump.
Around me at Westminster, I hear the SNP indulge in a daily rant that Scotland did not vote for Boris Johnson so we should walk away.
That because we did not like the outcome of the election we should reject it, regardless of the fact that many of our friends and neighbours actually did, and the consequences for us all.
We would do well to take on board how we saw fidelity to democracy, and acceptance of an electoral defeat, rewarded across the Atlantic.
It would have been easy to over-react to the fake news, offensive policies and frequent absurdity of the 45th President at any point in the past four years.
But Americans never lost faith in that dream that they so cherish.
And as I watched the 46th President take his oath of office, listen to extraordinary renditions of Amazing Grace and the US national anthem and then sign that long list of executive orders which re-booted the US relationship with the world that relief gave in to something else.
The Paris Agreement is rejoined, the World Health Organisation can once again depend on US support and NATO leaders will possibly sleep easier.
The new President has also launched an attack on Covid-19. An enemy that his predecessor barely acknowledged and yet has already claimed as many American lives as World War Two.
Relief became belief. Obama came to the White House, with Joe Biden, in a blaze not of glory but of hope. Change had come to America.
Biden may not have brought his former President and colleague's soaring rhetoric or inspirational presence but he has intense substance, ability and experience that engenders belief.
He is a man who knows how to weather a storm.
Enjoying that emotional, patriotic and diverse inauguration I was reminded that regardless of who you are or where you are from there is more that we have in common than divides us.
We have more to gain from union and accepting the democratic decision than not, and that belief is more important than any doubts about individuals in power.
But Amanda Gorman put it so much better than I ever could.
Democracy is the Hill We Climb and, with Kamala Harris and Joe Biden, it is in safe hands.
Christine Jardine is the Scottish Liberal Democrat MP for Edinburgh West
A message from the Editor:
Thank you for reading this article. We're more reliant on your support than ever as the shift in consumer habits brought about by coronavirus impacts our advertisers.
If you haven't already, please consider supporting our trusted, fact-checked journalism by taking out a digital subscription.