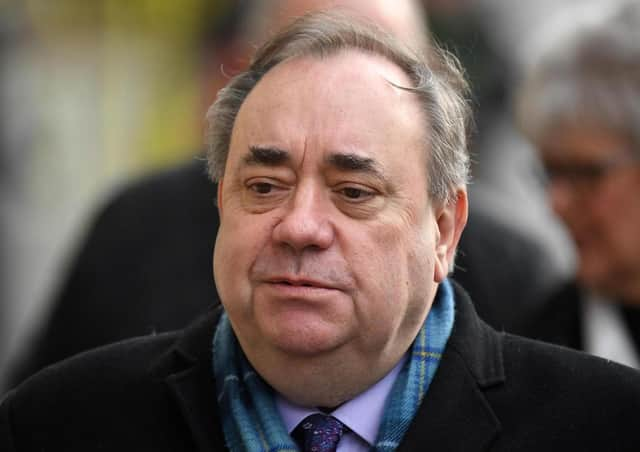 Alex Salmond arrives at the High Court in Edinburgh on March 18, 2020. Picture: Getty Images
What is there left to say about HMA vs Alexander Salmond, Scotland's so-called trial of the century. Countless column inches, endless background pieces, a blow-by-blow live Twitter feed – much more attention than the trial of your average serial killer.
In truth the whole thing has been a fairly unedifying experience.
The women who came forward to make their complaints have been disbelieved if not denigrated, our justice system has given the appearance of being stuck in the 1970s, our attitudes to women still somewhere in the 1870s.
While Mr Salmond was acquitted of all charges, it's not been the finest chapter from some of Scotland's men either and, with the addition of some blethery indiscretions of a senior QC who should know better, it's all been thoroughly depressing.
And it's not over by a long chalk, now we are treated to friends and foes of the former First Minister clustering around the remains to pontificate and threaten.
The evidence in the trial has been extensively reported but one little snippet seems to have escaped much attention.
It was a piece of corroborating evidence to one of the charges of sexual assault.
A man travelling in a lift with Mr Salmond saw him reach out to touch a woman companion's hair, seeing her shrink from the touch the man instinctively knocked Mr Salmond's hand down, telling him to "stop it" and "behave himself" or words to that effect.
The man in the lift could not explain his actions, only that he had acted spontaneously. It was in the end a piece of evidence that the jury didn't rate but to me it made an important point.
If there had been more men like the 'man in the lift' around Mr Salmond perhaps the whole sorry episode could have been avoided.
At times in our lives, especially our younger years we all need a 'man in the lift' to occasionally keep us right, a parent, a sibling, a pal or a colleague.
In turn at some point you also have to fill that role – to check inappropriate behaviour, an off-colour joke, to nip it in the bud. And it often works, problem solved – boundaries established.
It isn't a male thing, it's not about authority figures, it's about peer pressure, part of the social glue that binds families neighbourhoods and good workplaces together in a code of reasonable behaviour.
With great power comes an unfortunate tendency to start believing your own press releases. We know this and that is why in most organisations there are checks and balances sewn into their systems of governance.
But when powerful people are allowed to surround themselves with sycophants there is always danger – they end up in a hall of mirrors with no one possessing the gumption to be that 'man in the lift'.
Huge damage has been done by the case of HMA vs Alexander Salmond, not least to the reputation of Scottish public life.
So as Mr Salmond's former acolytes line up to condone or condemn they should perhaps ask themselves, could they, should they have been a 'man in the lift'?
They could have done their master and the rest of us a great service.
Tom Wood is a writer and former Deputy Chief Constable.