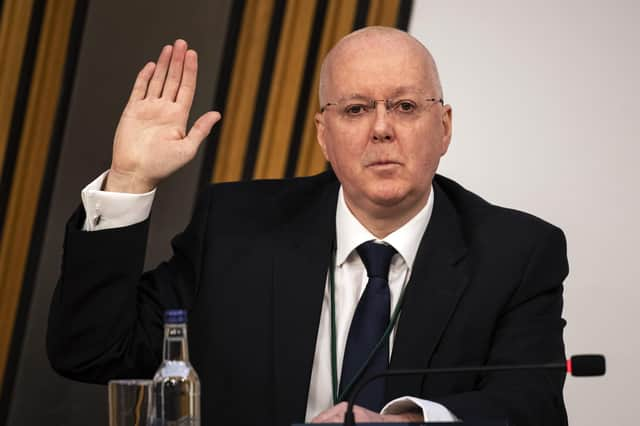 SNP chief executive Peter Murrell, seen taking the oath at the Scottish Parliament committee investigating the government's handling of complaints against former First Minister Alex Salmond, gave conflicting accounts to MSPs, says committee member Murdo Fraser MSP (Picture: Andy Burchanan/PA)
Whilst this is deeply frustrating for committee members, I do recognise the legal difficulties facing the former First Minister in seeking to tell his side of this whole, sordid story.
Throughout the process of the inquiry, the committee has been continually frustrated by its inability to publish evidence supporting Mr Salmond's version of events, because of the risk of identifying complainants in his criminal trial – complainants who have, quite rightly, been granted anonymity for life.
But this means that the committee is in danger of only hearing one version of events, that from the First Minister and the Scottish government, without any countering evidence.
Too often when government witnesses have come to the committee their evidence has been incomplete, unconvincing, and has subsequently had to be corrected in writing.
On too many occasions the committee has had to recall witnesses whose evidence was unsatisfactory. On Monday, we heard once again from the chief executive of the SNP – and Nicola Sturgeon's husband – Peter Murrell, who was recalled in order to clear up discrepancies in the evidence he had presented in his previous oral session on December 8 last year.
All witnesses to the inquiry are obliged to give evidence under oath. This is not simply a piece of political theatre. The effect of administering the oath is that it brings into play the criminal offence contained in Section 44 (1) of the Criminal Law (Consolidation) (Scotland) Act 1995, which states that any person who makes a statement on oath for any purpose, "which he knows to be false or does not believe to be true" is guilty of an offence, which carries a penalty of up to five years in prison.
SNP chief executive Peter Murrell is married to Nicola Sturgeon. (Picture: Andrew Milligan/PA)
Such is the seriousness of the matters that the committee is investigating, it is essential that those who give evidence to do so accurately and truthfully. When Mr Murrell gave his evidence in December, he was doing so under oath. And yet he managed to contradict both his boss, and wife, the First Minister, and even himself, in the course of that meeting.
When I asked him back in December about the meeting that was held in his family home on April 2, 2018, between the First Minister and Alex Salmond, he told me "I was not at home". He went on to say of Mr Salmond: "I was not really aware he was coming to the house on [that] occasion."
But subsequently in the same session, responding to questions from Andy Wightman MSP, Mr Murrell said that he was at home on that day, having arrived from work while the meeting was going on. He also stated that he knew the day before that the meeting was taking place.
Both these sets of statements cannot be true at the same time, and whichever version is correct, it is clear that Mr Murrell gave a false statement to the committee when he set out one version of what happened.
Quite why he did this is unclear; but that is to an extent immaterial – the fact is that he did not tell the truth.
Indeed, anyone observing Mr Murrell's body language during the session would conclude that he was being less than straightforward in his answers – he came across as evasive to the point of being shifty.
I then asked him about the nature of the meeting on April 2 with Alex Salmond – was this on SNP business, or a government meeting?
Under questioning, Murrell deviated from his statement of December 8 that the meeting was one held on Scottish government business, now claiming that this was "only speculation".
The significance of this point is that Nicola Sturgeon denies that this was a government meeting, and if it had been then she is guilty of having broken the Ministerial Code for failing to properly declare it as such – a resigning matter for the First Minister.
Whichever version of Mr Murrell's conflicting evidence is true, he is condemned from his own mouth as having made a false statement under oath, leaving him open to prosecution for breach of Section 44(1) of the 1995 Act. Such is the seriousness of these issues that I have written to the Crown Office asking them to investigate the matter.
The whole experience of the Salmond inquiry committee is that it has been frustrated all along by a lack of co-operation on the part of both the SNP and the Scottish government, despite protestations to the contrary by the First Minister.
What we are trying to get to the bottom of is why the Scottish government failed so spectacularly to protect women who made complaints against the former First Minister – women who have still had no resolution to their concerns – and why public money was wasted in defending the judicial review action taken by Alex Salmond.
Next week, we are due to take evidence from Nicola Sturgeon herself, who has said that she welcomes the opportunity to rebut what she calls the "litany of lies" about her and her government's conduct.
On the basis of the evidence presented this week and previously by her husband and party's chief executive, she needs to start closer to home in rooting out those guilty of spreading falsehoods. Her failure to do so will diminish yet further any remaining public confidence in her government's handling of this whole sorry affair.
Murdo Fraser is a Scottish Conservative MSP for Mid-Scotland and Fife
A message from the Editor:
Thank you for reading this article. We're more reliant on your support than ever as the shift in consumer habits brought about by coronavirus impacts our advertisers.
If you haven't already, please consider supporting our trusted, fact-checked journalism by taking out a digital subscription.