Alex Salmond inquiry: Why any witnesses who lie to MSPs' inquiry should be worried – Brian Wilson
By common consent, the Holyrood committee investigating the doomed defence of an action raised by Alex Salmond has gone beyond the stage of farce.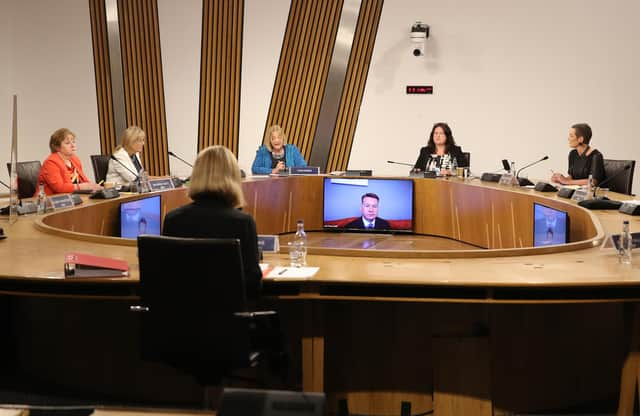 Humiliating for the appointed MSPs, contemptuous of Parliament and ruthlessly obstructed by forces central to the investigation, this process must now be rescued by higher authority – the courts if necessary.
This week alone, we learned that evidence from one key witness – central to the "who knew what and when" contradictions crucial to the committee's work – will not be heard at all.
Then Sky TV revealed a senior civil servant had insisted key dates be altered in a press statement with the recipient of this pressure fearing for career prospects if failing to comply. This should be shocking stuff.
I have been curious about the committee's status in law. Witnesses give evidence on oath. Normally, this means telling the truth first time round, rather than coming back for a second bite after counter-information appears. It means not playing with words in order to deceive.
Why bring Almighty God into it if courtroom sanctions do not apply? However, the Scottish Parliament confirmed that "if a witness gives evidence under oath which they know to be false or do not believe to be true, they are committing a criminal offence" with a maximum prison term of five years.
That only heightens the anomaly. While evidence is supposed to be of courtroom standards, the procedures are akin to a badly run golf club. Witnesses decide whether or not they will turn up. Dates and times for appearances are disputed as if they were negotiating hairdressers' appointments.
Documents are withheld or redacted to the point of uselessness, as is the intention. In the hands of a Scottish court, all of this would have been called out long ago – just as the original defence was called out as "tainted with apparent bias".
Mr Salmond is surely justified in his wariness of appearing before the committee while evidence central to the case is not only excluded but, if referred to by him, would render him liable to criminal prosecution for contempt. That cannot be right.
Otherwise, why was this committee set up at all? If key witnesses can define the parameters within which they are questioned, what is the point of calling them? These are dilemmas which members of the committee are increasingly obliged to ask themselves.
Inevitably, some of the withheld evidence is turning up on blogs and social media sites. If half of it is it true, then questions of whether a conspiracy occurred or the First Minister repeatedly misled MSPs can be easily answered. But is half of it true? And if so, which half?
We now have the ridiculous situation of very specific allegations and precise, ostensibly damning quotes floating about the internet while the committee is supposed to pretend they do not exist.
The catch-all justification for withholding evidence is that it might risk the anonymity of complainers against Mr Salmond. That is indeed a serious consideration; indeed so serious that it cannot be deployed as a shield for others to hide behind. What is going on at present is scarcely in the interests of the complainers.
It is beyond reason to maintain that MSPs cannot be entrusted with evidence under legally binding conditions while the same material is dripped out pejoratively and indefinitely through the internet.
Our ruling political smart-alicks, for whom considerations like old-fashioned Scottish justice come a poor second, dismiss the whole affair on grounds that it is not "cutting through" with the public. The pandemic, they assert, has taken care of that.
Maybe they should be less cocksure. A Panelbase poll this week suggested that 68 per cent of Scottish voters think Ms Sturgeon should resign if shown to have misled MSPs. At least they know enough to have an opinion.
In the season of Burns, all involved might remember his great lines: "There's nane ever fear'd that the truth should be heard, But they whom the truth would indite."
That good Scots word "indite" might yet come to have particular relevance.
A message from the Editor:
Thank you for reading this article. We're more reliant on your support than ever as the shift in consumer habits brought about by coronavirus impacts our advertisers.
If you haven't already, please consider supporting our trusted, fact-checked journalism by taking out a digital subscription.
Comments
 0 comments
Want to join the conversation? Please or to comment on this article.