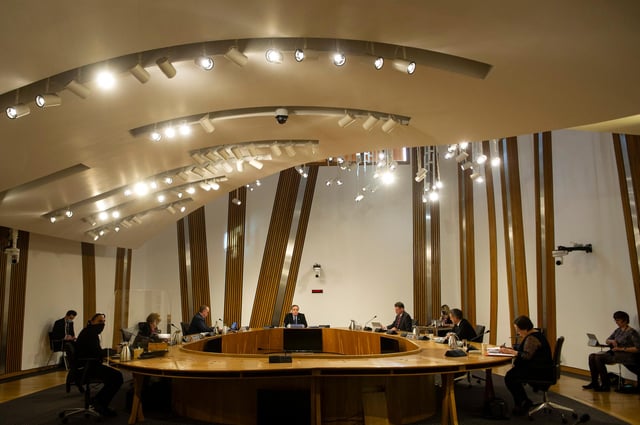 Alex Salmond makes his opening statement to the Scottish Parliament committee examining the government's handling of harassment allegations against him. (Picture: Andy Buchanan/Getty Images)
He was clear in his view that the Scottish civil service had not itself failed, but its leadership had failed, as had that of the Crown Office. He stated: "The importance of this inquiry is for each and every one of us to help put that right."
My experience of the inquiry would lead me to endorse those sentiments, at least in part. What the committee has uncovered so far is a series of atrocious failures within the Scottish government, the civil service and the Crown Office.
But where I would disagree with Salmond is that this is not simply a question of leadership; there is something badly broken in the system. Our institutions do indeed need better leadership, but they also require fundamental reform.
Last week we had the extraordinary spectacle of the Scottish Parliament agreeing to publish Salmond's written evidence, then withdrawing and republishing it in amended form, following a threat of prosecution from the Crown Office. It was a supine act by our national Parliament, which should be there to act fearlessly to challenge the executive and hold it to account.
I made the point to Alex Salmond in his evidence session on Friday – and he agreed – that it would be inconceivable for the Crown Prosecution Service in England to act in this way towards a committee of the House of Commons, and equally no Speaker in the Westminster Parliament would be so craven as to give in to such threats.
Yet, at Holyrood, that is precisely what happened. Little wonder that the most eminent Scots lawyer of our times, Lord Hope, described the episode as disturbing.
This highlights one issue which is clearly in need of reform, the extension of parliamentary privilege in Holyrood, so Members of the Scottish Parliament have at least the same protections that would apply in Westminster. If we are serious about having a parliament which can properly perform its role of scrutinising a too-powerful Scottish government, then MSPs should not be unduly restricted in how they can operate for fear of prosecution.
The late poet Edwin Morgan warned that the Scottish Parliament should not be timid or deferential when it was established (Picture: Robert Perry)
According to the seasoned political observer Professor James Mitchell, the aspiration that Holyrood would deliver "new politics" in contrast to the Westminster caricature of adversarial binary politics, with backbenchers operating as lobby fodder for the government, has not been realised.
In his words: "The Scottish government has hoarded power, not shared it with Parliament and the people." He is right in his analysis, and it is not just leadership that has to change if we are to see improvements.
It is clearly hyperbole to talk about Scotland as a "failed state". Equally, it would be entirely the wrong conclusion to draw that the weaknesses that have now become apparent make the argument for rolling back on devolution and reducing the power of the Scottish Parliament.
Indeed, opinion polling would suggest that there may be as many people in Scotland who believe the Earth is flat as there are those who want to turn the clock back pre-1997.
Far from removing power from Holyrood, what we need to do is strengthen the Scottish Parliament, and consider how we better empower the legislature to hold the executive to account. From a practical point of view, there are a number of reforms that should be progressed.
Firstly, the dual role of the Lord Advocate, as head of the independent prosecution service, and also as political adviser to the Scottish government, is now overdue for review. This issue was addressed in England some two decades ago, and the events that the Salmond inquiry committee is probing into demonstrate clearly how conflicts of interest might arise in the current set-up. This is an issue that the Scottish Parliament must urgently consider in its next session.
In the Parliament itself, the committee system has not lived up to expectations in terms of its scrutiny of legislation or ministers, not least because the power of patronage in appointment of committee conveners makes it less likely that those of independent mind will be given those positions.
Professor Mitchell is right to state that "Scottish parliamentary committees have been poor in comparison with those in the Commons". Perhaps we do need to consider whether a second chamber for Holyrood is necessary if committees cannot be improved, and the case for having conveners elected by MSPs, rather than simply appointed by party whips, should now be advanced.
There is much more in the way of institutional reform that will be necessary, including the extension of parliamentary privilege. And all this will require robust, reforming leadership, both within a new Scottish government post the election, but even more crucially within the Parliament itself.
Whatever the outcome of the election – a majority government, another minority administration, or a coalition – we must ensure that our Parliament is better placed to scrutinise both government decisions, and legislation. The failures that we have seen exposed throughout the Salmond inquiry process make the case for reform urgent, and we cannot afford to see these repeated.
The words of Edwin Morgan, written for the opening of the new Scottish Parliament building in 2004, are often quoted but never seem more appropriate:
"A nest of fearties is what they do not want.
A symposium of procrastinators is what they do not want.
A phalanx of forelock-tuggers is what they do not want."
Sadly, what we are now seeing is that Scottish democracy, barely two decades old in its current format, is not living up to those high expectations. There is still time to save it, to set us back on the right path, if the right leadership and political will is there. On that, Alex Salmond and I may agree.
Murdo Fraser is Scottish Conservative MSP for Mid-Scotland and Fife
A message from the Editor:
Thank you for reading this article. We're more reliant on your support than ever as the shift in consumer habits brought about by coronavirus impacts our advertisers.
If you haven't already, please consider supporting our trusted, fact-checked journalism by taking out a digital subscription.