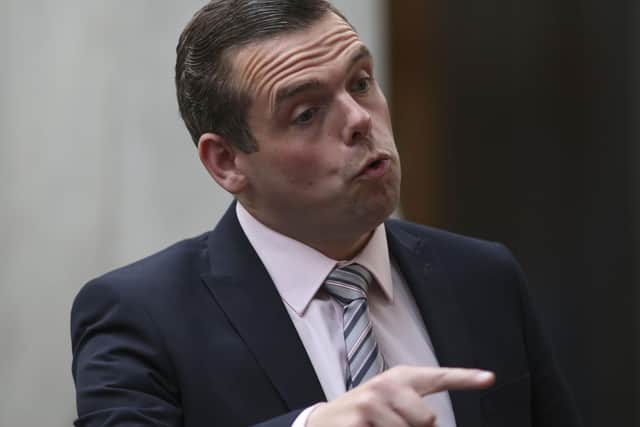 Scottish Conservative leader Douglas Ross's call for Nicola Sturgeon to resign over alleged breaches of the Ministerial Code helped rally support for the First Minister, says Kenny MacAskill (Picture: Fraser Bremner/Daily Mail/PA)
Of course, he didn't have a primary school teacher who dispensed 100 of them to recalcitrant pupils, as opposed to the monotony and futility of lines.
Along with many classmates, they still resonate in my head even if the hands are no longer tired. But plain common sense should have dictated that calls made in Scotland will result in demands for similar action south of the border.
Demanding the First Minister's resignation last week was legally flawed and politically inept.
Natural justice has to prevail in politics, as in his beloved football. The Scottish Tory leader would expect no less in his semi-professional role and the case for the defence has to be heard in Scottish football's judicial panel, that I used to sit upon, before you come to judgement.
So, why he thought it appropriate to demand it before the FM had given evidence, let alone the committee or the independent assessor had reported, beats me. Politically it also rallied support, providing the opportunity for the First Minister to defend herself from political attack, as opposed to being one of the principal witnesses in an inquiry.
But hitting him full square between the eyes was the legitimate request that his demands apply in Westminster. Rather than demanding parity, with probity in office applying in Westminster as in Holyrood, he simply said that the two weren't comparable.
Well in one way he's right, as whatever's found to have happened or not in Scotland, it's as nothing to what has been going on in London.
There it's not just the Ministerial Code that's been broken, but Parliament and public being misled and even unlawful actions being carried out. Public funds are being channelled into the private profit of a few.
That Home Secretary Priti Patel remains in office without a by your leave and Johnson and Gove can give out misleading information, without even an apology, is simply unacceptable.
Probity in office is essential for trust in democracy everywhere. Douglas Ross must realise that also means Westminster.
Kenny MacAskill is SNP MP for East Lothian
A message from the Editor:
Thank you for reading this article. We're more reliant on your support than ever as the shift in consumer habits brought about by coronavirus impacts our advertisers.
If you haven't already, please consider supporting our trusted, fact-checked journalism by taking out a digital subscription.