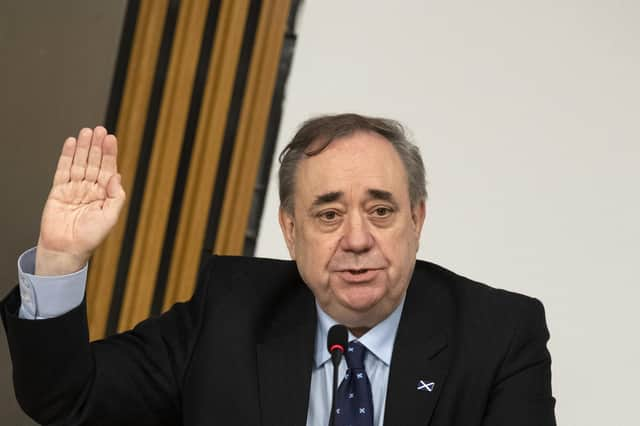 Parliament, government, Crown Office – all have questions to answer. Suggestions though of a failed state are as absurd as those of a one-party state. Democracy still prevails, even if some don't like the Scottish election results.
But institutions require to change, whilst individuals need held to account in some cases or must up their game or be removed in others. For the faults exposed are largely personal failings although structural changes of importance are still needed, such as separating the Lord Advocate's dual role of being senior government legal adviser and chief prosecutor. That's relatively easily resolved and all parties in the forthcoming election should sign up for it.
Some of the personal failings will be addressed in coming reports. But there are issues relating to the Parliament that are more general for the institution than specific to individual members. Perhaps enforcing change on the Lord Advocate's role resolves some of it, but a less supine attitude towards their authority being challenged's required.
Simply cowtowing to the Crown was craven. They're the democratically elected voice of the Scottish people and when they seek and more especially require documents for consideration, then they must insist on receiving them.
If there's a doubt about their publication then it's for the courts, not the Crown, to decide. I'm sure the Parliament's Corporate Body will reflect on that, though they may also need to consider from whom they're getting their legal advice. More robustness in defence of democracy's badly required.
Parliamentary committees also need to change. Elected conveners, as in Westminster, are essential. Recent unedifying performances will hopefully ensure that. Parties should nominate members and can control which party has the chair of whatever committee, but it should be Parliament that decides who that individual is.
Having sat on committees in both Holyrood and Westminster, I can confirm that a more independent chair's better for the institution. Bob Neill in the Westminster justice committee earns respect across both the Chamber and the entire sector, enhancing his role and the committees. Yet I struggle to name his Scottish counterpart.
Are individual members better in Westminster? Not really, with almost five times as many to pick from, there's more likely to be more able ones; equally, as in every institution, there are some who aren't. In Holyrood, with fewer, it means members are more exposed but maybe need to try harder.
But again some greater independence is required. Holyrood was enhanced by Margo MacDonald and Denis Canavan, as indeed Westminster is by Conservative MP David Davis. Free spirits are needed, even if they can only be few in number.
The Scottish Parliament could do with a few, as script-reading of questions by some committee members was cringeworthy. Party discipline can be admirable, looking like an automaton and sounding a fool isn't. Individuals are transient and institutions are permanent, but they need to learn and adapt.
A message from the Editor:
Thank you for reading this article. We're more reliant on your support than ever as the shift in consumer habits brought about by coronavirus impacts our advertisers.
If you haven't already, please consider supporting our trusted, fact-checked journalism by taking out a digital subscription.