Alex Salmond inquiry: How shattered trust in Nicola Sturgeon means her reign may be coming to an end – John McLellan
It was stupid to leak the result in advance, but there will be no covering up the outcome of the Scottish Parliament inquiry into government handling of the Salmond affair on Tuesday when it is confirmed a majority of MSPs believe Nicola Sturgeon's testimony misled MSPs.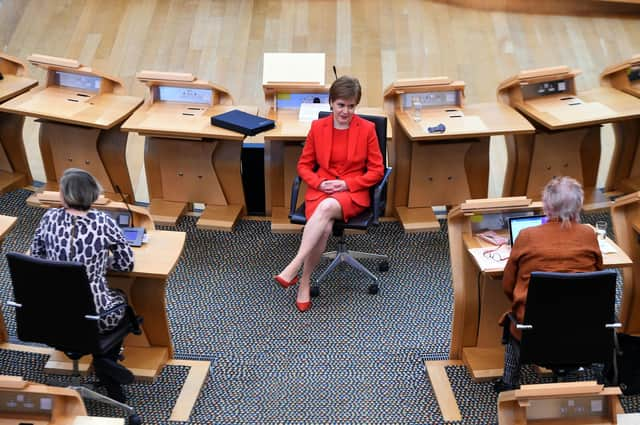 There may be circumspection about whether she did so knowingly or wilfully, but by yesterday it was clear why that makes little difference; the broadcast bulletins and the headlines all said the same thing; she has misled parliament.
Activists and those in the political bubble will read on, and most will stick to previously established views, but for thousands whose lives are not dominated by political discourse it's the top line which matters most. The more charitable are entitled to believe that even an unwitting error on a matter of such importance is not the kind of mistake a First Minister should make.
"I stand by all of the evidence I gave to the committee," Ms Sturgeon said on Thursday. Of course she does, and her argument that opposition committee members had made up their minds before hearing her version of events applies as much to SNP members too, but not to independent MSP Andy Wightman who appears to have tipped the balance.
What are the chances now of the parallel inquiry into Ministerial Code breaches by leading Irish barrister James Hamilton returning a complete exoneration?
Amidst calls for resignations, be it Ms Sturgeon, her chief of staff Liz Lloyd, the Lord Advocate James Wolffe or chief civil servant Lesley Evans, whoever sent the November 2018 email to warn Ms Evans the handling of the case was "shifty-looking" and could be "portrayed as a failed attempt at a cover-up" deserves a promotion for their prescience.
The official rubbishing of the report before it was published was another illustration of an administration digging deeper into denial, the wagons circling around a First Minister whose team should be concentrating on pandemic recovery and planning what it will do with another term in government.
After all the obstruction, delay, redaction and legal bullying, it was beyond irony for the First Minister's spokesman to claim the committee had "deliberately ignored and suppressed evidence".
Even before Team Sturgeon was out in force to discredit the parliamentary inquiry, there were Trump-style attacks on "rigged" opinion polls, and the First Minister's own attack on prominent nationalists as part of Mr Salmond's "old boys' club".
The extent to which the power of the Scottish government is being marshalled to intimidate those who would reveal the truth about this sordid business is breath-taking.
The Spectator magazine revealed that, weeks after publishing evidence which Mr Salmond had submitted to the Holyrood inquiry, it was threatened by the Crown Office with prosecution for contempt if it did not remove key passages from its website, and told to remove the same information from a Californian archive it does not control.
These were not quiet requests by way of a call, but in writing. More chilling, the magazine was warned not to reveal it had been warned, a form of super-interdict which publisher Andrew Neil and editor Fraser Nelson duly ignored.
There is now a real possibility of prosecution, an unlimited fine and huge costs which could close the title; it seems Scotland is now a country where its government will threaten a free Press with severe penalties just for publishing widely available material already submitted to an official inquiry.
Nothing in MP David Davis' statement to the Commons threatened to breach the court order to maintain the complainants' anonymity, yet on Thursday he revealed he had been told the Crown Office wanted him to identify the whistle-blower who supplied the details for his speech.
As Mr Davis was covered by absolute privilege, he could say what he liked, including ignoring the contempt order but instead he stuck to evidence which had not been made public, such as concerns about high-level interference months before officials said – under oath – that they knew about the complaints against Mr Salmond.
Now Mr Davis says he will quote other evidence in the Commons to secure a Hansard record, lest it disappears under another Scottish government cloak of secrecy.
There is little chance of Ms Sturgeon resigning before the May election, even if the independent Ministerial Code inquiry by James Hamilton finds a breach, so the campaign will be dominated by serious questions about Ms Sturgeon's integrity, including the new allegation of covering up harassment claims against the SNP's Westminster chief whip Patrick Grady.
Another poll this week, by Opinium for Sky News, showed the SNP falling short of an absolute majority in May, and an apparently unstoppable march to absolute victory now looks like a stagger to the finish line before loss of momentum turns into a headlong stumble.
The SNP will take some heart from yesterday's Partick East/Kelvindale by-election result in Glasgow, which split the unionist vote, although in a university seat once home to the late Donald Dewar, it should be no surprise that new Labour leader Anas Sarwar has helped boost his party's vote by ten per cent at Conservative and Lib Dem expense. Although they won, the SNP vote slipped behind its 2017 position, but in Helensburgh its vote rose 5.8 per cent. But the unionist vote united behind the Conservative candidate who romped home with an 11.7 increase.
At the turn of the year, the odds were on Ms Sturgeon leading Scotland to the promised land of independence but with two months of the drip-drip of attacks on her integrity to go, the best she can hope for might be another stint of grinding bureaucratic management, haggling with the Greens and steering a stuttering economy; the Sturgeon chapter of Scottish politics could be drawing to a close.
A message from the Editor:
Thank you for reading this article. We're more reliant on your support than ever as the shift in consumer habits brought about by coronavirus impacts our advertisers.
If you haven't already, please consider supporting our trusted, fact-checked journalism by taking out a digital subscription.
Comments
 0 comments
Want to join the conversation? Please or to comment on this article.