Alex Salmond inquiry: How Scotland's civil servants have been badly let amid a descent into political circus – Dave Penman
It is sometimes difficult to remember that the Committee on the Scottish Government Handling of Harassment Complaints is exactly that.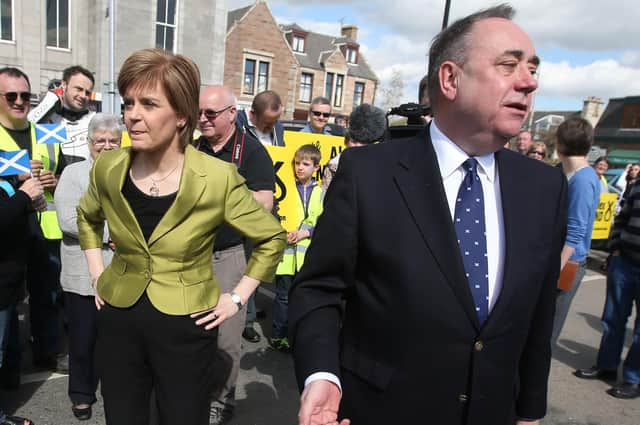 The falling out between Alex Salmond and his predecessor as First Minister, Nicola Sturgeon, has overshadowed the actual role of the MSPs' committee investigating the Scottish government's handling of harassment complaints. (Picture: Andrew Milligan/PA)
It is not a sideshow for the upcoming election or a vehicle for the personal and political battles that are enveloping the party of government.
Parliamentary committees are intended to reach across party boundaries, allowing Parliament itself to influence government through consideration of evidence and sober reflection on facts, free from the yah-boo politics of the debating chamber. The committee set some laudable aims for itself, including establishing what went wrong, whether it was the policy or its application that gave rise to the issues and, of course, whether lessons can be learnt.
The committee initially sought to require personal evidence from civil servants. However, civil servants serve, and are accountable to, the government of the day, and it is ministers who rightly answer for the actions of that government.
Civil servants only give evidence on behalf of their ministers, and to offer personal evidence could have potentially led to them breaching the civil service code, which is essentially their professional code of conduct.
This is not some arcane set of rules, it ensures that civil servants retain their impartiality and can continue to serve ministers in this and any future government. The moment they provide a personal opinion on a government policy issue, they lose that critical impartiality.
Bogus allegations of 'coaching'
All of this was, of course, known to the committee. There are rules set up to regulate how civil servants give evidence, yet the committee sought to get round these, only giving up after we and the Scottish government pushed back repeatedly.
The committee also chose the unusual route of requiring evidence under oath. In an already complex legal environment, with active court orders on evidence and identification of victims, this requirement was inevitably going to make witnesses more cautious.
I should know, I gave evidence, and it meant hours of discussion with lawyers around how I would answer questions, give opinions or relay third-party evidence, such as the number of complaints I've been told have been raised about previous ministers.
In those circumstances, we pressed the Scottish government to provide independent legal advice for civil service witnesses to help them navigate this legal minefield. This is entirely normal practice in such circumstances, indeed civil service employers have an obligation to make such advice available.
Yet, as with so much in this affair, it was then weaponised for political gain, including by committee members, and led to accusations of "coaching" from those who should and do know better.
Civil servants who appeared could be asked any question relating to hundreds, if not thousands, of documents, emails, meeting or conversations. It is completely understandable that somebody would be more cautious when answering under oath, yet if any witness hesitated, wanted to check the facts or was unsure, committee members, politicians and the baying media branded them untrustworthy, liars or part of a cover-up.
Headline-grabbing comments
The obligations of the quasi-judicial approach that was adopted appeared, however, to only apply selectively to witnesses, and not to the committee itself.
Its members were openly critical of witnesses, frequently offered personal opinions, made political points or personal remarks, purported to summarise evidence and misquoted or embellished responses on official record made by one witness when then questioning another.
Some might view this as fair game, fair enough, but if your aim is to get to the bottom of a complex and sensitive issue, and to make recommendations for improvement, I'm not sure open hostility from the get-go is the way to go about it.
Committee members, politicians and commentators have instead sought to advance their own political interests, looking to make whatever headline-grabbing comment or inevitable call for resignation will get them the most airtime.
Some have inevitably adopted the coward's approach of briefing off the record or amplifying the calls from others on social media, retweeting press articles that make derogatory comments about civil servants who they know are unable to publicly defend themselves.
Everyone picked a side before the first evidence session started and they're not planning on changing teams now. The sober reflection of a parliamentary committee has been long forgotten. Hyperbole has replaced debate or analysis both in parliament and in the column inches from commentators who have been mining this rich vein. Hesitation or clarification is seen as nothing more than lies and obfuscation. Mistakes are only incompetence, and accountability can only mean one thing: resignation.
'Self-serving political interests'
At the heart of this matter, remember, there are women who raised complaints against one of the most powerful people in the country.
Having been let down by their employer and their government, they've now been let down by Parliament and a media that has lapped it all up for the political circus it has become.
As one of those who made accusations against the former First Minister said, "what has happened is they have taken your very personal experiences and exploited them for their own self-serving political interests" and the inquiry has descended into a "political fight" that makes it less likely that other women will report any concerns.
I return to those apparently laudable aims of the committee. Does anyone now seriously believe that any report will have the substance or impartial authority to make a meaningful change in the way complaints are handled in the future? Has it strengthened or weakened the environment where those who are subject to bullying and harassment feel confident in raising complaints about the most powerful in our society?
Those at the wrong end of that power dynamic have been watching these proceedings as well. I wonder what their conclusion is.
Dave Penman is general secretary of the FDA trade union, which represents professionals and managers in public service
A message from the Editor:
Thank you for reading this article. We're more reliant on your support than ever as the shift in consumer habits brought about by coronavirus impacts our advertisers.
If you haven't already, please consider supporting our trusted, fact-checked journalism by taking out a digital subscription.
Want to join the conversation? Please or to comment on this article.