Alex Salmond inquiry: Former First Minister's command of detail puts the pressure on Nicola Sturgeon – Brian Wilson
"Scotland hasn't failed. Its leadership has failed." These words resonated from Alex Salmond's appearance before a Holyrood committee.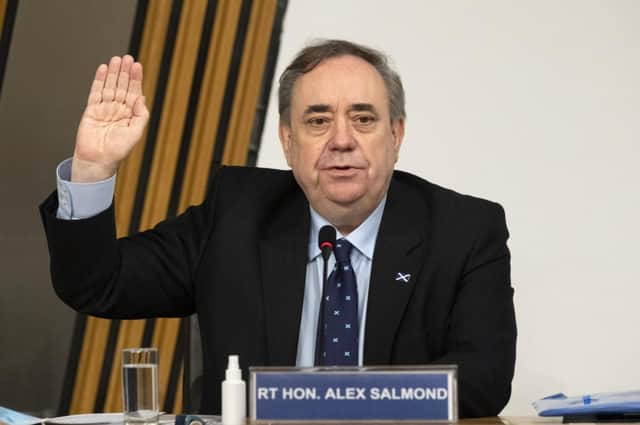 Former Minister Alex Salmond takes the oath before giving his evidence to the MSPs' committee investigating the Scottish government's mishandling of allegations made against him (Picture: Getty Images)
As one would expect, Mr Salmond handled himself well having had plenty time to consider his testimony. He displayed a command of detail honed, no doubt, through many sleepless nights.
He kicked off by putting his evidence in proper context and, at the same time, his successor in her place. She had said he had to "prove" his claims. He pointed out he has nothing to prove – merely state the facts, under oath.
That "proof" is for others to determine. The remit of the committee is not to re-try the criminal process but to investigate how the Scottish government made such a "total and abject disaster" out of dealing with harassment complaints.
The underlying question, of course, is whether their cobbled-together policy was designed to ensnare Mr Salmond. After the hearing, many will feel an exceptionally strong rebuttal is required for that charge to be disproven, with all the implications that entails.
Mr Salmond complained that the word "botched" to describe the Scottish government's defence of his application for Judicial Review scarcely does justice to the seriousness of what he faced. It implies inadvertence whereas the Court of Session found it to have been "unfair… unlawful… tainted with apparent bias".
Proceeding with that doomed case, he said, could not have been the Lord Advocate's decision alone. It could only have been pursued on the authority of "the Permanent Secretary and ultimately the First Minister". On that question and many others, the burden of proof has been in the hands of these individuals, requiring access to all the evidence.
The Crown Office stands dangerously discredited. In the words of Professor Alistair Bonnington, an institution that always commanded respect now operates as the "lickspittle arm of the current Scottish government". Evidence which is in the public domain cannot be considered by a parliamentary committee – the opposite of what one might expect.
Mr Salmond pointed out: "Even today I appear under the specific threat of prosecution for telling the truth… telling the truth under oath is being prevented by the Crown Office." That is difficult to dispute and impossible to defend. I fear the Lord Advocate has found himself in a nest of vipers.
There was much detail to be dissected over the coming days. Let us hope this is matched next week when Ms Sturgeon appears. She should no longer be able to rely on generalisations or jibes. Nobody will be interested in Ruth Davidson going to the Lords as a diversion from answering legitimate questions.
Ms Sturgeon accuses her opponents of being mouthpieces for Alex Salmond. Let's hope she drops that approach. From her brief and ill-starred legal career, she might remember that basic principles do not involve liking the person who needs the forces of justice to protect him or her.
The man they wrote out of history has spoken and now the glib lady must sing.
A message from the Editor:
Thank you for reading this article. We're more reliant on your support than ever as the shift in consumer habits brought about by coronavirus impacts our advertisers.
If you haven't already, please consider supporting our trusted, fact-checked journalism by taking out a digital subscription.
Want to join the conversation? Please or to comment on this article.