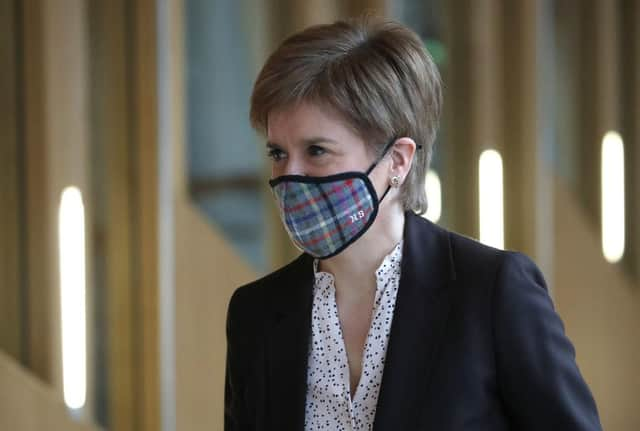 Nicola Sturgeon, he alleged, had lied to Parliament, repeatedly, both about her knowledge of the harassment complaints against him and her involvement in meetings around the same.
The stakes are career-endingly high. To knowingly mislead Parliament is a breach of section 1(c) of the ministerial code and demands the immediate resignation of the minister in question – even the top one.
Nicola Sturgeon is already under investigation following her own referral, to establish whether she properly recorded her meetings with Mr Salmond.
On Sunday evening I, along with MSPs from three different parties, all members of the parliamentary committee investigating the handling of harassment complaints, wrote a joint letter to the Deputy First Minister. We formally requested that he expand the existing ministerial code investigation to specifically establish whether the First Minister misled the Scottish Parliament.
Our letter to John Swinney was not an acceptance of Alex Salmond's accusations, but more a recognition that his account tallies with other material seen by our committee and casts further doubt on the First Minister's account of events.
In a lot of ways, my colleagues and I felt we were doing the First Minister a favour by formally asking for the probe to be expanded. For months, the First Minister has faced questions around her statements to Parliament about what she knew and when.
And for months both she and her deputy have signalled that James Hamilton QC, the Irish prosecutor engaged to investigate her, was free to go where the evidence took him. We therefore thought our request would be a mere formality and the government would readily act on our wishes.
It's frankly astonishing then, that the government appear to have declined that request. If I had been falsely accused of lying to parliament and I knew that I was on safe ground, I'd bite your hand off for the opportunity to be officially exonerated in a quasi-judicial process.
So, I find the refusal of Nicola Sturgeon to take that opportunity utterly baffling. Without that exoneration, doubts about her account will fester and grow. It will feed the growing civil war within the party of government. But most importantly, it will deny the women at the heart of the original complaints the chance to move on with their lives.
Without that clean bill of health as to her probity, the First Minister will face questions at her daily Covid briefing and at Parliament. It will grow to become a monstrous distraction to her and her government, just at a time when the national pandemic response demands a needle-sharp focus.
The optics of this are terrible for Nicola Sturgeon. I've always found the idea that this debacle could end her premiership far-fetched, but her refusal to have her account tested by investigators makes it look for the first time like she really does have something to hide.
Alex Cole-Hamilton is Scottish Liberal Democrat MSP for Edinburgh Western
A message from the Editor:
Thank you for reading this article. We're more reliant on your support than ever as the shift in consumer habits brought about by coronavirus impacts our advertisers.
If you haven't already, please consider supporting our trusted, fact-checked journalism by taking out a digital subscription.